TikTok dog star Nato the Rottweiler comforts stranger in heartwarming viral video
By Steve Wright
When he saw a man in need of consoling, this sweet Rottweiler went straight over to help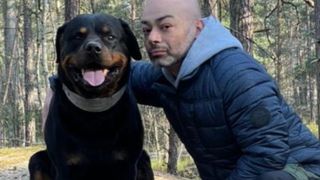 (Image credit: TikTok / @Nato McPierson)
As if you needed further proof that dogs really do bring joy into the word, meet TikTok dog legend Nato the Rottweiler who proves large breeds can be every bit as sweet as the next canine.
Known in today's vernacular as a TikTok sensation, an accolade he has earned by generally being utterly brilliant and wholesome, Nato shows just how kind and lovable Rottweilers can be. 
In a recent video posted to the popular social media platform, this gentle giant can be seen approaching a man in the park, having first been given permission to do so by his owner, Dan McPierson. As it turned out, there was a sad story behind this encounter.
"As soon as the man sat down, Nato locked eyes with him," McPierson told The Dodo. "Nato responded positively, but I could see the guy was sad."
"After I took the video, the man told me he had a girl dog who was just like Nato in her ways," said McPierson. "Suddenly, I remembered we had seen him before with that dog. He told me that he had lost her recently, and that it gave him such a good feeling being able to pet Nato."
As you can see from the video, Nato did a good job of brightening up this man's day. He could clearly sense that something was amiss, and his response was to immediately head over and make sure this man was ok. 
If only everyone was as big-hearted as this lovably large TikTok dog star! While Nato couldn't bring this man's dog back, what he could do was provide some companionship when he needed it most. 
You can follow Nato's further escapades on TikTok here.
Steve has combined editing and writing for publications like SciFiNow, How It Works and All About History with being a doormat to various cats and dogs. He lodges with two moggies called Giles and Willow, and will be told off if he doesn't mention his girlfriend's magnificent pooch, Toby.
Get the best advice, tips and top tech for your beloved Pets
Thank you for signing up to Petsradar. You will receive a verification email shortly.
There was a problem. Please refresh the page and try again.