Watch: Beans the cat thinks he's Spider-Man
Beans the cat scrambled up the side of a house, leaving his pet parent climbing the walls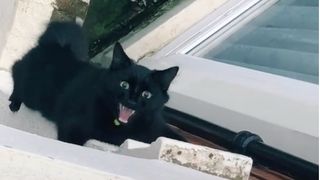 (Image credit: TikTok)
Cats often peer through the window, begging to be let inside – but they usually do this on the ground floor. Not Beans. This adorable black cat decided to scale the side of a TikTok user's home in what appears to be an attempt to gain access higher up.
In a video posted by @imluce_xo – which has been viewed nine million times – the kitty, called Beans, is caught shimmying up the property's brickwork, much to the horror of his owner. She'd only opened the window to see if the cat was ready to come in and she was totally unprepared for what she saw.
"Noooo," she screamed. "What are you doing? Beans! What are you doing? Oh my god! You can't do this." In response, Beans, who was already about half way up, simply meowed and continued forward for a few steps, before deciding to slide back down to Earth.
Fellow TikTok users found the whole thing hilarious. "He is awesome," one wrote while another compared him to Spider-Man (Spider cat spider cat," the commentator said). People began imagining what must have been going through Beans' mind. "He's like, 'don't just stand there help me'," a user suggested.
Sadly, Beans is no longer with us. As @imluce_xo later reveals, she had rescued the cat when he was a kitten but, in later life, the poor little thing had masses growing on his lungs. He died a month later, more than a year ago.
The video – one of a few of Beans – is being posted in tribute to him. "He was our joy even when he was just being his cute self," the user wrote. There's also a version overlaid with an audio clip from the film Mrs Doubtfire shouting, "Help is on the way".
What the videos show, however, is just how mischievous cats can be. They love to explore their environment and they have a knack of getting themselves into all sorts of positions, shapes and scrapes. Learn how to play with a cat to see how goofy they can be and see how a clever cat tricks a dog into a crate.
Get the best advice, tips and top tech for your beloved Pets
David Crookes has been a journalist for more than 20 years and he has written for a host of magazines, newspapers, websites and books including World of Animals, BBC Earth, Dogs and Canines, Gadget and The Independent. Born in England, he lives in a household with two cats but he's also keenly interested in the differences between the huge number of dog breeds — in fact, you can read many of his breed guides here on PetsRadar. With a lifelong passion for technology, too, he's always on the lookout for useful devices that will allow people to spend more time with their pets.