My dog had to obtain an EU pet passport and become a French citizen to go on vacation
Post-Brexit, English Springer Spaniel Olly had to get a French EU pet passport to carry on travelling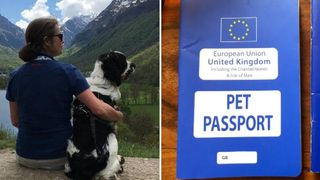 (Image credit: Michael Clark)
Back in 2010, my husband and I found our dream holiday home – a 250-year-old farmhouse in the Haute Garonne, south west France. It was a long journey from our UK home in the north of England, but we happily made the 15-hour drive several times a year so that we could bring our Springer Spaniel Monty with us.
After we lost Monty, our new young dog Olly also embraced the French lifestyle. Our dogs have both loved it here, lounging on the terrace in beautiful sunshine, visiting the nearby Pyrenees, chasing geckos up the stone walls and walking the miles and miles of forest tracks.
Prior to 31 January 2020, when the UK officially left the EU, the process of taking a dog to France couldn't have been easier. All that was required was a check up and a tapeworm treatment from a French vet prior to making the return trip, and we could wave bon voyage.
Travelling to Europe with a dog post-Brexit
After the Brexit transition period ended on 31 December 2020, the system changed completely. Now, we'd have to get an animal health certificate (AHC) for Olly every time we left the UK. This had to be done by a UK vet and charges varied from practice to practice – we were quoted figures between £150 and £250 a time.
The high charge is partly due to the fact that the paperwork is so longwinded that it needs a double appointment time to complete. We'd have to do this for every journey, which for us meant three to four times a year. The certificate lasts for only 10 days before travel, so can't be done very long in advance.
The only way round this was for Olly to get an European Union (EU) passport. To do this, though, we'd have to get him there in the first place! We visited our UK vets for an AHC which cost us £150.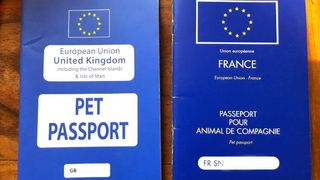 Our vet warned us that officials would be picky over the details, and we both read it through twice before she printed it. Luckily, I noticed that his color was listed as 'liver and white' rather than the correct 'black and white', or the certificate may have been rejected!
Once we were on French shores, though, we set about getting him registered as a 'citoyen de l'Europe'. Fortunately, if you're of the canine persuasion it's a much simpler process than it is for a human.
No citizenship test or learning to bark the Marseilles is required – just a permanent French address and a vet.
Required health checks
We made an appointment with our long-term vet practice who we've used ever since coming to France, and they were well versed with the process. We were charged a one-off fee of 60 euros for the passport – and Olly was on his way again, a fully-fledged EU citizen.
Our French vet had a word of warning, though. As a rabies vaccination is a prerequisite of having the EU passport, this vaccination must be done in France and be registered on the French paperwork.
Olly already had a valid rabies jab in his UK passport, but had to have it done again so that it could be listed on his French passport. This is really important, as we've seen people turned away from travelling on the Eurotunnel as their dogs' perfectly valid rabies vaccinations were listed in the wrong passport.
Requirements have now been standardized between the two countries so the vaccination will have to be done every three years in France which is in line with the UK. Your dog will also need to be microchipped.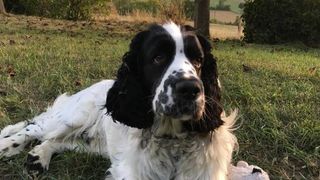 Leaving France
When Olly needs to leave his new adopted country and travel back to the UK, it's a simple process – just a quick visit to the French vet so that he can treated for tapeworm and given a health check to certify that he's fit to travel. We tend to take the Eurotunnel so the vet check needs to be done between 24 hours and five days before boarding.
At Calais, the pet reception team check his papers are all in order (i.e. that we've had them signed by the vet), then wave him through. Then it's off to the UK for his to regale his friends with tales of his sophisticated new culture and penchant for croissants.
When he wants to come back to France, there are no extra UK vet visits to be done. The team at the UK pet reception simply scan his microchip to check that it matches the number on the EU passport, and we can hit the road.
Now that Olly is a passport-carrying EU fur citizen, it's made life much easier – and cheaper! He loves his French lifestyle and even has a French girlfriend to go for walks with. Our French friends are highly amused and have started called him a 'French Springer Spaniel' – but he really likes to think of himself as European.
Get the best advice, tips and top tech for your beloved Pets
Sara is a freelance journalist and copywriter of many years' experience with a lifelong love of animals. She's written for a range of magazines and websites on subjects varying from pet care to travel. A horse rider since the age of five, she's currently a full time pet slave to horse Blue and gorgeous, goofy English Springer Spaniel Olly. Adorable Olly has a huge sense of adventure and no sense of direction, keeping Sara on her toes.