Best dog travel crates: Transport your pet pooch in style
The best dog travel crates keep your dog safe, secure and relaxed wherever you go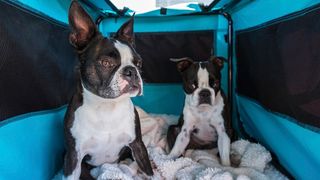 (Image credit: Getty Images)
The best dog travel crates will keep your furry friend safe and comfortable, and make it easy to take them with you. Whether you are off on vacation, taking a trip to the vets or simply taking your pet pooch to the store, you'll want to find the right crate for your dog.
With so many choices on the market, it's not always easy choosing the best dog crate for your needs. Do you want one that is easy to carry? Do you want one with plenty of windows and ventilation? Do you want one specifically for air travel? Do you want one that you can fold down and store when you are not using it? And, then there is always the issue of size.
The right size crate is critical for your dog's well-being and probably the number one consideration. Make sure to measure your dog and weigh them before you start looking. This will help narrow down your search and help ensure that you get what you want.
To help you make the right choice, we have put together a collection of dog travel crates that cater for all dog breeds and their owner's needs.
PetsRadar's pick of the best dog travel crates
Why you can trust PetsRadar Our expert reviewers spend hours testing and comparing products and services so you can choose the best for you. Find out more about how we test.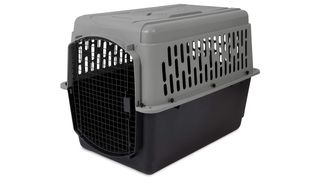 Aspen Pet Porter Travel Kennel
Best overall dog travel crate
Sizes: 10-90 pounds | Weight: from 2.55 pounds | Color: Black, Pink, Red, Gray | Doors: 1 | Airline approved: Yes
Air travel compliant
Wipe clean shell
Multiple ventilation openings
Easy-open door latch
No carry handles on large models
This dog travel crate is designed to keep your pet pooch safe, secure, and comfortable. It is fully compliant with air travel requirements, so you can take your furry friend almost anywhere you go, but don't forget to check with the airline first.
The crate is constructed from a heavy-duty plastic shell, which is easy to clean and wipe down, and held together with strong metal screws – ensuring that your dog is getting maximum protection when on the move.
To stop your furry friend from getting anxious or scared, and keep them comfortable, the crate has a series of side ventilation openings to make sure they get plenty of air and good visibility. A dog is always happiest when it can see its owner.
The front opening steel wire door has a secure easy-open latch that is designed for easy access with just one hand – perfect for those occasions when you are carrying the crate and can't put it down. A carry handle is integrated into the top of the crate, on smaller models, for quick easy portability. Unfortunately, there are no handles for larger models, making it a little more difficult to transport.
The biggest model in the Aspen Pet Porter Travel Kennel range is capable of accommodating dogs from 70-90lbs and up to 42-inches in length. There are smaller models for medium and small breeds with the range starting at up to 10lbs, ideal for Chihuahua owners.
There are no accessories such as food and water bowls included, but the manufacturer offers plenty that are compatible with the complete Pet Porter range.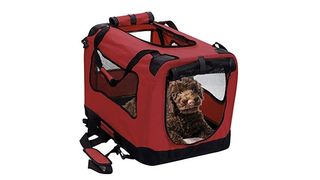 2PET Foldable Dog Crate
Best budget dog travel crate
Sizes: 20-35 inches | Weight: from 5.59 pounds | Color: Beige, Blue, Grey, Red | Doors: 2 | Airline approved: No
Folds flat
Lightweight
Water resistant
No food or water containers included
Not suitable for large dog breeds
This foldaway dog travel crate is the perfect choice if you only want it for a visit to the vet or when you're off on vacation. Otherwise, it can be neatly stored out of the way until you need it.
Its strong, lightweight steel tube design means that it can be unfolded and ready to go in a matter of moments. And once you have finished using the crate, you can fold it down and store it away just as quickly.
Covering the foldaway steel frame is a water-resistant, nylon variant fabric cover that will help keep the rain off your pet pooch. The cover can be wiped clean for small accidents but is fully removable and machine washable when it needs a good clean. Inside the crate, there is a waterproof mat for the floor and a reversible washable fleece cushion pad to add some extra comfort for your furry friend.
To keep your pet pooch secure, the roll-up front door has a fully covered zip making it difficult to chew through. Sitting on the sides of the crate are a couple of cute bone-shaped mesh windows and a standard mesh window at the rear to make sure that there is plenty of natural ventilation. Accompanying the rear window are water bottle and food container holders. The containers aren't included, but the holders will be compatible with most standard-sized containers.
There are five sizes and four colors available. The 20in crate kicks off the collection and is ideal for breeds up to 15lbs such as Chihuahuas. Sitting at the top end is the XXL36 model that is suitable for breeds up to 70lbs. All are available in blue, beige, grey and red.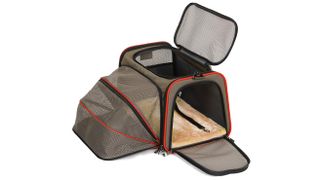 Petsfit Expandable Carrier
Best expanding dog travel crate
Sizes: 16 - 19 inches | Weight: from 2.7 pounds | Color: Grey, brown, black | Doors: 2 | Airline approved: Yes
Lightweight
Carry straps
Folds down
Anti-scratch mesh
Expandable
Only for small dog breeds
This dog travel crate's smart design makes it an ideal travel companion whether you are flying off on vacation or transporting your pet pooch around in the back of your car. It comes with expandable mesh sides that triple the size of the floor space and lets your dog stretch out, relax and keep an eye on what's happening in the outside world.
Keeping the well-ventilated mesh sides company is a third window on the top of the water-resistant polyester carrier, which is covered with anti-scratch ventilated mesh. Yet another opportunity for you to keep an eye on your dog and for them to see outside. Leave the window unzipped for your furry friend to get into the carrier and use the self-locking zipper to make sure they won't be able to escape.
A sturdy wire frame helps keep the carrier in shape and stops it from collapsing when your dog is inside. But it's flexible enough to be laid flat and stored away under a plane seat when traveling or a real space saver when not needed.
Sitting in the bottom of the carrier is a strong board that provides a solid base for safety and a thick removable and washable furry plush pad for comfort. To keep your furry friend's treats and leashes nearby and easy to get to, there are a couple of useful side pockets for storage.
This is not a carrier for medium or large dog breeds, the largest in the range is 19in x 12in x 12in folded and 31.5in x 19in x 12in when fully extended. Perfect for small dog breeds up to 18lbs, the carrier itself is a lightweight 3.3lbs and comes with sturdy wide shoulder straps for easy carrying and a wide back strap to pick up.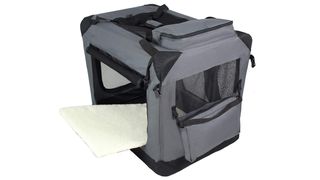 EliteField 3-Door Folding Soft Dog Crate
Best soft travel dog crate
Sizes: 20-42 inches | Weight: from 6.09 pounds | Color: 16 colours available | Doors: 3 | Airline approved: No
Multiple colors
Easy to fold down
Washable
Zip lock
Not for large breeds
If you need to take your pet pooch for a quick visit to the vet, ideally you want a dog crate that is quick, easy and lightweight to deal with. This crate fits the bill nicely, it has a strong steel tube frame to keep its shape when in use and is quick and easy to fold down when you have finished with it – ideal for storing out of the way until you need it again
The crate cover is made of high-quality durable fabric and has hex mesh fabric windows and doors. In total, there are three doors, one on top of the crate with the other two to the side and the front. This means there are plenty of access points to get your furry friend in the crate. All are secured with strong, lockable hard-to-chew zips. And there is plenty of natural ventilation and visibility to keep you and your dog happy and relaxed.
Two accessory pockets are located on the top and side of the crate and are perfect for keeping leads and treats. As an added bonus, the crate comes with a fleece bed included – it is easy to remove and is hand/machine washable. An adjustable padded shoulder strap and strong hand carry straps make the crate easy to carry whatever size your dog.
There are five sizes available catering for small and large dog breeds. The smallest in the range measures 20in in length and weighs just over 3lbs. The largest offering is 42in long and ideal for medium to large dog breeds. As you might expect this is a little heavier at 17lbs. Finally, if color is critical to your crate purchase, there are 16 to choose from – that's enough to keep everyone happy.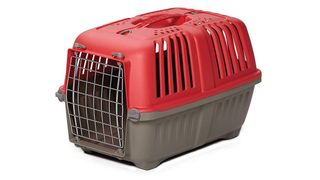 Midwest Spree Travel Pet Carrier
Best small breed dog travel crate
Sizes: 19-24 inches | Weight: from 2.14 pounds | Color: Blue, green, red | Doors: 1 | Airline approved: No
Ideal for small breeds
Easy to clean
Cool colors
Self-assembly
No carry strap
This hard-sided crate is specifically tailored for small dog breeds and short journeys to the vet, park or store, but can also be used on longer journeys. It comes in three handy sizes with the smallest model ideal for toy dog breeds, such as Pomeranians and Toy Fox Terriers. The crate has an interior measuring 17.9in x 11.5in x 12in.
If you need more space for your small breed, you can try the 22in or 24in models. The middle model is nearly 21in on the inside and is ideal for Jack Russell Terriers. The largest small model has an interior length of just over 22in, which is ideal for slightly larger small breeds, such as Chihuahuas, Pugs, and Shih Tzu.
The Midwest is made from a durable polypropylene plastic that will keep your dog safe when on the move. It's also easy to clean should your pet pooch have any little accidents when in the crate. One downside is that the crate is self-assembly. But on the plus side, it has a patented five-step, no-tools assembly, meaning it is quick and easy to put the crate together and take apart for storage.
For easy transportation, there is a built-in carrying handle on the top of the crate. There are a couple of hooks as well where you can add a strap (not included) to double your carry choices. Ventilation is provided by small air holes in the top and larger vertical slits on the sides. Alongside the substance, there is also some style. Choose from light blue, lime green, or vibrant red to match your outfit.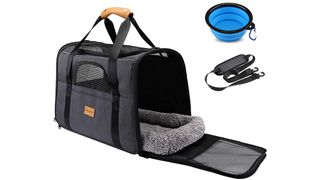 Morpilot Pet Travel Carrier Bag
Best portable dog travel crate
Sizes: 18 inches | Weight: from 3.5 pounds | Color: Black, purple, blue | Doors: 1 | Airline approved: Yes
Lightweight
Foldaway bowl included
Machine washable mat
Two similar sizes
If you are on the lookout for a simple, straightforward, and functional design to transport your pet pooch this tasty number might be just the ticket. The morpilot is more of a travel holdall than a crate but is perfect for transporting small dog breeds up to 15lbs on any trip. It comes in two almost identical sizes – 17in and 18in. It is lightweight, weighing around 3.8lbs, making it highly portable and easy to carry. It can even double up as a travel bag for short trips for you if needed.
It is made from a water-resistant durable grade polyester and dark in color which means it won't show up any dirt or stains easily. Try brushing down to keep clean or wipe down with a detergent suitable for polyester. Inside the crate, there is a support board that helps retain its shape and a surface for your furry friend to lay on, relax and sleep. On top of the board is a soft comfy cushion that can be easily removed and washed by hand or machine. Just in case your pet pooch soils the cushion or spills its food or water over it.
To reduce your dog's anxiety it has five mesh windows – top, sides, back, and front – that provide all-round vision and plenty of natural ventilation. And as an added bonus, a space-saving folding blue bowl is included and has a clip so you can attach it to the side of the crate for easy transportation.
How to choose the best dog travel crate
The main thing you need to consider when buying a dog travel crate is size. Does the model you want come in the right size to accommodate your dog? Make sure that you measure and weigh your pet pooch before considering any options. The more space your furry friend has, the happier they will be. So you might want to think about the next size up in the range if available.
But it's not all about size. If you are traveling on vacation by air, you should consider an airline-approved model. But make sure to check the details with the airline before you go anywhere.
You can choose between hard and soft crates. Hard crates are easy to wipe clean and offer more protection on bumpy rides, but soft crates are typically machine washable and ideal if you need to fold down and store the crate when not in use.
If your dog gets anxious when traveling, does the crate you like provide plenty of ventilation and visibility. How easy is it to carry the crate? Does it have an integrated handle? Does it include carrying straps?
Make sure you consider all the options to help get the crate you want.
Get the best advice, tips and top tech for your beloved Pets
Steve Jenkins is a freelance content creator and long-time journalist with more than 20 years in the industry. He has written for numerous titles covering tech to pets, with his latest faithful hound always by his side. When not walking his dog, or discussing who's best - cats or dogs? Loud guitars, AFC Bournemouth, Photoshop, and trying to save the world take up the rest of this time.