Does your dog hate going in a crate? Trainer shares five ways to make it a happier process
Canine expert reveals why some dogs hate their crates and what you can do to help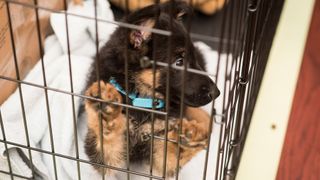 (Image credit: Getty)
Does crating your dog result in tears before bedtime? Being able to have a safe confinement area for your pooch can be really useful – but not if it results in stress for you both. Bundling a crying, wriggling dog into a crate so you can run to the store is no-one's idea of a good time, so read on for some top tips on how you can tackle the problem.
Working out how to crate train a dog should be on the top of your list as an owner. Not only is it useful to have a safe, secure space where your pet can be temporarily confined if necessary, but it's also practical for house training and traveling.
Even when you've carefully invested in one of the best dog crates, some dogs just don't appreciate their home from home. Fortunately, Karishma Warr, the head of training & behavior for Calm Dog Training in New York has put together some tips in a useful Instagram post , which you can view below.
Even if you don't have a puppy, it's equally useful to crate train older dogs and this step-by-step guide shows how to make the whole process less stressful. Karishma suggests breaking the process down as follows.
Work at their pace. Never force a nervous dog into a crate if they're not ready, as this just causes distress.
Start where they can be successful. Just like with humans, every dog is different. A crate-shy dog might be scared of confinement, or of small spaces. Spend some time finding out what the problem is, then try alternative solutions such as tethers instead of crates or large pens that are gradually reduced in size. Once your dog is happy with these, you can try the crate again.
Play 'in-out' games. If your dog is afraid of getting trapped in his crate, then these games involve teaching entry and exit with a cue. Putting a structured system in place helps to build confidence.
Practise relaxed settling. This tip involves settling your pooch on a mat or bed, then gradually moving it into the crate. As they associate the bed with relaxation, that feeling should be carried through into the new environment. "This skill is one that can take multiple months to master, and often needs the eye of a professional on it to be done successfully," warns Karishma.
Long duration projects. Try settling your dog in his crate with one of the longest last dog chews or a frozen treat. Not only will this help to distract him, but repetitive chewing is a great soother.
If, after following these tips consistently and regularly, you're still having problems then we'd recommend booking some time with a professional trainer. Reading our guide on how to spot dog trainer red flags will help you make the right selection.
Get the best advice, tips and top tech for your beloved Pets
Sara is a freelance journalist and copywriter of many years' experience with a lifelong love of animals. She's written for a range of magazines and websites on subjects varying from pet care to travel. A horse rider since the age of five, she's currently a full time pet slave to horse Blue and gorgeous, goofy English Springer Spaniel Olly. Adorable Olly has a huge sense of adventure and no sense of direction, keeping Sara on her toes.