Watch this Golden Retriever break his puppy sibling out of the crate
This viral TikTok shows two Golden Retriever brothers conspiring to escape crate training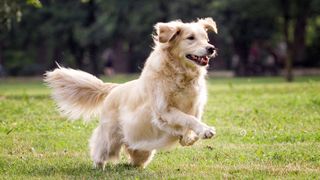 (Image credit: Getty Images)
A Golden Retriever is conspiring to reverse his puppy sibling's crate training, and his antics have gone viral on TikTok.
Remy, featured on the TikTok account @Remy_woof, is an adorable Golden Retriever who just recently got a younger brother, another Golden named Rocco. While Rocco and Remy's human parents are clearly trying to crate train the new puppy, Remy has other plans.
As you can see from the TikTok video embedded above, Remy has figured out how to open up Rocco's crate by gnawing on it.
The puppy happily bounds out of the crate after the door swings open, clearly excited to be freely roaming again. The text on the video reads, "They ask 'How's crate training going?'", while the caption says "Everybody has a ride or die in your life, and that includes Rocco!!"
Comments include "These are the kinds of friends I need to find. That's hide the body loyalty." and "loyalty over everything."
At the time of writing, the video of Remy springing Rocco out of his crate has over 272,000 views, but there are plenty of other videos showing off the hilariously adorable antics of the older dog and his puppy brother.
Crate training can be an important part of raising your puppy. If you plan on leaving your puppy alone for some periods of time, it's an important way to ensure their safety while they're not being supervised. Crate training your dog can also create a comfy, safe space for them that may make it easier for them to have vet visits or go to boarding if you ever decide to do that on lengthy trips. Crate training can also help potty train them, and even help with dealing with separation anxiety.
While Rocco's parents are clearly keen on crate training the puppy, Remy may have other plans.
Get the best advice, tips and top tech for your beloved Pets