Best large dog crates: Roomy retreats for your big breed
Strong and durable, the best large dog crates will keep your massive mutt secure whether they're at home or on the move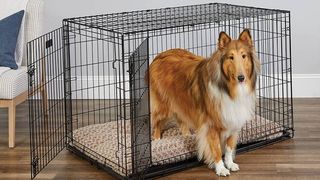 (Image credit: MidWest)
If you've got a huge hound in your life, our pick of the best large dog crates will help you pick out the right den for your dog.
While many standard crates come in a variety of sizes to suit multiple breed sizes, most of them are suited to dogs under 100lbs which isn't going to work if you have a Great Dane or an Irish Wolfhound on your hands. That's not to mention the fact that you'll want to consider something tough and heavy-duty to sustain the weight of your fur friend in the first instance.
If your dog is particularly liable to plan The Great Escape anytime soon, it may be a good idea to look beyond wire or plastic options. Although many popular dog crates are made from metal wire and they make a great addition to the home, they won't always be suitable for every purpose or indeed every kind of hound.
Be sure to crate train your dog in the first instance and for further advice see our guides on when to stop crate training and how to stop a dog from barking in their crate.
Ready to go shopping? We've rounded up all of our favorites below, with options to suit every budget, need and style-preference. Let's take a look...
PetsRadar's pick of the best large dog crates
Why you can trust PetsRadar Our expert reviewers spend hours testing and comparing products and services so you can choose the best for you. Find out more about how we test.
Midwest SL54DD Ginormus Double Door Dog Crate
Best overall large dog crate
Size: 54 x 37 x 45 inches | Color: Black | Weight: 81.7 Pounds | Material: Metal
Double door configuration
Drop-pin construction
Strong and durable design
Heavy
If you have a huge hound and you're looking for a heavy-duty crate to contain them, this option from MidWest is hard to pass by. Measuring an impressive 54 x 37 x 45 inches, it's ideal for extra-large dog breeds weighing over 90 lbs.
The double-door design features a sturdy drop-pin construction that ensures the crate stays strong and durable. The patented "L" bar on top panel reinforces the dog crate side panels to prevent them bowing inward after assembly and with three heavy duty slide-bolt latches per door, you can rest assured your dog will remain secure.
With a protective finish that prevents rust and ensures longevity, rubber roller feet to protect your floors and a removable leak-proof plastic pan that's easy to clean, this ginormous dog crate gets our massive seal of approval.
Animaze 1-Door Folding Dog Crate
Best budget large dog crate
Size: 42.5 x 30.5 x 28.5 inches | Color: Black | Weight: 34.39 pounds | Material: Metal
Budget-friendly price
Easy to fold down and store
Relatively lightweight compared to other crates
Not that big for an XL crate
Only one door
This cage bears a striking resemblance to the MidWest Homes for Pets iCrate in this guide. It is made from metal wire, is foldable and has a leak-proof crate pan, but while it lacks a few of the features of the iCrate you are getting it at a budget-friendly price. The main differences are the size, number of doors and weight.
Even though it's touted as XL you are losing a few inches all round on the MIdwest model. The dog crate measures 42.5 x 30.5 x 28.5 inches, a loss of around six inches in length, two inches in depth and three inches in height. But if your fur friend is at the smaller end of the large scale - should be OK for average sized boxers and golden retrievers - it's definitely worth considering. Give your dog a measure to see how well they would fit, but don't squeeze them in. If it's not quite large enough, think about getting the Midwest dog crate.
To help keep the cost down there is only one side opening door that takes up most of one side of the crate. It boasts a couple of simple slide-bolt latches that are dog tamper proof.
So your pet pooch will struggle to get out, but the thin metal bars can only withstand so much chewing. The door gives easy access to the crate, but reduces your options on where you can place the crate. But if you have the right space this won't be a problem.

SportPet Designs Plastic Kennels
Best portable large dog crate
Size: 48 x 32 x 36 inches | Color: Gray | Weight: 38.1 pounds | Material: Plastic
Ideal for vacations
IATA airline approved
Easy to assemble
Folds down to store
Food water bowls included
Heavy
Only one door
Off on vacation? Taking a short trip to the vets? Well you won't want a full size dog crate to carry around with you. It's not practical and probably not even feasible unless you have a large vehicle to get your crate in. What you need is a more portable solution and this IATA airline approved plastic kennel could be just what you need.
The XXXL version measures 48 x 32 x 36 inches, is constructed from strong sturdy plastic and adopts the traditional design of pet travel crates. There is a little assembly needed, but there are only three parts involved and there is no need for tools as the bolts are hand-tightened using a wing nut. It will only take you minutes for your crate to be ready. And if you need to store away the top half of the crate fits neatly inside the bottom half to save space.
A cosy and comfortable interior - no bedding included - boasts a couple of windows to help keep your pet pooch relaxed and let them see what's going on outside. There is only one door, but as this is crate more suited to travel it shouldn't be an issue. This has a smart squeeze locking mechanism to ensure your fur friend won't escape. A couple of included clip-on food dishes can snap on to the door giving them some refreshment when on a long journey.
At 38 pounds it's not lightweight, but the design means you have two sturdy handles when you need to pick it up. But when you need to move the crate you can clip in the removable wheels quickly and easily. And, when you get home from your travels you can simply remove for a more sturdy base.
LUCKUP Heavy Duty Dog Cage Strong Metal Kennel
Best heavy duty large dog crate
Size: 46 x 32 x 39 inches | Color: Dark Silver | Weight: 84 pounds | Material: Alloy Steel
Heavy duty construction
Non-toxic coating
360 degree rotated locking casters
Solid metal locks
Heavy
Only one door
If you have got a large strong dog that likes to chew or is aggressive around strangers, you will need to give them a safe space they can call their own. But you will need a sturdy, chew resistant heavy duty crate that can take the odd knock or two.
This offering from Luckup undoubtedly fits the bill, it uses industrial corrosion-resistant steel to form a strong, sturdy solid cage that is durable, hard to damage and is finished with a non-toxic coating. This is especially important if your dog is an aggressive chewer and will get to ingest the coating.
The heavy duty metal bars provide plenty of protection but reduce the capacity of the crate. It's external dimensions measure 46 x 32 x 39 inches, but due to the size of the bars its internal height is around five inches less. So make sure to take note of this when sizing up the cage. A couple of removable slide out trays sit underneath the heavy floor and make for easy cleaning.
Access is provided by a single front door that boasts three solid metal locks, helping make sure that it is safe and secure. A couple of locks keep the top of the cage tightly shut, but can be opened to create a pet play pen.
The downside to a heavy duty crate is that it is exactly that - heavy. This crate is not lightweight, it weighs in at eye watering 84 pounds. That's more than the average weight of an adult male. Add in the weight of your large dog and it's going to be heavy to lift.
Thankfully, the crate comes with a set of 360 degree rotated locking casters, that make moving it from A to B easy as long as the surface is flat. If not, you are going to need someone's help to lift it. The wheels can be easily locked into place with a swift push from a foot to hold the crate steady and stop it from going anywhere.
Lucky Dog Sliding Double Door Wire Dog Crate
Best space-saving large dog crate
Size: 48 x 30 x 33 inches | Color: Black | Weight: 38.19 pounds | Material: Metal
Space-saving design
Quiet sliding doors
Corner stabilizers
Rubber feet to stop scratches
Smaller height front doors
For those who want a large dog crate, but don't have a lot of room then the space saving feature of this crate makes it a very desirable alternative to a standard wire dog crate. It boasts the popular two entrances, but only one of the doors - the side door - swings out when opened. The front of the crate comes equipped with two doors that slide rather than swing. This means that it can be placed in a smaller space in the home, but still give easy access in and out of the cage for your pet pooch.
The XL version measures 48 x 30 x 33 inches making it ideal for large breeds with the side door effectively being the full height and width of the side of the cage making it easy to get in and out. The two front sliding doors are described as whisper quiet and don't quite have the same capacity as the side door.
The front opening is similar in width - around 23 inches -but is around four inches shorter in the height stakes. This does mean if you have a large breed with not much room for manoeuvre it will have to crouch down a little to get in the front door. And there are no large size cages, so make sure you measure up properly.
A set of easy to fit corner stabilizers ensure that the crate won't have an annoying rattle and keep it sturdier and safe. To keep it in place and stop your floor from getting scratched or covered in your dog's business there is a removable easy to clean metal pan and a set of simple to attach rubber feet.
DWANTON Dog Crate Furniture with Cushion
Best furniture large dog crate
Size: 38.5 x 25.6 x 26.8 inches | Color: Rustic Brown and Black | Weight: 52.4 pounds | Material: Wood
Two doors
Multi-functional
Includes soft carpet flooring
Only one color and size
Heavy
Do you want a dog crate that blends with the decoration of your home and doesn't stand out like a sore thumb? Then this dog crate furniture offering from SWANTON could be just what you are looking for.
A multi-functional price of furniture it can be used as a side table, end table or nightstand and a dog crate/playpen at the same time. Built using particleboard, it is accompanied by steel wire for the cage, so you are getting a sturdy and attractive piece of furniture. However it is only available in one colour - Rustic Brown and Black. If the dark hue of the crate doesn't fit in with the decoration of your home, you could think about painting it in a colour that you want. As its particleboard it's a relatively simple job to get the perfect match.
The crate comes in a variety of sizes from small to extra large, but it is only really the extra large crate that is suitable for a large breed up to 80lbs. It measures 38.5 x 25.6 x 26.8 inches internally making it a good choice for golden retrievers, border collies and similar sized breeds.
A two door design means it is easily accessible from the front and side and a soft carpet floor adds a little comfort. The wooden top of the crate is also removable to create a pet playpen. But it does mean you will need to remove everything off the top every time you do this. But to make sure you are getting a nice level piece of furniture it comes with adjustable feet.
Frisco X-Large Ultimate Foldable & Stackable Heavy Duty Steel Metal Single Door Dog Crate
Size: 48 x 33 x 42 inches | Color: Dark Silver, Hammer-tone finish | Weight: 93.19 pounds | Material: Coated Metal
Highly durable and strong
Foldable
Includes caster wheels
Stackable
Dual locks
Heavy
If you have multiple pets but a small home, you might well be interested in this stylish and highly durable offering from well-known pet product brand Frisco. This spacious crate can be purchased in multiple sizes to suit several breed types but if you have a particularly large hound or two in your life, the X-Large offers a roomy retreat.
Coming in at 48 x 33 x 42 inches, this ultimate crate is not only large, it's rather tough too. If you're particularly apprehensive about a wire or plastic cage for your huge hounds, this crate is made from 22-gauge steel with 1/2-inch diameter steel tubing.
On the downside, this means it's also very heavy to put together so if you live alone, you'll definitely want to seek assistance to assemble it together but once it's up and running, the caster wheels with foot brakes help lock it into place, a welcome addition to a 93.19 pound crate.
What's particularly impressive is that for such a heavy-duty model, it can be folded away adding a tick in the box to its space-saving credentials. Have one for a singular large breed dog to enjoy or stack two of these crates together using the included hardware to create a dual-level crate for multiple canines.
How to choose the best large dog crate
Get the right size
When looking to buy a dog crate size is top priority. You don't want your pet pooch cramped into a crate that will raise their anxiety levels and make them uncomfortable and unhappy.
The crate should be tall enough for your fur friend to be able to walk straight in without crouching and be able to turn around without any difficulty. Typically your dog is taller when sat down than walking so take this into consideration when looking at the height of a crate.
To get the right size measure your dog's height - top of head - when standing and sitting. Measure their length from tip of the nose to the base of the tail. Now add at least four inches to both those measurements to help you get the right size dog crate. Finally, think about where you might want to put in and measure up to see if it will fit.
How many doors do you need?
Obviously the minimum will be one and this is perfectly adequate. But think about where you are going to place the cage and will that single door work with that. Front and side doors give more accessibility to a cage and more flexibility on where you can place a cage. A top opening door allows for your pet pooch to stay in the crate but look over the edge, giving them a little more freedom and interaction with you.
What type of crate?
The popular choice is the folding metal wire dog crate. These are sturdy, strong, budget-friendly and can be stored when not in use. They are not lightweight, but strategically placed handles mean that the cage can be moved with relative ease.
Portable travel crates are ideal for occasional visits to the vet, a ride in the car, or if you are off on vacation.
They come with handles and wheels and are ready to go. If you have a dog that likes to chew you might want to think about getting a heavy duty crate. The bars of the cage are stronger, thicker and much more difficult to chew through. These are heavy but will come with wheels. An alternative is to look for a crate that disguises itself as part of the furniture. It won't spoil the aesthetic of your home, but will still provide a place for your pet pooch to rest up.
Get the best advice, tips and top tech for your beloved Pets
Steve Jenkins is a freelance content creator and long-time journalist with more than 20 years in the industry. He has written for numerous titles covering tech to pets, with his latest faithful hound always by his side. When not walking his dog, or discussing who's best - cats or dogs? Loud guitars, AFC Bournemouth, Photoshop, and trying to save the world take up the rest of this time.