Best dog crates: Keep your pup happy and secure
Keep your pooch safe and comfortable with the best dog crates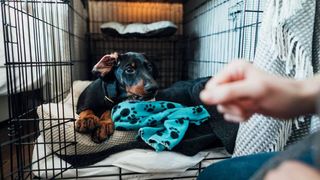 (Image credit: Getty Images)
If you want to provide your pooch with their own, cozy home, vets and pet experts alike recommend buying the best dog crate. When used properly, crate training your pup can be mutually beneficial for both dog and owner. Firstly, they keep your pooch feeling safe and provides them with a cozy sanctuary. In addition, they ensure you have peace of mind by leaving them alone without risk of trouble!
But with so many types on the market, it can often be challenging to know which one is suitable for your pooch. You'll need to consider the size of your dog, crate and whether a good dog bed can be accommodated inside. Bear in mind, if your cage is far larger than a dog, your pup may end up soiling the corners. However, a dog that rests in a perfectly-sized crate won't do, as they don't like to do 'their business' where they sleep.
So It's important that you get your measurements right. The best way to measure the length is to measure your dog from the tip of their nose to the base of their tail. Next up, is their height measurements which is best when they are sitting down.
After you have finished, the general rule of thumb is to add anywhere between two and four inches to the length and height and make that the minimum size. This accounts for any room needed for your pooch to stand up, turn around, lie down or stretch out, After all, you want to ensure your canine companion is comfortable as possible.
In addition, what type of material do you want? Crates created from wood, fabric, plastic and wire need to be well-ventilated and comfortable. Wire crates are perfect if your dog likes to chew, while soft-sided crates may be subject to wear and tear, even if they do look much better indoors.
What's more, if you've just started training, it's worthwhile looking for ones best suited for toilet training and separation anxiety. Collapsible dog crates or the best dog travel crates are ideal for transporting your pup when travelling.
To help you decided, we've rounded up a great selection of the best dog crates to suit every size, age and pooch preference.
PetsRadar's pick of the best dog crates
Best overall dog crate: New World Pet Products Folding Metal Dog Crate
Best budget dog crate: MidWest iCrate Single Door & Double Door Folding Metal Dog Crate
Best travel dog crate: EliteField 3-Door Folding Soft Dog Crate
Best dog crate starter kit: MidWest iCrate Starter Kit
Best heavy-duty dog crate: SMONTER Heavy Duty Dog Crate
Best portable dog crate: Diggs Revol Dog Crate
Best large dog crate: MidWest Ultima Pro Dog Crate
New World Pet Products Folding Metal Dog Crate
Sizes: 24, 30, 36, 42, 48-inch | Weight: 6.3kg - 20kg | Color: Black | Doors: Single and double available
Sizes for all dogs
Relatively lightweight
Heavy-duty latch
Not suitable for extra-large breeds over 50kg
Keep your precious pooch safe and secure with this sturdy double door metal crate from New World. Versatile and durable, it's ideal for crate training or transporting your furkid from A to B.
Available in five different sizes, ranging from the 24-inch model that's ideal for small breeds up to 10kg, all the way through to the 48-inch crate that will comfortably accommodate extra large dogs up to 50kg.
This two-door crate comes with a leak-proof plastic pan, so you don't need to worry about any spills leaking through onto your floors, and the heavy-duty slide-bolt latch securely locks the crate door in place, ensuring your hound will stay put.
We love how easy to assemble this crate is with no tools required and it folds flat, making it a breeze to store and super convenient to transport. The wire allows for plenty of ventilation and visibility and the rounded edges mean you won't snag yourself.
This is a high-quality crate at an affordable price and with the protective long-lasting black E-coat finish, it's one that will go the distance.
MidWest iCrate Single Door & Double Door Folding Metal Dog Crate
Sizes: : 18, 22, 24, 30, 36, 42, 48 inch | Weight: 3.6kg - 19.5kg | Color: Black, Blue, Pink | Doors: 1 or 2
Choice of single or double doors
Easy to assemble and store
Roller feet to protect floor
Plastic tray
No carry handles
This dog crate does a great job of providing all the features you could want from a dog crate, but it does it at a price that is a little less than the rest. How does it manage this? It provides double-door and single-door options. The double-door option provides one at the narrow end of the crate and one on the side. But if you only need a single-door dog crate you can get one at a lower price that is hard to beat. The doors come fitted with the standard slide-bolt latches to firmly lock the door. You will find a single latch on smaller models and two latches on larger models.
The crate is easy to assemble and has a portable design. It is easy to fold down and easy to put back up. Like most other metal-frame dog crates, it folds flat, making it easy to store and easier to carry.
Some other neat little touches include the rounded edges and rounded side clips – no catching yourself on any sharp edges here. Simple roller feet adorn the bottom of the crate. This makes it easier to move: no need to drag or carry, just push. And the feet have the added bonus of helping to protect wooden or vinyl floors.
The bottom of the crate has a durable tray for comfort and cleanliness. A pan stop ensures that the tray stays in position and doesn't slip out unexpectedly.
There are seven different sizes that cater for most dog sizes. The smallest in the range measures 18 x 12 x 14 inches, while the largest manages an impressive 48 x 30 x 33 inches. And, if you are feeling a little adventurous, you can stray from the standard black finish and indulge yourself with a powder blue or pink option.
EliteField 3-Door Folding Soft Dog Crate
Sizes: : 20, 24, 30, 36, 42 inch | Weight: 2.9 - 7.9kg | Color: Beige, Black, Blur Gray, Brown, Brown/Beige, Camo, Gray, Green, Khaki, Maroon, Navy Blue, Navy Blue/Gray, Purple, Red/Beige, Royal Blue, Sage Green | Doors: 3
Lightweight
Portable and easy to carry
Lots of color choices
Not for dogs who like to chew
The wire metal frame dog crate is a popular choice with a lot of dog owners, especially for indoor use. They are easy to fold down and carry, but they are not as portable or stylish as a soft dog crate. If you need to take your pet pooch for a quick visit to the vet, ideally you want a dog crate that is quick, easy, and lightweight to deal with.
The EliteField crate fits the bill. It boasts a strong steel tube to keep its shape and is quick and easy to set up and fold down. The crate cover is made of high-quality durable fabric and hex-mesh fabric. The crate has three doors using the mesh fabric. One door is positioned on top of the crate, with the other two to the side and the front. This means the crate is well ventilated when your dog is inside. There are also two accessory pockets on the top and side to fit in leads and treats.
As an added bonus the crate comes with a fleece bed included – which is washable – as well as hand carry straps and an adjustable padded shoulder strap. It's ideal for transporting your pet pooch quickly and easily.
There are five sizes available, ranging from a small 18-inch crate through to a large 42-inch crate for bigger dogs. As you might expect the largest crate is the heaviest, but still only weighs in at a comparatively lightweight 8kg. The smallest crate in the collection weighs in at an easy-to-carry 3kg. All sizes come in a myriad of single colors and a number of two-color options, offering plenty of choice, rather than just the black option.
MidWest iCrate Starter Kit
Best dog crate starter kit
Sizes: : XS, Small, Medium, Medium/large, Large, XL | Weight: 4.3kg - 19.7kg | Color: Black | Doors: 2
Fleece bed
Crate cover
Dog bowls
Heavy
If you've just got your first dog or have never ventured into the world of dog crates before, the idea of a starter kit sounds very tempting. So what does this dog crate starter kit include? As you might expect there is a dog crate, but you also get a fleece bed, a dog crate cover, plus a food and water bowl – and all neatly packed into a single box for easy delivery.
The crate is a standard epoxy-coated metal wire frame that comes with two doors, one on the end and one on the side for easy access to the cage. The doors are secured shut with two slide-bolt latches on larger models and one on smaller models. There is a strong plastic tray in the bottom of the crate for your furry friend to lie on – the perfect place to put the accompanying fitted, machine-washable, dryer-friendly fleece bed. The two bowls snap into place wherever you want on the crate frame. These can be snapped off for cleaning and refilling. Finally there is the crate cover, which fits snugly over the cage to give your pet pooch a bit of privacy and help keep them calm. The front of the cover neatly rolls up to give access to the cage.
Don't worry if you have a small, medium, or large dog, as the starter kit comes in six different sizes, ranging from XS to XL. The smallest is 22 x 13 x 16 inches while the largest option comes in at 48 x 30 x 33 inches. Measure up and get the kit you need.

SMONTER Heavy Duty Dog Crate
Best heavy-duty dog crate
Sizes: : 38, 42, 46 inch | Weight: 22.7kg - 40.8kg | Color: Dark Silver, Brown | Doors: 1
Strong and durable
Non-toxic finish
Wheels to move
Heavy
Difficult to carry
If you've got a big dog that is excitable and likes to chew, you are probably going to need more than the standard dog crate to keep them safe. If this is the case then it's time to think about getting a heavy-duty dog crate.
The SMONTER fits the bill perfectly. It has a strong, sturdy and durable steel frame that makes it almost indestructible. Alongside the standard steel tubing, the top of the crate has a special Y-pattern design. This adds to its unique look and provides a more bite-proof shape. Plus, a non-toxic finish ensures that your pet stays healthy when it licks or decides to chew on the frame. And to make sure that your furry friend can't escape, the door boasts double door locks.
The crate is easy to assemble and folds down when you need to store it. But as you might expect, this crate is no lightweight option. The smallest cage weighs in at over 22kg while the largest model comes in at over 40kg. That's a hefty dog crate to carry, but the addition of four 360-degree rotating wheels help to solve most moving issues. These are made of hard-wearing rubber and can be locked to keep the crate stable and in position.
The bottom of the dog crate boasts thickened steel pipes that sit close together to create a strong and comfortable floor for your dog. However, they're far enough apart to let any dog mess to fall through to the removable slide-out plastic tray below. This is easy to remove for cleaning.
There are multiple sizes, but all are aimed at larger breeds. The smallest in the range is the 38-inch model, measuring 38 x 26 x 32 inches. The largest is the 46-inch model, measuring 46 x 32 x 39 inches. Make sure to measure your dog before buying.
Diggs Revol Dog Crate
Sizes: : Small, Medium | Weight: 11kg - 21kg | Color: Gray | Doors: 3
Portable
Attractive
Quick to put up/down
Small dogs only
Need a dog crate that is extremely quick and easy to put up and down? Most dog crates are quick and easy to assemble, but this collapsible crate offers almost instant access for your pet pooch. Pull up the sides, grab the ergonomic handle, and lift. The top and sides of the crate immediately spring into action and lock into place. The crate is constructed of durable, high-grade aluminum, steel mesh wire, and reinforced plastic. This makes it relatively lightweight and easy to carry. This is not a crate for aggressive dogs or chewers, but if you have a calm dog it is more than adequate. It is also ideal for transporting your dog to the vet, as well as short journeys.
The crate has three doors. For easy access there is a larger door at the front, and two smaller doors on the top. The main door has a secure latch that will keep the door securely shut. The top doors are ideal for petting your furry friend or giving them a treat without them escaping. The mesh sides of the crate fold in the middle, which can be a weak point if you have a really strong dog. Like all good dog crates it has a sturdy tray that is easy to slide out and clean, and is the perfect place for the right sized dog bed.
The crate comes in two sizes – small and medium – but is not suitable for large or aggressive dogs. The small dog crate measures 25 x 17 x 19 inches and can hold a dog up to 13kg. The medium dog crate is a little larger measuring 35 x 23 x 24 inches and can hold a dog up to 22kg. So this dog crate is very much for puppies, small dogs, and the smaller to medium-sized dog breeds.
MidWest Ultima Pro Dog Crate
Size: Small to X-Large (49 x 30.5 x 34.25 inches) | Weight: 22.1 - 56.9 pounds | Colors: Satin black | Doors: 2
Collapsible
Heavy duty
Easy to clean
Easy to assemble
Door locks could be stronger
If your canine is on the large side, MidWest Homes for Pets is a great brand to explore. Their crates come in multiple sizes, including an extra-large 49 x 30.5 x 34.25 inches in their Ultima Pro range.
The tough heavy-duty crate is made from metal and features two doors, front and side, for easy access. It's ideal for strong dogs with a weight between between 91 to 110 lbs, providing plenty of space for canines to stretch out.
Although the crate is highly durable, what's particularly notable about the Ultima Pro dog crate is that it's collapsible so if your pooch just can't be without their crate, you can take it with you wherever you go.
MidWest have also paid extra care to creating a dog crate that's so easy to clean. It comes with a removable plastic pan that doesn't rust when it comes in to contact with water and is generally constructed as a high quality dog crate you can put your faith in.
One drawback of the product, however, lies in the door hinges and locks. Some clever canines have managed a great escape out of the crate.
How to choose the best dog crate
Dogs come in all shapes and sizes, from tiny chihuahuas through to huge huskies. So it stands to reason that dog crates will come in different sizes. Make sure that you choose the right size, so that your pet pooch can fit comfortably in your chosen dog crate.
But it's not just size that matters – there are other questions that need to be answered. Is the crate going to be kept in the home? Do you need a dog crate to transport your dog to the vet/take on vacation? Will it fit in the car? How easy is it to assemble/fold down? How much does it weigh? Does it have carry handles? Is it easy to clean? Is your dog an aggressive chewer? Does the crate include any extras, such a blanket or bed?
These are simple questions, but are all questions that you need to consider. Answering these will help you to create a picture of the dog crate you need and want for your pet pooch, which in turn will help you to make the right choice to keep you and your dog happy.
Get the best advice, tips and top tech for your beloved Pets
Thank you for signing up to Petsradar. You will receive a verification email shortly.
There was a problem. Please refresh the page and try again.