Best dog crates: Crates to suit all hounds and homes
By Steve Jenkins published
The best dog crates provide a safe space for your canine companion but there are decisions to be made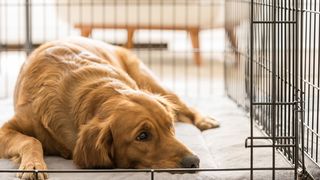 (Image credit: Getty)
Often picking the best dog crates doesn't rate highly in the list of things to do when you introduce a new canine into your home. Yet it's really important that you think about which one you buy because they're certainly not all the same.
For a start, it's crucial that a dog crate offers more than enough space and there's a little trick you can use to make sure that this is going to be the case. Grab a tape measure and place one end at your dog's tail. Now measure all the way to the tip of their nose. Add four inches to this and that will be the minimum length of the crate. Next, command your dog to sit and measure how tall they are in this position. Again, add four inches and this will be the minimum height of the crate.
One of the best uses for crates is training and it's always worth checking out how to crate train a dog. It's a basic type of training that helps them to feel at home when you're out. Crate training also makes it easier to board a dog in kennels while your furbabies are more likely to use the crate as a little in-house den whenever they need to retreat (perhaps because they're struggling with separation anxiety or stress).
Good crate training will allow you to prevent your dog from roaming around your home when you don't want them to. It'll also make it easier to transport your pet from one place to another.
If travel is a big concern, though, you should check out the best dog travel crate, maybe one made of plastic or soft sides to meet airline specifications. It's certainly important to consider what the crate is made of: wire crates allow good visibility and you can furnish them with a comfortable bed, a cozy blanket and a favorite toy. Wooden, designer crates are great because they look good in your home.
With all that in mind, let's take a look at our favorite dog crates available for purchase in 2022...
PetsRadar's pick of the best dog crates
New World Pet Products Folding Metal Dog Crate
Best overall dog crate
Specifications
Sizes:
24, 30, 36, 42, 48-inch
Doors:
Single and double available
Reasons to buy
+
Sizes for all dogs
+
Relatively lightweight
+
Heavy-duty latch
Reasons to avoid
-
Not suitable for extra-large breeds over 50kg
Keep your precious pooch safe and secure with this sturdy double door metal crate from New World. Versatile and durable, it's ideal for crate training or transporting your furkid from A to B.
Available in five different sizes, ranging from the 24-inch model that's ideal for small breeds up to 10kg, all the way through to the 48-inch crate that will comfortably accommodate extra large dogs up to 50kg.
This two-door crate comes with a leak-proof plastic pan, so you don't need to worry about any spills leaking through onto your floors, and the heavy-duty slide-bolt latch securely locks the crate door in place, ensuring your hound will stay put.
We love how easy to assemble this crate is with no tools required and it folds flat, making it a breeze to store and super convenient to transport. The wire allows for plenty of ventilation and visibility and the rounded edges mean you won't snag yourself.
This is a high-quality crate at an affordable price and with the protective long-lasting black E-coat finish, it's one that will go the distance.
MidWest iCrate Single Door & Double Door Folding Metal Dog Crate
Best budget dog crate
Specifications
Sizes: :
18, 22, 24, 30, 36, 42, 48 inch
Reasons to buy
+
Choice of single or double doors
+
Easy to assemble and store
+
Roller feet to protect floor
Reasons to avoid
-
Plastic tray
-
No carry handles
This dog crate does a great job of providing all the features you could want from a dog crate, but it does it at a price that is a little less than the rest. How does it manage this? It provides double-door and single-door options. The double-door option provides one at the narrow end of the crate and one on the side. But if you only need a single-door dog crate you can get one at a lower price that is hard to beat. The doors come fitted with the standard slide-bolt latches to firmly lock the door. You will find a single latch on smaller models and two latches on larger models.
The crate is easy to assemble and has a portable design. It is easy to fold down and easy to put back up. Like most other metal-frame dog crates, it folds flat, making it easy to store and easier to carry.
Some other neat little touches include the rounded edges and rounded side clips – no catching yourself on any sharp edges here. Simple roller feet adorn the bottom of the crate. This makes it easier to move: no need to drag or carry, just push. And the feet have the added bonus of helping to protect wooden or vinyl floors.
The bottom of the crate has a durable tray for comfort and cleanliness. A pan stop ensures that the tray stays in position and doesn't slip out unexpectedly.
There are seven different sizes that cater for most dog sizes. The smallest in the range measures 18 x 12 x 14 inches, while the largest manages an impressive 48 x 30 x 33 inches. And, if you are feeling a little adventurous, you can stray from the standard black finish and indulge yourself with a powder blue or pink option.
Amazon Basics Folding Portable Soft Dog Crate
Best travel dog crate
Specifications
Sizes: :
26, 30, 36, 42 inches
Color:
Blue, black, grey, red
Reasons to buy
+
Lightweight
+
Portable and easy to carry
+
Lots of color choices
Reasons to avoid
-
Not for dogs who like to chew
The wire metal frame dog crate is a popular choice with a lot of dog owners, especially for indoor use. They are easy to fold down and carry, but they are not as portable or stylish as a soft dog crate. If you need to take your pet pooch for a quick visit to the vet, ideally you want a dog crate that is quick, easy, and lightweight to deal with.
That's where this fashionable, functional, and most of all affordable, crate from Amazon is a real lifesaver. Almost identical to many other soft-sided crates that are double the price, this one may carry a low price tag but it's still made of high-quality durable polyester and PVC material that will go the distance.
The crate has three doors with one door positioned on top of the crate and the other two to the side and the front. This means the crate is well ventilated when your dog is inside. There are also two accessory pockets on the top and side which will easily hold small items such as a lead, treats and poop bags.
As an added bonus the crate comes with a fleece bed included – which is washable – as well as hand carry straps and an adjustable padded shoulder strap, so it's ideal for transporting your pet pooch quickly and easily. Available in four colors and a range of sizes, this lightweight crate has something for everyone.
MidWest iCrate Starter Kit
Best dog crate starter kit
Specifications
Sizes: :
XS, Small, Medium, Medium/large, Large, XL
Reasons to buy
+
Fleece bed
+
Crate cover
+
Dog bowls
If you've just got your first dog or have never ventured into the world of dog crates before, the idea of a starter kit sounds very tempting. So what does this dog crate starter kit include? As you might expect there is a dog crate, but you also get a fleece bed, a dog crate cover, plus a food and water bowl – and all neatly packed into a single box for easy delivery.
The crate is a standard epoxy-coated metal wire frame that comes with two doors, one on the end and one on the side for easy access to the cage. The doors are secured shut with two slide-bolt latches on larger models and one on smaller models. There is a strong plastic tray in the bottom of the crate for your furry friend to lie on – the perfect place to put the accompanying fitted, machine-washable, dryer-friendly fleece bed. The two bowls snap into place wherever you want on the crate frame. These can be snapped off for cleaning and refilling. Finally there is the crate cover, which fits snugly over the cage to give your pet pooch a bit of privacy and help keep them calm. The front of the cover neatly rolls up to give access to the cage.
Don't worry if you have a small, medium, or large dog, as the starter kit comes in six different sizes, ranging from XS to XL. The smallest is 22 x 13 x 16 inches while the largest option comes in at 48 x 30 x 33 inches. Measure up and get the kit you need.

SMONTER Heavy Duty Dog Crate
Best heavy-duty dog crate
Specifications
Color:
Dark Silver, Brown
Reasons to buy
+
Strong and durable
+
Non-toxic finish
+
Wheels to move
Reasons to avoid
-
Heavy
-
Difficult to carry
If you've got a big dog that is excitable and likes to chew, you are probably going to need more than the standard dog crate to keep them safe. If this is the case then it's time to think about getting a heavy-duty dog crate.
The SMONTER fits the bill perfectly. It has a strong, sturdy and durable steel frame that makes it almost indestructible. Alongside the standard steel tubing, the top of the crate has a special Y-pattern design. This adds to its unique look and provides a more bite-proof shape. Plus, a non-toxic finish ensures that your pet stays healthy when it licks or decides to chew on the frame. And to make sure that your furry friend can't escape, the door boasts double door locks.
The crate is easy to assemble and folds down when you need to store it. But as you might expect, this crate is no lightweight option. The smallest cage weighs in at over 22kg while the largest model comes in at over 40kg. That's a hefty dog crate to carry, but the addition of four 360-degree rotating wheels help to solve most moving issues. These are made of hard-wearing rubber and can be locked to keep the crate stable and in position.
The bottom of the dog crate boasts thickened steel pipes that sit close together to create a strong and comfortable floor for your dog. However, they're far enough apart to let any dog mess to fall through to the removable slide-out plastic tray below. This is easy to remove for cleaning.
There are multiple sizes, but all are aimed at larger breeds. The smallest in the range is the 38-inch model, measuring 38 x 26 x 32 inches. The largest is the 46-inch model, measuring 46 x 32 x 39 inches. Make sure to measure your dog before buying.
Best portable dog crate
Reasons to buy
+
Portable
+
Attractive
+
Quick to put up/down
Need a dog crate that is extremely quick and easy to put up and down? Most dog crates are quick and easy to assemble, but this collapsible crate offers almost instant access for your pet pooch.
Pull up the sides, grab the ergonomic handle, and lift. The top and sides of the crate immediately spring into action and lock into place. The crate is constructed of durable, high-grade aluminum, steel mesh wire, and reinforced plastic. This makes it relatively lightweight and easy to carry. This is not a crate for aggressive dogs or chewers, but if you have a calm dog it is more than adequate. It is also ideal for transporting your dog to the vet, as well as short journeys.
The crate has three doors. For easy access there is a larger door at the front, and two smaller doors on the top. The main door has a secure latch that will keep the door securely shut. The top doors are ideal for petting your furry friend or giving them a treat without them escaping. The mesh sides of the crate fold in the middle, which can be a weak point if you have a really strong dog. Like all good dog crates it has a sturdy tray that is easy to slide out and clean, and is the perfect place for the right sized dog bed.
The crate comes in two sizes – small and medium – but is not suitable for large or aggressive dogs. The small dog crate measures 25 x 17 x 19 inches and can hold a dog up to 13kg. The medium dog crate is a little larger measuring 35 x 23 x 24 inches and can hold a dog up to 22kg. So this dog crate is very much for puppies, small dogs, and the smaller to medium-sized dog breeds.
MidWest Ultima Pro Dog Crate
Best large dog crate
Specifications
Size:
Small to X-Large (49 x 30.5 x 34.25 inches)
Weight:
22.1 - 56.9 pounds
Reasons to buy
+
Collapsible
+
Heavy duty
+
Easy to clean
+
Easy to assemble
Reasons to avoid
-
Door locks could be stronger
If your canine is on the large side, MidWest Homes for Pets is a great brand to explore. Their crates come in multiple sizes, including an extra-large 49 x 30.5 x 34.25 inches in their Ultima Pro range.
The tough heavy-duty crate is made from metal and features two doors, front and side, for easy access. It's ideal for strong dogs with a weight between between 91 to 110 lbs, providing plenty of space for canines to stretch out.
Although the crate is highly durable, what's particularly notable about the Ultima Pro dog crate is that it's collapsible so if your pooch just can't be without their crate, you can take it with you wherever you go.
MidWest have also paid extra care to creating a dog crate that's so easy to clean. It comes with a removable plastic pan that doesn't rust when it comes in to contact with water and is generally constructed as a high quality dog crate you can put your faith in.
One drawback of the product, however, lies in the door hinges and locks. Some clever canines have managed a great escape out of the crate.
Petmate Aspen Pet Porter Travel Kennel
Best travel dog crate
Specifications
Size:
29.5" L x 19.75" W x 23.5" H
Reasons to buy
+
Heavy-duty
+
Lightweight
+
Good ventilation
Reasons to avoid
-
Not suitable for dogs over 50lbs
If you and your canine companion love taking cross-country or international adventures together, then this travel kennel from Petmate is the perfect way to keep your pup safe while you're traveling.
Suitable for dogs up to 50lbs, the crate features a heavy-duty plastic shell and metal screws that combine to create a durable and long-lasting structure that's still lightweight enough to offer outstanding portability.
There's plenty of ventilation at the front and sides, so your dog will have ample fresh air circulating, and the easy-open latch means you can be keep one hand on the carrying handle while using the other to open the front of the crate.
With interior dimensions that measure 29.5" L x 19.75" W x 23.5" H, there's enough room for your canine to feel comfortable while ensuring they stay secure at the same time. The crate also meets air travel specifications and is easy to assemble.
unipaws Furniture Style Dog Crate End Table with Cushion
Best furniture-style dog crate
Specifications
Size:
36.2 x 26.5 x 31.5 inches
Reasons to buy
+
Dual-purpose
+
Double door design
+
Cushion included
Reasons to avoid
-
Only suitable for dogs up to 40lbs
This elegant and dual-purpose piece serves as both a stylish end table and a dog crate and is made from a mixture of pressed wood and metal. Measuring 36.2 x 26.5 x 31.5 inches it's the perfect size to fit into your living space and can accommodate dogs up to 40lbs.
The double door design makes it easy to get your dog in and out and makes it a breeze to keep the inside of the crate clean. It comes with a comfortable cushion that's fully machine washable and the bars of the crate allow for plenty of ventilation and visibility, meaning your pup can still stay in on all the action.
It's worth noting that the wood isn't chew-proof, so if you have an aggressive chewer on your hands, this isn't the crate for you. It's also one of the more expensive models on the market, but if you're after a crate that is both functional and fashionable and will blend seamlessly into your decor, then this one is definitely worth considering.
Best eco-friendly dog crate
Specifications
Size:
29.5 x 21.1 x 25.2 inches
Reasons to buy
+
Will blend into the decor
+
Easy to assemble
+
Made from eco-friendly materials
Reasons to avoid
-
Not suitable for boisterous dogs
If you're after a dog crate that blends into your home's décor, then you can't go wrong with this stylish option that doubles as an end table. It's made from a non-toxic recycled composite material that the manufacturer claims is more durable than wood. With the door closed, you would be hard pressed to notice that this is a crate at all.
Able to be assembled without the use of tools in about 10 minutes, the crate comes in various sizes, making it suitable for dogs small and large. It's also easy to wipe clean, free of allergens and unable to absorb moisture ensuring it's hard to stain. In using stainless steel spindles, it offers safety while providing sufficient gaps for your pooch to peer out.
That said, many owners claim it's not a good option for dogs which tend to chew a lot. Some say determined dogs can easily break out and damage the structure. In that sense, this is a crate that will work well for a well-trained, calm dog rather than one which is still finding its way or hates being confined. But the maker offers a 10-year warranty which should offer peace of mind.
Carlson Pink Secure and Compact Dog Crate
Best fashionable dog crate
Specifications
Size:
24 x 18 x 19 inches
Reasons to buy
+
Splendid eye-catching color
+
Great for small breeds
+
Easy to assemble and put away
Reasons to avoid
-
No handle making carrying more difficult
A lot of wire crates can look very similar but this one really stands out from the crowd. Rather than go for a black look, this offering is colored in an attractive pink shade and it has obviously been designed for the fashion-conscious among us. There's no doubt that it'll turn heads, if only because it's a tad unusual.
Other than it's stand-out design, this alloy steel crate is also practical. Although it is only large enough for a small dog, it is light enough to be carried around and it should be strong enough not to become damaged by chewing. Sadly, it doesn't have a handle which is something of an oversight but it does have a multi-point secure locking system on its single door so you needn't worry about your dog escaping and wreaking havoc.
What's more, thanks to its cage-like appearance, it naturally offers great visibility and ventilation. This makes for a safe, secure space that also lets you keep an eye on your pet. We like that no tools are required to assemble the crate and that it's easy to pack down flat if you need to store it for a while. It's also very easy to clean thanks to a removable bottom tray.
FEANDREA Wooden Dog Crate
Best wooden dog crate
Specifications
Weight:
57.8 and 33.5 pounds
Reasons to buy
+
Rustic style
+
Available in two sizes
+
Strong and durable
+
Easy to assemble
Reasons to avoid
-
Grate bottom can be problematic
If you're looking for a furniture-style dog crate and your interior is more rustic in style than modern, then the FEANDREA Wooden Dog Crate offers an attractive option for both dog and owner.
It's available in two spacious sizes, with room in the bigger size for a larger dog, without taking up a lot of room in the house. It does this by acting as a stylish table, as well as a dog crate. You can add your favorite items such as a lamp or ornaments to the top of the crate with peace of mind that it's strong and durable enough to hold everything in place. Added bonus if the rest of your furniture happens to match its wooden style.
When it comes to assembling the crate, the good news is it comes with tools to help you set-up and you can choose which end the smaller of the double doors will open from which is a nice touch.
Less favorable to pet owners may be the grate bottom which can be more difficult to remove than you might expect, but as the crate comes with a plastic tray, some users have adjusted it to better suit their needs.
Best collapsible dog crate
Specifications
Size:
36.2" x 22.5" x 11.5"
Reasons to buy
+
Takes up less space when not in use
+
Travel friendly
+
High-quality components
Some pets require travel crates that are a bit more heavy-duty. Generally, these will be ones that are quite bulky and heavy-duty, but happily, we've found one that doesn't take up a huge amount of space.
Available in small and medium sizes, its aluminium and steel wire frame makes it stronger than most crates, as well as meaning that it will last longer than its competitors. While it doesn't come with a bed, there are related products that it recommends. Alternatively, you can load it with your own snooze station!
While some have reported collapsible crates to do just that at moments when you'd rather they didn't, this has been tested to up to 180lb at its weakest point in the centre, meaning that it's far less likely to do so.
However, for such reliability you can expect to pay a premium. It's currently retailing at $375 on Amazon, with shipping adding another large fee. Moreover, durable materials tend to be heavier than others, so bear this in mind should you be on carrying duty.
Still, there's no denying its reliability, so should you be willing to pay the price, you can't go far wrong with this.
Frisco Ultimate Foldable & Stackable Heavy Duty Crate
Best foldable dog crate
Specifications
Size:
41.34 x 48.2 x 33.35 inches
Reasons to buy
+
Robust and sturdy
+
Folds away easily
+
The crates are stackable
You may not always have a need for a dog crate. You may be perfectly happy with your dog roaming anywhere they wish inside your home and you may spend most of your time together so rarely need to keep them confined. By investing in a foldable dog crate, however, you can still give your options open. When the need to confine arises, you will know that you have a crate on hand. The rest of the time, you can store it away, knowing it will fold down and take up less space.
Although this crate is expensive, it definitely does the job well. It's built using 22-gauge steel and half-inch tubing ensuring it's going to be very robust. The manufacturer says it is also going to be resistant to scratches, fading, rust, dents and scuffs so it's likely to last you a very long time. In fact, it could so easily be a main crate, left out for the duration of a dog's training or just for use in general. Yes, it's foldable, but that doesn't mean you have to do it. It's all about the options.
Certainly, it does well in the looks department with the crate likely to fit in with the décor of most homes. It's also great to see that it comes on wheels so you don't need to keep it in situ but move it around to offer your dog variety and for added convenience. The wheels are necessary because the crate is heavy (it weighs just under 100 pounds) but with a slide-out tray to help contain any mess and easy access, it should still be high on your list of potentials.
How to choose the best dog crate
Dogs come in all shapes and sizes, from tiny chihuahuas through to huge huskies. So it stands to reason that dog crates will come in different sizes. Make sure that you choose the right size, so that your pet pooch can fit comfortably in your chosen dog crate.
But it's not just size that matters – there are other questions that need to be answered. Is the crate going to be kept in the home? Do you need a dog crate to transport your dog to the vet/take on vacation? Will it fit in the car? How easy is it to assemble/fold down? How much does it weigh? Does it have carry handles? Is it easy to clean? Is your dog an aggressive chewer? Does the crate include any extras, such a blanket or bed?
These are simple questions, but are all questions that you need to consider. Answering these will help you to create a picture of the dog crate you need and want for your pet pooch, which in turn will help you to make the right choice to keep you and your dog happy.
Steve Jenkins is a freelance content creator and long-time journalist with more than 20 years in the industry. He has written for numerous titles covering tech to pets, with his latest faithful hound always by his side. When not walking his dog, or discussing who's best - cats or dogs? Loud guitars, AFC Bournemouth, Photoshop, and trying to save the world take up the rest of this time.
Get the best advice, tips and top tech for your beloved Pets
Thank you for signing up to Petsradar. You will receive a verification email shortly.
There was a problem. Please refresh the page and try again.