Watch: Picky rescue dog refuses to eat food without "special toppings"
This viral TikTok shows a rescue mutt staring forlornly at her not-so-special food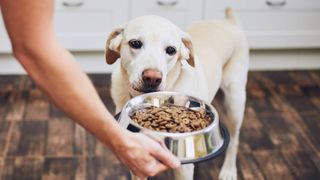 (Image credit: Getty Images)
A rescue pup named Nairobi has gone viral for refusing to eat her plain kibble without "special toppings," redefining the notion of a picky eater.
TikTok user Chelsea aka heyymrsscarterr posted the video of the rescue pup sitting forlornly in front of her food bowl full of kibble.
"Eat your food!" Chelsea is heard saying through laughter. Nairobi simply looks back, staring into the camera like she's being deprived of daily meals.
"Eat it, spoiled dog, eat the kibble," Chelsea says. Just before the TikTok ends you can hear Nairobi let out a frustrated growl.
Chelsea commented on the video, writing "Don't worry everyone she got her toppings, she always does lol" and "We are going away for the week so we were seeing if she would eat just her kibble for my friend that is watching her… it is very clear she will not."
According to the caption, Nairobi's dad puts "special toppings" on her typical doggy dry food, though it's not clear what that could be.
Some good, safe options for dogs are dog-safe peanut butter, coconut oil, or some wet dog food. It's unclear how she became accustomed to eating like this, but now the learned behavior has clearly become a funny little puppy quirk.
Nairobi is a mixed-breed rescue. According to her mom, an Embark pet DNA test says she is an Australian Shepherd, Boxer, Pit Bull, and Miniature Schnauzer mix.
Get the best advice, tips and top tech for your beloved Pets