Best large dog beds: Find your big furry friend the perfect place to rest
The best large dog beds will give your huge hound plenty of space to stretch out while offering comfort and support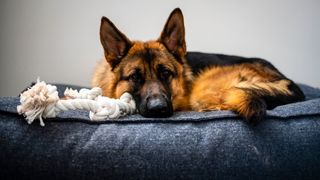 (Image credit: Getty)
A large dog bed is one item you're definitely going to want to invest in if you're the proud pet parent of a huge hound. Not only will bigger bed give them plenty of space to stretch out on, these beds have been specifically designed to meet the unique needs of larger breeds.
While the best dog beds are more than adequate for most pups, they're often too small for our more colossal canine companions who can end up feeling more cramped than comfortable. Bigger breeds also come with different health issues than smaller breeds, so choosing a bed that's been tailored to them can make all the difference when it comes to getting a restful nights sleep.
Studies have shown that large dogs are more susceptible to conditions like arthritis, hip dysplasia, and Wobbler Syndrome, a neurological disease that causes neck pain, and they tend to have a much higher risk of suffering from muscular-skeletal issues later in life. Because they tend to suffer from more joint pain and mobility issues than smaller breeds, a supportive sleep space is a must.
So, when you're shopping for a large dog bed, what exactly should you be looking for? Well, first up, you'll want to look for materials that support the whole body, from the neck down through the spine and including all the muscles and joints. The best orthopaedic dog beds do a great job of this as most are made from memory foam, which provides excellent cushioning and allows for weight to be distributed evenly. A bed with bolsters can be great if your dog experiences regular pain in their upper body as these cradle the neck and head, relieving pressure on the spine.
Once you've found a bed that ticks the boxes in terms of style and material, the next thing is to make sure it has a waterproof lining. This is particularly beneficial if you have a pup who's prone to bouts of incontinence as the lining will trap any accidents and in the morning, you can unzip it and throw it in the washing machine without having to clean the entire bed. If you have one of the best dog crates, it's also worth measuring your crate and the bed to make sure it'll fit comfortably inside.
Now that you know a little bit more about the ways a large dog bed can benefit your huge hound, it's time to go shopping. Below you'll find our favorite a selection of our favorites, with options to suit every budget.
PetsRadar's pick of the best large dog beds
Why you can trust PetsRadar Our expert reviewers spend hours testing and comparing products and services so you can choose the best for you. Find out more about how we test.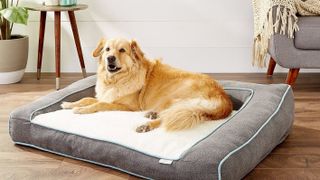 Frisco Plush Orthopaedic Front Bolster Bed
Best overall large dog bed
Specifications
Sizes offered:
Medium, large, x-large
Materials:
Polyester, polyfill, orthopedic foam, memory foam
Washability:
Machine washable cover
Reasons to buy
+
Dip in front allows for easy entry
+
Orthopedic foam
+
Bolsters for lounging
Reasons to avoid
-
Not water-resistant
-
Not chewproof
For the best large dog bed that combines the most desirable features, check out the Frisco Plush Orthopaedic Front Bolster Bed. This bed touts its lowered front entry as unique, which may be helpful for dogs that might have difficulty climbing into a higher bed. It has three inches of foam - one inch of memory foam on top of two inches of orthopedic foam - to provide both comfort and support for your big pup's joints. The bed is available in two neutral colors, beige, and gray. The extra large bed is 40 inches in length, which may not be big enough for a giant breed, but should be big enough for most large dogs. The Frisco Plush bed has an exterior of durable polyester, with a softer inner lining. The cover is removable for machine washing. Bolsters give large dogs room to lounge, and give it a more sofa-like look in your living room. Some customers cautioned that their dog didn't like the bed because it was too firm, and that the lack of a waterproof or water-resistant lining is a negative for incontinent dogs or large puppies that are still learning.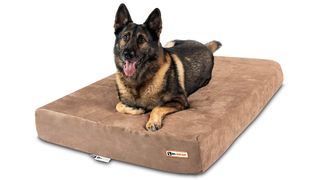 Big Barker 7" Pillow Top Orthopedic Dog Bed for Large and Extra Large Breed Dogs
Best orthopedic large dog bed
Specifications
Sizes offered:
Large, x-large, giant
Materials:
Microfiber, memory foam
Washability:
Machine washable cover
Reasons to buy
+
Built like a mattress
+
Comes with a money-back guarantee
+
Sized for large and giant dogs
Reasons to avoid
-
Expensive
-
Waterproof liner sold separately
Fans of the Big Barker rave about how much their dogs enjoy sleeping on this large dog bed. It's made of the same kind of foam used in human mattresses, and owners who have tried out the bed themselves mention how comfortable it feels to them. The Big Barker dog bed has a full seven inches of foam, so no part of your dog's body will touch the floor. The company provides a 10-year money-back guarantee if the bed loses more than 90% of its loft and shape, which lets you know how much they believe in their product. A guarantee of any kind is rare in the dog bed business.
The giant size is 60 inches long and 48 inches wide, which is wider than a twin-sized bed and sized for breeds such as Irish Wolfhounds and Great Danes. It comes in four colors, and has a microfiber cover that zips off for machine washing. Some owners complain about the lack of a waterproof liner, which is sold separately. However, if you're concerned about accidents or big messes, it's probably worth protecting your investment. Apparently not all dogs love this bed, but that's going to be true of any dog bed that you buy. Check the refund policies! Big Barker also sells replacement covers, and there's a version with a headrest as well.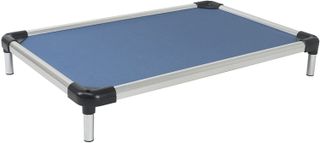 K9 Ballistics Chew Proof Elevated Dog Bed
Best durable large dog bed
Specifications
Sizes offered:
Small, medium, large, x-large, giant
Materials:
Ripstop ballistic nylon, aluminium frame
Washability:
Wipe or hose clean
Reasons to buy
+
Chew proof for most dogs
+
Variety of sizes
+
Good for crates
Reasons to avoid
-
Sags in the middle
-
Can still be destroyed by tenacious dogs
Okay, it's not really possible to make an entirely "chew proof" or indestructible dog bed. If a dog really wants to dig or tear a hole into a bed, nothing will stop him. According to reviews, however, the K9 Ballistics Chew Proof Elevated Dog Bed comes as close as possible to being chew proof. The seller claims that they had to design their own fabric for the bed because Kevlar wasn't strong enough. This bed can be used indoors and outdoors, and is advertized as being especially good for dogs who are kept in crates or kennels. It should fit well - measure first of course - and will keep them off the floor of the crate with no gaps. The giant sized bed is 50 inches long. Some sellers have complained that the bed sags too much for very heavy dogs, and that it can move because the legs aren't skidproof. K9 Ballistics does claim a 120-Day warranty, meaning that if your dog chews through it within 120 days of purchase, they will replace the fabric.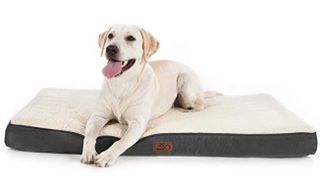 Best reversible large dog bed
Specifications
Size offered:
Medium, large, x-large, xx-large
Materials:
Oxford fabric and egg-crate foam
Washability:
Machine washable cover
Reasons to buy
+
Affordable
+
Versatile
+
Relieves joint pain
Reasons to avoid
-
Not suitable for heavy chewers
Your dog is going to love lazing about on this high-density egg-crate foam pillow, which evenly distributes your pets' weight, alleviating pressure on their bones, supporting their joints, and relieving muscle pain.
Available in a range of generous sizes, your pooch will be able to sprawl out comfortably and the versatility of the bed's pillow shape means it can easily be popped in a crate, the back of a car, or in any room of your home.
The standout feature is the reversible design, which has a super-soft fleece on one side to provide warmth in the winter months and Oxford fabric on the other to keep your furkid cool in the summer.
Durable enough to hold up to light to moderate chewers and scratchers, it has a removable zippered cover that's machine washable, making cleaning a breeze. This is a wonderful no-fuss dog bed at a great price.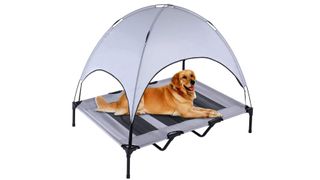 SUPERJARE Outdoor Dog Bed, Elevated Pet Cot with Canopy
Best outdoor large dog bed
Specifications
Sizes offered:
Large, x-large
Materials:
Oxford cloth, mesh, steel
Washability:
Machine washable cover
Reasons to buy
+
Portable
+
Cooling
+
Indoor/Outdoor use
Reasons to avoid
-
Difficult to assemble
-
Can't be kept outside
Many large dog breeds thrive in the great outdoors, and enjoy adventures at beaches, lakes and more. The SUPERJARE Outdoor Dog Bed not only provides them with a cool and comfortable place to sleep, it has a canopy to keep them shaded. The bed part is a cot elevated about nine inches off the ground, which might help keep your doggy cleaner than lying directly on the ground. Air can circulate through the mesh openings. The metal tubing has supports so the bed won't tip when your dog throws themselves on top for a snooze. A tent-like frame supports the canopy, which should help keep it from collapsing. One note though, the canopy isn't waterproof or even water-resistant. Both your bed and the dog should be brought inside when the rain hits. Some customers complained that the metal tubing held water, but that's probably why the seller suggests that you not keep it outside. In addition, the sun will fade the fabric and the bed won't last as long.
The SUPERJARE Outdoor Dog Bed comes with a carrying bag, and is available in brown, grey, and silver grey. The large bed should hold a dog weighing up to 100 pounds, and the x-large up to 120 pounds. The x-large bed is 48 inches long by 36 inches wide, so it might not be big enough for a giant breed.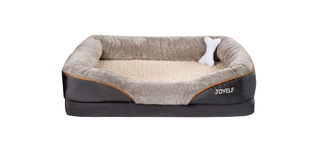 JOYELF Large Memory Foam Dog Bed, Orthopedic Dog Bed & Sofa with Removable Washable Cover
Best waterproof dog bed
Specifications
Sizes offered:
Small, medium, large
Washability:
Removable washable cover
Reasons to buy
+
Super-soft memory foam
+
Easy to clean
+
Waterproof cover
Reasons to avoid
-
Sides are not very supportive
If your dog is prone to a few little accidents in their old age then this bed is perfect for keeping them dry. The bed itself is super-soft and made from memory foam, which does take a few days to plump out, but once it does this is the ultimate luxury bed for your dog. This is perfect for larger dogs with joint problems and it has a big fluffy bolster for relaxing against too. The sides are not the most supportive if your dog likes to lean or sit with their head supported, but it would make a comfy pillow when it comes to sleeping.
The bed can hold dogs up to 100lbs and the bottom of the bed has a built-in rubber backing which will stop this large dog bed from sliding around when they're trying to get comfy. The cover is removable and machine washable so it's super easy to clean regularly and it won't get misshapen in the wash either. The bed also features a waterproof liner which protects against any accidents and keeps this dog bed fresher for longer.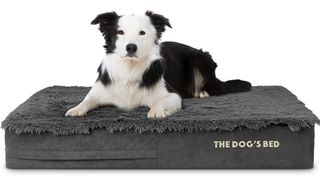 The Dog's Bed Orthopedic Dog Bed
Best memory foam large dog bed
Specifications
Material:
Memory foam, faux fur, plush
Reasons to buy
+
Great range of sizes
+
Incredibly supportive
+
Provides pain relief and comfort
This luxurious orthopedic dog bed offers a solid 2-inches of high density memory foam over a 4-inch base of stability support foam for a comfortable sleep surface that will leave your canine companion feeling like they're sleeping on a cloud.
Available in a range of generous sizes and colors, this stylish mattress-style bed will blend seamlessly into any home and the therapeutic design makes it ideal for senior dogs or any pup suffering from joint pain or mobility issues.
Providing the ideal mix of comfort, support and relief, this bed is geared towards dogs with joint conditions such as hip and elbow dysplasia, arthritis, patella luxation, osteochondritis and other conditions and is also great for dogs recovering from surgery.
The bed comes with removable covers, making it a breeze to wash and keep clean, and it has a waterproof mattress protector to catch any accidents associated with incontinence. It's not the cheapest bed on the market, but the high quality design and materials makes it well worth the investment.
How to choose the best…
Large dogs have large needs. Not only do they often need extra support for all of the joint and muscular problems that can go along with those breeds, their messes and destructiveness are also outsized. When choosing the best large dog bed, think about which features are most important to you overall. Keep in mind that just like many other aspects of having a large breed, the best large dog beds will cost more than beds for smaller dogs. In some cases, they'll cost quite a bit more if you really want a high-quality, mattress-like bed. However, sometimes you get what you pay for, and beds that will last you a long time are worth it in the long run. For both you and your big boy or girl!