How long can a hamster go without food?
We answer the question 'how long can a hamster go without food?', plus how long is too long to leave your fur friend on their own?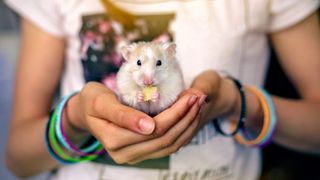 (Image credit: Getty Images)
The question of how long can a hamster go without food is likely one you've found yourself asking on more than one occasion if you're the proud parent of a pocket pet.
Even if you have one of the best hamster cages that's easy to transport, you might not always want to take your little hammy on every adventure that you go on, which is why knowing how long your little fluff ball can survive without you is so important.
Generally speaking, a hamster that's in good health can go several days without food or water, but that doesn't mean that's advisable. If you're going to be away, the best thing to do is leave your hammy with a decent amount of both of these things and to arrange to have someone to check in on them.
Below, you'll find everything you need to know about leaving your hammy on their own, including exactly how long they can be without food and water, how to make sure they have enough sustenance while you're away, and some of the risks of letting your pocket pet fly solo for more than a few days.
How long can a hamster go without food?
Most hamsters can survive for around 3-4 days without any food or water. That's because in the wild, hamsters are typically desert animals who will stash away resources for times of famine and drought, which means they likely already have some food hidden in their cage that you're not aware of!
It's important to remember that the 3-4 day rule is based on a number of factors:
How healthy your hamster is
How old they are
How well you've taken care of them
The temperature of the room they're in
Hamsters live for around 2-3 years, with those under three months and those over two years requiring more care than adult hamsters. The same goes for sick hamsters. Age and health may dictate an increased need for food and fluid or a different feeding pattern, so these are things worth considering.
What your hamster ate for their last meal will also affect how long they can go before they need to eat again. If they tend to eat protein-rich meals containing things like grains, seeds and pellets, they'll feel fuller for far longer than if they've just consumed fruits and vegetables.
How to make sure your hamster has enough food and water when you're gone
We recommend that if you're going away, you have someone pop over to your house every day to check on your furry friend and replenish their food and water stocks. But if that's not doable, don't worry, it's still possible for you to leave your hammy home alone for a weekend and come back to find him fighting fit.
You want to make sure that alongside leaving your pocket pet's water tube full, you also leave them a mixture of dry and wet food. Dry food, like pellets, contain little to no water, whereas fruits and vegetables contain a lot of fluid, which will help keep your hammy topped up if they run out of water.
As well as popping pellets and grains in their cage, leave some cucumber, lettuce, and some pieces of strawberry, pear or apple. This will ensure they have everything they need while you're away and will be more than enough to cover them for 48 hours - if you're going to be gone for longer, increase the portions.
For example, for five days away, you'd want to provide the following:
Around 150 ml of water
¼ - ½ cup dry food, that's around 2-3 teaspoons for every day you're away
A dry biscuit or food stick to nibble on
A few slices of water-based fruits and vegetables
If you have a greedy little hammy on your hands, we recommend erring on the side of caution and leaving some extra food to keep them happy. You don't want to come back to a hangry hamster!
How long can I leave my hamster alone for?
There's no hard and fast rule around how long your hammy can be left alone for and we recommend you always have someone on call who can stop by and check in on them while you're out of town.
That being said, if it's not possible to get a pocket pet sitter, then we advise that hamsters be left alone for no more than a week and that they're left with adequate food and water. Any longer than this and your hamster (particularly if they're highly social and used to being handled frequently) may start to feel your absence.
The risks of leaving your hamster alone for too long
Alongside the possibility of running out of food and water, which shouldn't be an issue if you follow the guidelines above, there are other risks associated with leaving your hamster alone.
The first of these is that hamsters are well known for being expert escape artists, so you do run the risk that your furry friend may try and make a break for it while you're away, wreaking havoc around the house while they're at it.
If your hamster is known for their love of adventuring, you might want to consider placing their cage in the bathtub - that way, if they escape, there's nowhere for them to go and no wires for them to chew through or other hazards that could pose a danger to them.
And while the best hamster toys are ideal for keeping your little one mentally and physically stimulated, avoid leaving them with any rope toys that they could get tangled up in or anything with small parts that they could swallow.
When you return home, make sure to give your hammy a thorough going over. Look for any signs of distress or illness, such as a runny nose, wheezing, any bald patches where there should be fur, loose stools, a lot of food and water left in their cage. And if you're at all worried, take them to the vet immediately.
Get the best advice, tips and top tech for your beloved Pets
Kathryn is a freelance writer who has spent the past three years dividing her writing time between her two great loves - pets and health and wellness. When she's not busy crafting the perfect sentence for her features, buying guides and news pieces, she can be found hanging out with a very mischievous Cocker Spaniel and a super sassy cat, drinking copious amounts of Jasmine tea and reading all the books.