Best hamster cages: Give your hamster the perfect habitat
Discover six of the best hamster cages where your furry friend can live a happy and contented life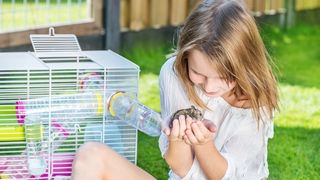 (Image credit: Getty)
The best hamster cages will provide plenty of room and entertainment for your furry friend. Hamsters are active animals so you need to make sure that they have plenty of floor space to run around in and plenty of room to play with the best hamster toys. How big should a cage be? The bigger the better, but it will depend on which breed you are buying a cage for. Dwarf hamster breeds rarely grow past four inches in length so smaller cages are OK. The popular Syrian hamster breed can grow up to seven inches in length, so typically need a bigger cage.
Size aside the contents of a hamster cage need to include a host of items to your pet hamster active, entertained and healthy. Hamsters are nocturnal so you will need a nesting box so they can hide away and sleep during the day. These help them feel safe so your furry friends will be less stressed out. Hamsters need to exercise and a popular addition to any hamster cage is a wheel. Try a silent one if your hamster is kept in a bedroom. Toys, tubes, ladders and shelves are essential for stopping your furry friend getting bored. To keep your hamster healthy you need gnawing blocks to wear their teeth down. And, don't forget a deep layer of sawdust as hamsters love to dig and burrow.
To keep your small furry friend happy and healthy you need to make sure you're getting the best hamster cage and equipment. Here we have put together a collection of hamster cages to help you decide what is the best option for your hamster.
PetsRadar's pick of the best hamster cages
Favola Hamster Cage
Best overall hamster cage
Size: 23.6 x 14.4 x 11.8 inches | Weight: 6.28 pounds | Material: Plastic/WireX | Color: Black
Extra deep base
Essential extras
Steep walkway
Noisy wheel
Hamsters need floor space, somewhere to sleep and accessories to keep them active and entertained. The Favola Hamster Cage has all of this and more, making it a great one-stop option for your hamster and you.
The hamster cage consists of two parts. Effectively an upstairs and downstairs. The base – the downstairs – measures 23.6 x 14.4 in height and width, and an impressive 4.75-inches in height. This provides a nice deep base to fill with plenty of bedding and gives your furry friend plenty of burrowing room. The design of the base also means that the bedding will stop spreading to the top floor.
A steep plastic ridged walkway takes your hamster to the upper floor. This a flat area that includes the essential extras. There is a food dish, water bottle, hideaway and a 5.5-inch exercise wheel. The wheel is neatly integrated into the floor and easily accessible via the base. If you want to upgrade to a bigger wheel there is plenty of room.
The top floor is covered by a standard wire cage that is kept in place by a couple of quick release latch side clips. These make it easy to take off the top for cleaning. A door on top of the cage gives easy access to the top floor and your hamster. If you want to expand the cage there is a single connection port to add a tube to a whole new bunch of activity/sleeping areas. The combination of the base and the top floor make this hamster ideal for most hamster breeds.
The quality of the cage is reflected in the price. It does a job and will last but if you want to give your small furry friend more excitement and entertainment you will need to invest in better quality accessories.
Midwest Critterville Arcade Hamster Cage
Size: 18.1 x 11.4 x 21.5 inches | Weight: 6.1 pounds | Material: Plastic/Wire | Color: White/Green/Blue
Expandable
Great price
Multi-level play space
Includes accessories
Self assembly
If you want a home for your happy hamster that will keep them entertained, provide plenty of exercise, has room for expansion and won't break the bank then this is the best hamster cage for you.
The Midwest Critterville Arcade Hamster Cage comes at a budget price but still provides plenty of features and accessories. It consists of a standard style cage and a multi-level vertical play space. The cage isn't huge, it measures 18.11 x 11.4-inches in length and width, ideal for small hamster breeds. But, with the addition of the multi-level play space your furry friend will have plenty to keep them entertained. The cage is deep enough to provide plenty of bedding for one of a hamster's favorite pastimes – burrowing. And it comes with a top opening door for easy access and includes a food bowl and water bottle.
A selection of interior play tubes connect the cage to the multi-level play space. It's here where your furry friend can really play, exercise and rest. There are two platforms and three sets of non-slip ramps that lead to a nest nook and exercise wheel. A neat addition to the multi-level play space is a removable clear plastic cover. This makes it easy to clean the area and of course, watch your hamster in action.
If you want to expand your furry friends living quarters you can. There is a connecting ring in the cage to expand sideways with more tubes and another cage. A connecting ring in the top of the vertical play space means there is room to build upwards as well. This is a great cage for starting out and perfect for expansion as your hamster grows.
Savic Hamster Heaven Metro Cage
Size: 31.5 x 20 x 20 inches | Weight: 12.17 pounds | Material: Plastic/Wire | Color: Blue/Black/Green
Plenty of accessories
Large deep base
Two doors
Easy to carry
Takes time to build
Bigger is better when it comes to hamster cages. The more room your furry pet has to run around in, the happier and healthier they will be. The Savic Hamster Heaven Metro Cage is big by hamster cage standards. It measures 31.5 x 20 x 20 inches, that's nearly three feet in length and nearly two foot wide and high. This makes it perfect for all breeds of hamster and ideal for more than one (if your breed is happy with a companion).
It comes with a large deep base that provides plenty of room for bedding. Your hamster can tunnel until their heart's content and there's plenty of room for accessories. And the Savic comes with plenty of them. It includes a tunnel that takes your hamster above the wire cage, an exercise wheel, two houses, a penthouse, a water bottle, non-slip ramps and a couple of platforms with feeding bowls. Pretty much everything your furry friend could wish for. But all these accessories mean it does take a while to put the cage together.
Even with all these accessories included there is still plenty of room to add more. You could add a nesting area, a gnawing block, an extra ladder or a hanging hamster house to give them complete privacy.
The wire cage is firmly attached by two clips making it easy to take off and clean. It also boasts two doors – a large front door for quick and easy access and a smaller top door. The Savic is a large hamster cage which makes it a little more difficult to move. But, two strong carry handles make the job much easier. This cage is a great option for any hamster but ideal if you want to put two together.
5-Floors Large Twin Tower Syrian Hamster Cage
Best multi-level hamster cage
Size: 31 x 14.5 x 33 inches | Weight: N/A | Material: Plastic | Color: Multi-coloured
Multiple levels
Essential accessories
Tube-tastic
Time consuming assembly
Needs plenty of space
This is definitely a cage with a difference. It doesn't waste any time with a couple of floors, it boasts five floors, two towers and a crazy array of connecting tubes. This isn't a hamster home, this is a hotel. Everyday in this cage will seem like a holiday to your furry friend.
The hamster hotel starts with a solid three-inch deep base that measures 31 x 14.5-inches in length and width. Plenty of room for bedding and burrowing. But the real fun begins above the base. The cage is effectively divided into two vertical towers, with each tower having two floors each. The top floor on the left has an exercise wheel and a connecting tube which your hamster can slide down to the floor below. This in turn has another connecting tube to get to the base. A set of ladders connect all the floors with the top floor on the right having the hamsters home where they can hide away and sleep. Again this has connecting tubes that give a quick descent to the base. There is a food bowl and water bottle included, you just need to decide which floor they are going to go on.
Five floors will keep your happy hamster fit but, if it wants to go a little crazy then the connecting tubes between the two towers will keep them entertained. These create a wacky multi-coloured walk across the sky, not for hamsters who might suffer from vertigo.
On a more serene note the cage is easy to clip off the base and clean. While three doors – front, left and right - give easy access to all levels of the cage for cleaning and getting access to your hamster whatever floor they are on. If your hamster is super active and a little crazy this cage might just be the perfect fit.
Savic Geneva Modern Hamster Cage
Best modern design hamster cage
Size: 23. 5 x 11.5 x 17.5 inches | Weight: 1.1 pounds | Material: Plastic | Color: Grey
Stylish modern design
Easy to clean
Transparent design
Lack of accessories
The average hamster cage is the ideal home for your hamster but not always the ideal fit for the interior style of your home. The Geneva is different, it boasts a unique contemporary two-story design for the modern home. It is slim in size meaning you have more options on where you want to put the cage. And the smart grey colour and curved edges means it will look good anywhere. However, the small footprint makes this more suitable for a single dwarf hamster, rather than a larger breed.
But, it's not all about looks, it has plenty of features to keep your hamster happy as well. The cage is effectively two parts. The bottom half of the cage is a deep transparent plastic tank. The ideal environment to add loads of bedding and the opportunity for your hamster to get some serious burrowing done. It also acts as a great viewing platform. No wire bars to obscure the view of your happy hamster running around their cage.
You can close off the top part of the cage by pulling up the long ladder. Then all you need to do is pull out the transparent tank – via the integrated handle – to clean. You can quickly empty the old bedding, wash, add new bedding and put back in no time at all.
The top half of the cage is a dedicated play area and comes equipped with a feeding bowl, exercise wheel and a water bottle. There is no nesting box or gnawing block so you will need to get these yourself. The wire cage has a large front door for easy access to the whole top floor. If you are worried your hamster might escape, put them in the bottom tank while you clean the top.
Ferplast HAMSTERVILLE Hamster Habitat Cage
Size: 23.6 x 13.4 x 19.3 inches | Weight: 15 pounds | Material: Wood | Color: Natural/Black
Pull-out tray
Sustainable wood
Self assembly
If you want to go green when purchasing a hamster cage then this is definitely your best choice. Hamster cages are usually made from plastic and metal, both man-made materials. Neither of these are as environmentally-friendly as the wooden Ferplast HAMSTERVILLE Hamster Habitat Cage. It is made from all natural, sustainable, liquid resistant wood and is accompanied by a strong robust wire net cage. Note that the wood comes from forests that are managed in a responsible way.
The cage comes as a self-assembly kit so you will need some DIY skills and a few basic tools to put it together. But once the cage has been assembled you will have a strong, sturdy, attractive cage for your furry friend to wander around in. And, as it is made from wood you do have the option to paint it any colour you want. Just make sure you buy pet-safe paint.
The Hamsterville measures 22.75 x 12.25 x 2.6-inches, a good size for all hamster breeds, and plenty of space for a dwarf breed. The base is deep enough to contain ample bedding for digging and burrowing. While, the cage design conveniently allows for the base to be pulled out, emptied, cleaned and replaced quickly.
To keep your hamster fit and well the Hamsterville hamster cage comes equipped with a wooden hamster hide-out and three wood platforms and ladders. Additional accessories include a 5.5-inch plastic exercise wheel, plastic water bottle and a plastic food dish. There are no connecting rings here so you won't be able to expand the cage easily. But there are two doors – one top, one on the side – to give easy access to your furry friend.
How to choose the best hamster cages
Hamsters come in different shapes and sizes but all breeds are active animals and need plenty of space to run and play. Experts recommend a minimum size of 24 x 12 x 12-inches, but this can vary depending on the breed. Dwarf hamsters are smaller than other hamster breeds, such as Syrian hamsters, so they can live in smaller cages. But a simple mantra when choosing a cage is bigger is better. The Favola Hamster Cage is a good overall cage, matching the minimum recommended size and comes equipped with essential extras.
Smaller cages such as the Midwest Critterville Arcade Hamster Cage compensate for a smaller floor area by having a vertical play space where your furry friend can exercise and stay healthy.
A large cage like the Savic Hamster Heaven Metro Cage goes beyond the minimum recommended size and provides a deep base that accommodates plenty of bedding. Hamsters love to dig and burrow, so the deeper a base the better.
Alongside a deep base a hamster will need a food bowl, water bottle, an exercise wheel and a nesting area for privacy. An added bonus is connecting tubes which allow you to extend beyond the standard cage.
Toys are an essential addition and most cages do not come equipped with them. So this is the perfect opportunity to pick and choose what you want and help create the ideal space for your hamster. Just make sure that any toys you get will happily fit in the cage.
Finally, you need to clean your hamster cage on a regular basis to keep your fur friend healthy. So easy access to the base makes life easier. Both the Savic Geneva Modern Hamster Cage and Ferplast HAMSTERVILLE Hamster Habitat Cage fit the bill here. Plus, make sure any doors are strong and secure and give you easy access to the inside of the cage.
Follow the guidelines above and we will help you get the cage that will keep your hamster happy and healthy.
Get the best advice, tips and top tech for your beloved Pets
Thank you for signing up to Petsradar. You will receive a verification email shortly.
There was a problem. Please refresh the page and try again.