Best hamster cages 2023 for providing a safe and secure space
The best hamster cages create an ideal home for your pocket pet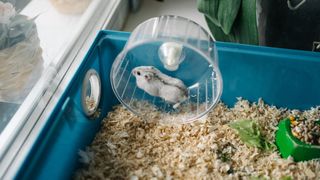 (Image credit: Getty)
It's important to invest in one of the best hamster cages for your pocket pet and there is certainly a lot to think about when making your decision. According to scientist Gernot Kuhnen, the type of cage you buy can affect a hamster's health. Since they'll be spending most of their life inside a cage, it needs to be as stress-free an environment as possible.
Size and what a hamster can do inside a cage are crucial factors. "Hamsters need a surprising amount of space – in the wild they would cover large distances looking for food as well as doing a lot of digging," explains veterinarian Dr Joanna Woodnutt MRCVS. Thankfully, there are many different types of cages on the market so there's bound to be one that best suits your pet.
Below, we take a look at the best hamster cages on sale today, bearing in mind the need to keep your furry friend mentally and physically enriched with sufficient room to stretch their legs. While we have considered compact designs for those who simply don't have lots of room in their home or dorm, most of the picks are either large, expandable or full of things for a hamster to do.
As you'll see, hamster cages have come on in leaps and bounds over the past decade or so – just as the best hamster toys go well beyond the wheel. You can now pick up modern-looking mini-homes, colourful crates and spacious travel cages alongside the more traditional offerings. You can also find a variety of materials from wire to wood.
So check out how to set up a hamster cage and get stuck in as we take a look at the best hamster cages on the market. You can also learn more from Dr Woodnutt.
Dr Joanna Woodnutt qualified as a veterinarian from the University of Nottingham where she then went on to practice companion animal medicine in the Midlands. She really took to the consulting side of things and helping clients with medical problems such as dermatology, behaviour and nutrition - anything that involved helping clients understand their pets better.
PetsRadar's pick of the best hamster cages
Why you can trust PetsRadar Our expert reviewers spend hours testing and comparing products and services so you can choose the best for you. Find out more about how we test.
Best overall hamster cage
Specifications
Size:
23.6" x 14.4" x 11.8"
Reasons to buy
+
Extra deep base
+
Essential extras
Reasons to avoid
-
Steep walkway
-
Noisy wheel
WHAT HAMSTER OWNERS SAY
With an rating of 4.2 out of five on Amazon, this cage comes in for a heap of praise. Buyers say it's easy to put together and simple to clean and it's applauded for being a sturdy and reliable product. Hamsters also seem to take very well to the wheel and they appear to enjoy the space it gives them to move around. That said, some say it's too small for Syrian hamsters so bear that in mind.
Hamsters need floor space, somewhere to sleep and accessories to keep them active and entertained. The Favola Hamster Cage has all of this and more, making it the best hamster cage overall and a great one-stop option for your hammy and you.
The hamster cage consists of two parts. Effectively an upstairs and downstairs. The base – the downstairs – measures 23.6 x 14.4 in height and width, and an impressive 4.75-inches in height. This provides a nice deep base to fill with plenty of bedding and gives your furry friend plenty of burrowing room. The design of the base also means that the bedding will stop spreading to the top floor.
A steep plastic ridged walkway takes your hamster to the upper floor. This a flat area that includes the essential extras. There is a food dish, water bottle, hideaway and a 5.5-inch exercise wheel. The wheel is neatly integrated into the floor and easily accessible via the base. If you want to upgrade to a bigger wheel there is plenty of room.
The top floor is covered by a standard wire cage that is kept in place by a couple of quick release latch side clips. These make it easy to take off the top for cleaning. A door on top of the cage gives easy access to the top floor and your hamster. If you want to expand the cage there is a single connection port to add a tube to a whole new bunch of activity/sleeping areas. The combination of the base and the top floor make this hamster ideal for most hamster breeds.
The quality of the cage is reflected in the price. It does a job and will last but if you want to give your small furry friend more excitement and entertainment you will need to invest in better quality accessories.
Midwest Critterville Arcade Hamster Cage
Best budget hamster cage
Specifications
Size:
18.1" x 11.4" x 21.5"
Reasons to buy
+
Expandable
+
Great price
+
Multi-level play space
+
Includes accessories
WHAT HAMSTER OWNERS SAY
Rolling in with 4.2 stars out of five on Amazon, this cage is a hit with close to 8 out of 10 buyers. It's said to be particularly good for dwarf hamsters (and mice) and most buyers (although not all!) say they've found it robust enough to withstand those inevitable bids to escape. The wheel comes in for a bit of criticism but buyers are more than happy overall.
If you want a home for your happy hamster that will keep them entertained, provide plenty of exercise, has room for expansion and won't break the bank then this is the best hamster cage for you.
The Midwest Critterville Arcade Hamster Cage comes at a budget price but still provides plenty of features and accessories. It consists of a standard style cage and a multi-level vertical play space. The cage isn't huge, it measures 18.11 x 11.4-inches in length and width, ideal for small hamster breeds. But, with the addition of the multi-level play space your furry friend will have plenty to keep them entertained. The cage is deep enough to provide plenty of bedding for one of a hamster's favorite pastimes – burrowing. And it comes with a top opening door for easy access and includes a food bowl and water bottle.
A selection of interior play tubes connect the cage to the multi-level play space. It's here where your furry friend can really play, exercise and rest. There are two platforms and three sets of non-slip ramps that lead to a nest nook and exercise wheel. A neat addition to the multi-level play space is a removable clear plastic cover. This makes it easy to clean the area and of course, watch your hamster in action.
If you want to expand your furry friends living quarters you can. There is a connecting ring in the cage to expand sideways with more tubes and another cage. A connecting ring in the top of the vertical play space means there is room to build upwards as well. This is a great cage for starting out and perfect for expansion as your hamster grows.
Aivituvin Upgraded 3 Tier Hamster Cage
Best multi-level hamster cage
Specifications
Size:
39" x 19.68" x 24.2"
Reasons to buy
+
Easy access
+
Fully accessorized
+
Three levels for playing, sleeping, and eating
WHAT HAMSTER OWNERS SAY
Although just under half of buyers have given this cage four stages (it has an average of 3.3 out of five on Amazon), those who love it are very enthusiastic. They say it's a good size and great for the price but others question the quality of the wood and say that their hamsters found it easy to chew through. It is easy to assemble and clean, however.
If you're looking to give your hammy plenty of room to roam about in, this 3-tier wooden cage is well worth considering. With multiple platforms and ladders for your pocket pet to play, climb and rest, this is one hamster habitat that really does have it all.
We love that this hamster cage comes fully accessorized, with chewing toy, feeding bowl, hideouts, seesaws, ramps and a no-leak plastic tray for easy cleaning. The overall size is 38.98"L x 19.69"W x 24.02"H, so there's plenty of room for you pocket pets to stretch out in.
Made from 100% non toxic wood and acrylic, this cage features wooden flooring instead of wire to reduce the risk of accidents, and it come with a wire top to allow plenty of fresh air to circulate through the cage.
Kaytee Crittertrail Two Level Habitat
Best expandable hamster cage
Specifications
Size:
18.12" x 17.32" x 7.08"
Color:
Yellow/red/purple/green/blue
Reasons to buy
+
Unlimited customization options
+
Plenty of room to play, climb and roam
+
Compatible with all CritterTrail accessories
Reasons to avoid
-
Expensive with all the add-ons
WHAT HAMSTER OWNERS SAY
Boasting an impressive 4.3 stars out of five, it would appear most of the hundreds of buyers have no regrets snapping this cage up. Although some say it's too small for hamsters and can be a little hard to put together, if you pop a dwarf hamster in there, they will, buyers say, take the built-in equipment extremely well. Some buyers suggest leaving out the wheel to create more space.
With an eye-catching design and unlimited customization options, this colorful two-level expandable habitat has everything your hammy could ever want in a home. Plus, it'll look fantastic in your living space too!
Measuring 18.12 x 17.32 x 7.08 inches this hamster cage won't take up much space, making it ideal for apartments and dorm rooms. You can use it immediately as it is or purchase additional CritterTrail accessories to create as extravagant a home for your hammy as you want.
The cage comes with a petting zone, exercise wheel, food dish, and water bottle and features a look-out tower, exterior extreme wheel, and front access door. The bar spacing is .29 inches, making it ideal for both regular hamsters and dwarf hamsters and the amount of interactive options means this cage is ideal for keeping your hammy both physically and mentally stimulated.
Niteangel Vista Hamster Cage W/ Oblique Opening
Best top-of-the-line hamster cage
Specifications
Size:
32.9" x 17.2" x 21.1"
Material:
Engineered wood
Color:
White and Burlywood
Reasons to buy
+
Beautiful design
+
Spacious interior
+
Eco-friendly
WHAT HAMSTER OWNERS SAY
Although it hasn't attracted a huge number of reviews, the Niteangel game is nevertheless a resounding hit. With 4.7 out of five on Amazon (more than 80 percent giving five stars), comments range from "best choice for your hamster hands down" and "the best there is for hamster cages so far" to "amazing large enclosure". Praise indeed!
First things first - this is not a cheap hamster cage, in fact, it's definitely one of the more expensive models we've seen on the market, but if your budget can stretch to it, this little beauty will not only make a great habitat for your hammy, it'll look fantastic in your home too!
Made from eco-friendly and safe MDF Aspen and Birch wood, the boards are extra thick, which creates a very durable and stable cage. Available in small, medium and large sizes, the interior is spacious and offers your hamster plenty of room to move about in.
The three side boards and the roof are all transparent, so there's plenty of opportunity for you to observe your hammy from all angles, and the roof vent allows plenty of air to circulate. The inclined skylight, which is the access point for this cage, is nice and wide, so you'll find it easy to get your hammy and their accessories in and out.
Savic Hamster Heaven Metro Cage
Best large hamster cage
Reasons to buy
+
Plenty of accessories
+
Large deep base
+
Two doors
+
Easy to carry
WHAT HAMSTER OWNERS SAY
Big enough for an adult Syrian hamster and said to be study and easy to carry, this cage has been given 4.3 out of five on Amazon. While it can be tricky to put together and one buyer said the ladders were more like slides, users like the selection of extras, generally love the wheel and praise the look of the cage.
Bigger is better when it comes to the best hamster cages. The more room your furry pet has to run around in, the happier and healthier they will be. The Savic Hamster Heaven Metro Cage is big by hamster cage standards. It measures 31.5 x 20 x 20 inches, that's nearly three feet in length and nearly two foot wide and high. This makes it perfect for all breeds of hamster and ideal for more than one (if your breed is happy with a companion).
It comes with a large deep base that provides plenty of room for bedding. Your hamster can tunnel until their heart's content and there's plenty of room for accessories. And the Savic comes with plenty of them. It includes a tunnel that takes your hamster above the wire cage, an exercise wheel, two houses, a penthouse, a water bottle, non-slip ramps and a couple of platforms with feeding bowls. Pretty much everything your furry friend could wish for. But all these accessories mean it does take a while to put the cage together.
Even with all these accessories included there is still plenty of room to add more. You could add a nesting area, a gnawing block, an extra ladder or a hanging hamster house to give them complete privacy.
The wire cage is firmly attached by two clips making it easy to take off and clean. It also boasts two doors – a large front door for quick and easy access and a smaller top door. The Savic is a large hamster cage which makes it a little more difficult to move. But, two strong carry handles make the job much easier. This cage is a great option for any hamster but ideal if you want to put two together.
Savic Geneva Modern Hamster Cage
Best modern design hamster cage
Specifications
Size:
23. 5" x 11.5" x 17.5"
Reasons to buy
+
Stylish modern design
+
Easy to clean
+
Transparent design
WHAT HAMSTER OWNERS SAY
It may be modern in looks but, 3.8 out of five on Amazon, shows that appearances aren't everything. That said, it's rated four or more by 70% of buyers and they like that it's easy to assemble, a dream to clean and bigger than expected – plenty of room for a dwarf hamster, one reviewer reckoned. A few have reported defective parts so watch out for that.
The average hamster cage is the ideal home for your hamster but not always the ideal fit for the interior style of your home. The Geneva is different, it boasts a unique contemporary two-story design for the modern home. It is slim in size meaning you have more options on where you want to put the cage. And the smart grey colour and curved edges means it will look good anywhere. However, the small footprint makes this more suitable for a single dwarf hamster, rather than a larger breed.
But, it's not all about looks, it has plenty of features to keep your hamster happy as well. The cage is effectively two parts. The bottom half of the cage is a deep transparent plastic tank. The ideal environment to add loads of bedding and the opportunity for your hamster to get some serious burrowing done. It also acts as a great viewing platform. No wire bars to obscure the view of your happy hamster running around their cage.
You can close off the top part of the cage by pulling up the long ladder. Then all you need to do is pull out the transparent tank – via the integrated handle – to clean. You can quickly empty the old bedding, wash, add new bedding and put back in no time at all.
The top half of the cage is a dedicated play area and comes equipped with a feeding bowl, exercise wheel and a water bottle. There is no nesting box or gnawing block so you will need to get these yourself. The wire cage has a large front door for easy access to the whole top floor. If you are worried your hamster might escape, put them in the bottom tank while you clean the top.
Ferplast HAMSTERVILLE Hamster Habitat Cage
Best eco-friendly hamster cage
Specifications
Size:
23.6" x 13.4" x 19.3"
Reasons to buy
+
Pull-out tray
+
Sustainable wood
If you want to go green when purchasing a hamster cage then this is definitely your best choice. Hamster cages are usually made from plastic and metal, both man-made materials. Neither of these are as environmentally-friendly as the wooden Ferplast HAMSTERVILLE Hamster Habitat Cage. It is made from all natural, sustainable, liquid resistant wood and is accompanied by a strong robust wire net cage. Note that the wood comes from forests that are managed in a responsible way.
The cage comes as a self-assembly kit so you will need some DIY skills and a few basic tools to put it together. But once the cage has been assembled you will have a strong, sturdy, attractive cage for your furry friend to wander around in. And, as it is made from wood you do have the option to paint it any colour you want. Just make sure you buy pet-safe paint.
The Hamsterville measures 22.75 x 12.25 x 2.6-inches, a good size for all hamster breeds, and plenty of space for a dwarf breed. The base is deep enough to contain ample bedding for digging and burrowing. While, the cage design conveniently allows for the base to be pulled out, emptied, cleaned and replaced quickly.
To keep your hamster fit and well the Hamsterville hamster cage comes equipped with a wooden hamster hide-out and three wood platforms and ladders. Additional accessories include a 5.5-inch plastic exercise wheel, plastic water bottle and a plastic food dish. There are no connecting rings here so you won't be able to expand the cage easily. But there are two doors – one top, one on the side – to give easy access to your furry friend.
WHAT HAMSTER OWNERS SAY
This Ferplast cage has a rating of 4.2 out of five on Amazon. Those who praise it say their hamsters love it. It's plenty big enough to include a selection of toys and hamsters seem to like climbing up the bars. Easy to clean and handle, the buyers do say it can be tricky to assemble. But while some have issued with the water bottle, it's generally seen as a fantastic buy.
Ferplast Combi Hamster Cage
Best easy-to-clean hamster cage
Specifications
Size:
31.3" x 11.6" x 10.4"
Reasons to buy
+
Fun-looking plastic cage
+
Comes with a little gym


WHAT HAMSTER OWNERS SAY
With 4.2 out of five on Amazon, there is a lot of love for this cage, particularly if you have young children or are looking for a starter kit. The quality of the plastic comes in for praise and it's seen as easy to assemble. But a good number of buyers reckon it's better to use it as an extension to an existing cage rather than as something to buy on its own.
It's hard to describe this curious-looking set as a cage in the traditional sense other than the fact it keeps hamsters safely inside. But there's no doubting that the transparent molded plastic gives you a great view of your little pet and there's more than enough here to keep the adorable critter happy.
As you'll see from the photo, there are two sections. The main part includes sleeping quarters and a place for food, and there's a tube running out of the compartment and back in again which allows the hamster to have a bit of fun. It's sizeable, but not huge, although it looks great and will appeal to kids. Helping matters is the second section which acts as a gym. Accessed via another tube it includes a ladder and a wheel and because the latter is relatively silent, it won't annoy you over time.
By connecting more plastic modules using the tubes, you'll be able to expand the habitat as space (and money) allows. You'll also be able to remove the base or open the side door to give the cage a good clean: indeed its been manufactured for easy maintenance and the company is quick to mention this.
It's just worth bearing in mind that some owners say their hamsters have chewed at the plastic and caused damage. Some dislike the water bottle that comes with the set-up, too, saying it doesn't dispense enough liquid. It's certainly one to consider, however, especially if you're looking to encourage children to care for pets.
Little Friends Mayfair Gerbilarium Cage with Accessories
Best chew-proof hamster cage
Specifications
Size:
20.28" x 11.02" x 15.75"
Material:
Glass and metal
Color:
Transparent and black
Reasons to buy
+
Chew-proof
+
Shelves and ramps can be configured for variety
+
Deep base for burrowing
+
Durable and easily cleanable
Reasons to avoid
-
Quite small
-
Wooden shelves aren't the most hygienic material
-
No water bottle provided
WHAT HAMSTER OWNERS SAY
Big enough for a Syrian hamster and said to be escape proof by some, it's easy to see why this cage gets 4.1 out of five on Amazon. One buyer said their Syrian hamster instantly became happy and active when moved into the cage. Another said the overall setup looked lovely and simple. There isn't as much enthusiasm for the accessories, though.
Is your hamster a master escapologist? Are they liable to chew their way through normal cages in a matter of hours? Then you need the Fort Knox of cages – the Little Friends Mayfair Gerbilarium Cage.
Instead of plastic, the base of this cage is glass, meaning any aggressive chewers won't be making their way out of the bottom of this habitat. Sitting on top of this is a cage made of thicker than usual metals bars, perfect for defying naughty nibblers. It also looks great, making a pleasant addition to any household.
The glass base is deep too, ensuring there's plenty of room for burrowing and hiding activity, and as the whole metal top of the cage comes away you get easy access for cleaning and retrieving your little hamster when it's playtime.
The cage includes an exercise wheel, house, bowl and some fun scalable wooden ramps and shelves so your hamster will have multiple levels to explore. The ramps and shelves are moveable too, so you can introduce a little variety into their habitat every time you clean it. Note this doesn't come with a water bottle included, so you will need to source that separately.
Some users have mentioned that as the wooden shelves and ramps come untreated, it may be worth using a little animal-friendly varnish to ensure if they mess on them they won't start to discolour or smell. You also may find the ramps a little long for all configurations, but they can easily be cut down with a saw.
These are minor quibbles though, especially if your main consideration is keeping your pet inside its cage!
Best for hamster burrowing
Specifications
Size:
22.6" x 18.7" x 21.5"
Reasons to buy
+
Deep cage for burrowing
+
Decent number of accessories
+
Easy to clean
Reasons to avoid
-
Better for smaller hamsters
In the wild, hamsters live in deep burrows so a cage that encourages these tiny pets to tap into their natural instincts is no bad thing. The cage's easily removable base is 11.5 inches high and it can be packed with material. There's also a plastic ramp that allows them to easily clamber back into the main top level which is also pleasantly spacious, certainly for dwarf hamsters.
Here you will find a range of accessories that will continue to mentally and physically stimulate your hammy. There's a 5.5-inch exercise wheel, tubes that allow them space to run around and a little hideaway which gives them a nice place to rest. It's also designed to keep added expenditure down because it comes complete with a food dish and a water bottle. Just add some toys.
The cage is hot on practicality too. A large grill is located on top of the cage which means you can gain easy access. The various parts of the cage also come apart so that you can clean them and quickly reassemble. Since it's all made from a clear plastic, you can see everything your hamster is doing as well. It should make for a secure, safe and fun environment.
WHAT HAMSTER OWNERS SAY
With an impressive 4.2 out of five, this cage is deemed big enough for Syrian hamsters by buyers who generally report being happy with the deep tub, size and solid nature of the product. Buyers also say it's easy to clean and, while a few didn't like the small wheel, it was far from being a deal breaker.
Best dwarf hamster cage
Specifications
Size:
17.32" x 13.78" x 11.81"
Reasons to buy
+
Transparent design
+
Great ventilation
+
Easy to clean
Reasons to avoid
-
Not suitable for more than one hamster
WHAT HAMSTER OWNERS SAY
With a cool 4.4 out of five on Amazon, comments range from "awesome" and "amazing" to "nice and modern". Buyers say it's easy to assemble, love how it gives a good view of a hamster and reckon it's the perfect dwarf hamster cage. One buyer took issue with the floorspace and another said it was too small. But it has been praised for offering a good burrow space.
Measuring 7.3L x 13.8W x 11.8H inches, this comfortable and cozy habitat is ideal for dwarf hamsters and comes with a 238.7 square inch bottom basin that's over 5.5 inches in height - perfect for a thick layer of bedding that your little pocket pet can burrow into.
With a front door and a roof vent, there's plenty of opportunity for fresh air to flow freely throughout this cage and because the top roof disconnects from the base for easy cleaning, you'll find keeping your hammy's home spick and span a piece of cake.
Fully transparent, you'll be able to watch your hammy at rest and at play and the tube joint hole in the tray of the cage allows you to attach various tube joint supplies to increase the activity space for your furry friend.
How to choose the best hamster cage
As you can see, there's a lot of choice so how can you be sure you're buying the best hamster cage? There are certain features to bear in mind before taking the plunge and making a purchase these are:
Sufficient space
The main concern is that a hamster cage is large enough for your pet – after all, hamster breeds need lots of space to run and play. According to experts, you shouldn't go below a cage with a floorspace of 24" x 12" x 12" but don't take that as something to aim for. Always try to go much bigger if you can, especially if you have a larger Syrian hamster. A smaller cage is only really going to be suitable for dwarf hamsters.
Plenty of height
Just as you wouldn't like to live in a house where the ceiling skims your head, so a hamster would like to have plenty of clearance above them. By having a vertical play space, you can encourage a hamster to become more active, allowing the placing of ladders, large wheels and more so that they can exercise and remain healthy.
A good amount of depth
As well as thinking high, think low! As you'll know, hamsters love to burrow. It's a way to protect themselves and stay safe and they will generally burrow when they're about to sleep. By ensuring the cage has a deep base upon which you can place plenty of bedding, you will be providing an opportunity for the hamster to dig. The deeper the base, the better.
Room for the basics
A hamster doesn't live a minimalist lifestyle and it won't enjoy residing in a bare cage. To provide mental and physical stimulation, you will need to include essentials such as a food bowl, water bottle, an exercise wheel and a nesting area for privacy. If you can get connecting tubes in there as well, then you can create mini-extensions to provide more space. And make sure there is room for lots of toys without making the cage feel cramped.
Easy to maintain
You also have to think about yourself. While you will inevitably prioritize the health and wellbeing of your hamster, you do need to consider how much of a pain a cage is going to be. Check to see if it's easy to clean – usually by figuring how accessible the base will be. You also need to look out for cages with large doors, making it easier to reach in. Just be sure they are strong and secure.
What cage is best for hamsters?
So you've seen what goes into the decision-making process but what do the experts suggest? Well, as we explained above, size is everything. "Your chosen hamster cage should be large," says veterinarian Dr Joanna Woodnutt MRCVS."The best ones are over a meter in length and over half a meter in width."
She also says that a cage needs to be deep and, importantly, capable of keeping the bedding intact! "Ideally, it will have 25 to 30 centimeters of compressed bedding across the bottom for hamsters to dig in, so you will need a cage with solid sides at the bottom to prevent bedding spillage."
And then there is the height! "Your cage will also need to be tall enough to take this much bedding and have some 'above ground' space. Using platforms in your hamster cage allows houses and wheels to be held up and prevents 'caving in' when they dig their tunnels," she adds.
Can hamsters stay in a cage all day?
Remember the lockdowns? More likely than not, they made you feel trapped given you weren't allowed outside. But do hamsters go stir crazy? According to Dr Woodnutt, that depends on the cage you've provided. "If they have an excellent cage, hamsters can stay in there all day," she says. Yet note that word "excellent"!
To keep a hamster in a cage you have to be absolutely sure that their environment is a welcoming one. The cage will need to be large and offer plenty of opportunity for a hamster to exercise and remain mentally stimulated. Alas, this isn't always the case.
"Most cages do not provide enough exercise opportunities and hamsters may need to be let out to exercise," says Dr Woodnutt. And, for that reason, it's recommended that you let your hamster out of their cage several times a week. So where should you put them?
The experts suggest placing a hamster in a playpen or another enclosed space free from potential hazards, such as other pets, electrical wires, and food scraps that could be toxic. You should ensure that your hamster can't escape, though, otherwise you may need to figure out how to find a lost hamster.
Get the best advice, tips and top tech for your beloved Pets
David Crookes has been a journalist for more than 20 years and he has written for a host of magazines, newspapers, websites and books including World of Animals, BBC Earth, Dogs and Canines, Gadget and The Independent. Born in England, he lives in a household with two cats but he's also keenly interested in the differences between the huge number of dog breeds — in fact, you can read many of his breed guides here on PetsRadar. With a lifelong passion for technology, too, he's always on the lookout for useful devices that will allow people to spend more time with their pets.