Best hamster cages: Find the perfect home for your hamster
By Steve Jenkins published
The best hamster cages need to be spacious and secure so that your furry friend can rest and run
Included in this guide:
1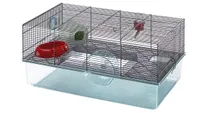 Favola
Hamster Cage
2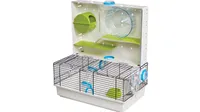 Midwest
Critterville Arcade Hamster Cage
3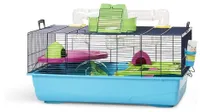 Savic
Hamster Heaven Metro Cage
4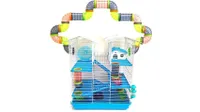 Large
Twin Tower Syrian Hamster Cage
5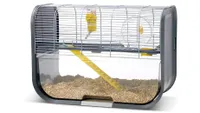 Savic
Geneva Modern Hamster Cage
6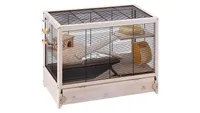 Ferplast
HAMSTERVILLE Hamster Habitat Cage
7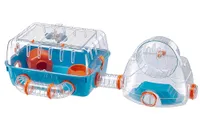 Ferplast
Combi Hamster Cage
8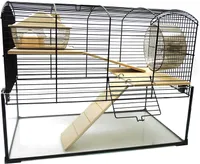 Little
Friends Mayfair Gerbilarium Cage with Accessories
9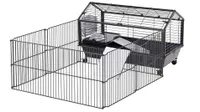 PawHut
Small Animal Cage with Main House and Run
10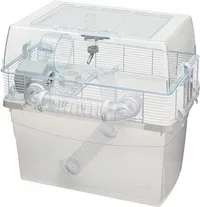 Duna
Space Hamster Cage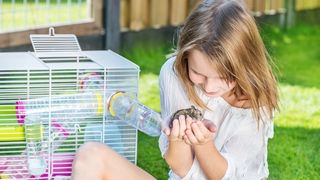 (Image credit: Getty)
The best hamster cages will provide your hammy with a comfortable, dry place to live. As long as you choose one of a decent size, you'll almost certainly find your little furbaby is happy and healthy, with ample space to exercise and more than enough room to explore.
When considering which cage to buy, you need to think about how hamsters operate in the wild. In general, they like to run, play, chew, climb and burrow. They are also master escapologists so any cage you buy needs to be sufficiently strong to hold them otherwise they'll eventually find a way out.
By buying the largest cage you can – dependent, of course, on how much space you have at home – you can better keep your hamster mentally and physically stimulated. What's more, if you have room for the best hamster toys and material for them to burrow into and rest on, then that will make all the difference.
One thing's for sure, you should not go small. If a cage is not large enough or if there are too few accessories inside, then your hamster can suffer problems from a lack of exercise. It can cause a condition called cage paralysis which can severely affect a hammy's hind legs. If obesity also sets in and a hamster ceases to be active, it can cause degradation of their bones and muscle too.
You also need to ensure a cage is practical for you. A cage with large doors makes it easier for you to get your pet in and out. You'd also want a cage that is easy to clean especially since it's important to ensure a hamster has a regular change of bedding and nesting material. Some cages come with a feeding bottle and water bowl which can be cost-saver. Take a look at our top picks for 2022 to find out more.
PetsRadar's pick of the best hamster cages
Best hamster cage overall
Specifications
Size:
23.6 x 14.4 x 11.8 inches
Reasons to buy
+
Extra deep base
+
Essential extras
Reasons to avoid
-
Steep walkway
-
Noisy wheel
Hamsters need floor space, somewhere to sleep and accessories to keep them active and entertained. The Favola Hamster Cage has all of this and more, making it the best hamster cage overall and a great one-stop option for your hammy and you.
The hamster cage consists of two parts. Effectively an upstairs and downstairs. The base – the downstairs – measures 23.6 x 14.4 in height and width, and an impressive 4.75-inches in height. This provides a nice deep base to fill with plenty of bedding and gives your furry friend plenty of burrowing room. The design of the base also means that the bedding will stop spreading to the top floor.
A steep plastic ridged walkway takes your hamster to the upper floor. This a flat area that includes the essential extras. There is a food dish, water bottle, hideaway and a 5.5-inch exercise wheel. The wheel is neatly integrated into the floor and easily accessible via the base. If you want to upgrade to a bigger wheel there is plenty of room.
The top floor is covered by a standard wire cage that is kept in place by a couple of quick release latch side clips. These make it easy to take off the top for cleaning. A door on top of the cage gives easy access to the top floor and your hamster. If you want to expand the cage there is a single connection port to add a tube to a whole new bunch of activity/sleeping areas. The combination of the base and the top floor make this hamster ideal for most hamster breeds.
The quality of the cage is reflected in the price. It does a job and will last but if you want to give your small furry friend more excitement and entertainment you will need to invest in better quality accessories.
Midwest Critterville Arcade Hamster Cage
Best budget hamster cage
Specifications
Size:
18.1 x 11.4 x 21.5 inches
Reasons to buy
+
Expandable
+
Great price
+
Multi-level play space
+
Includes accessories
If you want a home for your happy hamster that will keep them entertained, provide plenty of exercise, has room for expansion and won't break the bank then this is the best hamster cage for you.
The Midwest Critterville Arcade Hamster Cage comes at a budget price but still provides plenty of features and accessories. It consists of a standard style cage and a multi-level vertical play space. The cage isn't huge, it measures 18.11 x 11.4-inches in length and width, ideal for small hamster breeds. But, with the addition of the multi-level play space your furry friend will have plenty to keep them entertained. The cage is deep enough to provide plenty of bedding for one of a hamster's favorite pastimes – burrowing. And it comes with a top opening door for easy access and includes a food bowl and water bottle.
A selection of interior play tubes connect the cage to the multi-level play space. It's here where your furry friend can really play, exercise and rest. There are two platforms and three sets of non-slip ramps that lead to a nest nook and exercise wheel. A neat addition to the multi-level play space is a removable clear plastic cover. This makes it easy to clean the area and of course, watch your hamster in action.
If you want to expand your furry friends living quarters you can. There is a connecting ring in the cage to expand sideways with more tubes and another cage. A connecting ring in the top of the vertical play space means there is room to build upwards as well. This is a great cage for starting out and perfect for expansion as your hamster grows.
Savic Hamster Heaven Metro Cage
Best large hamster cage
Specifications
Size:
31.5 x 20 x 20 inches
Reasons to buy
+
Plenty of accessories
+
Large deep base
+
Two doors
+
Easy to carry
Bigger is better when it comes to the best hamster cages. The more room your furry pet has to run around in, the happier and healthier they will be. The Savic Hamster Heaven Metro Cage is big by hamster cage standards. It measures 31.5 x 20 x 20 inches, that's nearly three feet in length and nearly two foot wide and high. This makes it perfect for all breeds of hamster and ideal for more than one (if your breed is happy with a companion).
It comes with a large deep base that provides plenty of room for bedding. Your hamster can tunnel until their heart's content and there's plenty of room for accessories. And the Savic comes with plenty of them. It includes a tunnel that takes your hamster above the wire cage, an exercise wheel, two houses, a penthouse, a water bottle, non-slip ramps and a couple of platforms with feeding bowls. Pretty much everything your furry friend could wish for. But all these accessories mean it does take a while to put the cage together.
Even with all these accessories included there is still plenty of room to add more. You could add a nesting area, a gnawing block, an extra ladder or a hanging hamster house to give them complete privacy.
The wire cage is firmly attached by two clips making it easy to take off and clean. It also boasts two doors – a large front door for quick and easy access and a smaller top door. The Savic is a large hamster cage which makes it a little more difficult to move. But, two strong carry handles make the job much easier. This cage is a great option for any hamster but ideal if you want to put two together.
5-Floors Large Twin Tower Syrian Hamster Cage
Best multi-level hamster cage
Specifications
Size:
31 x 14.5 x 33 inches
Reasons to buy
+
Multiple levels
+
Essential accessories
+
Tube-tastic
Reasons to avoid
-
Time consuming assembly
-
Needs plenty of space
This is definitely a cage with a difference. It doesn't waste any time with a couple of floors, it boasts five floors, two towers and a crazy array of connecting tubes. This isn't a hamster home, this is a hotel. Everyday in this cage will seem like a holiday to your furry friend.
The hamster hotel starts with a solid three-inch deep base that measures 31 x 14.5-inches in length and width. Plenty of room for bedding and burrowing. But the real fun begins above the base. The cage is effectively divided into two vertical towers, with each tower having two floors each. The top floor on the left has an exercise wheel and a connecting tube which your hamster can slide down to the floor below. This in turn has another connecting tube to get to the base. A set of ladders connect all the floors with the top floor on the right having the hamsters home where they can hide away and sleep. Again this has connecting tubes that give a quick descent to the base. There is a food bowl and water bottle included, you just need to decide which floor they are going to go on.
Five floors will keep your happy hamster fit but, if it wants to go a little crazy then the connecting tubes between the two towers will keep them entertained. These create a wacky multi-coloured walk across the sky, not for hamsters who might suffer from vertigo.
On a more serene note the cage is easy to clip off the base and clean. While three doors – front, left and right - give easy access to all levels of the cage for cleaning and getting access to your hamster whatever floor they are on. If your hamster is super active and a little crazy this cage might just be the perfect fit.
Savic Geneva Modern Hamster Cage
Best modern design hamster cage
Specifications
Size:
23. 5 x 11.5 x 17.5 inches
Reasons to buy
+
Stylish modern design
+
Easy to clean
+
Transparent design
The average hamster cage is the ideal home for your hamster but not always the ideal fit for the interior style of your home. The Geneva is different, it boasts a unique contemporary two-story design for the modern home. It is slim in size meaning you have more options on where you want to put the cage. And the smart grey colour and curved edges means it will look good anywhere. However, the small footprint makes this more suitable for a single dwarf hamster, rather than a larger breed.
But, it's not all about looks, it has plenty of features to keep your hamster happy as well. The cage is effectively two parts. The bottom half of the cage is a deep transparent plastic tank. The ideal environment to add loads of bedding and the opportunity for your hamster to get some serious burrowing done. It also acts as a great viewing platform. No wire bars to obscure the view of your happy hamster running around their cage.
You can close off the top part of the cage by pulling up the long ladder. Then all you need to do is pull out the transparent tank – via the integrated handle – to clean. You can quickly empty the old bedding, wash, add new bedding and put back in no time at all.
The top half of the cage is a dedicated play area and comes equipped with a feeding bowl, exercise wheel and a water bottle. There is no nesting box or gnawing block so you will need to get these yourself. The wire cage has a large front door for easy access to the whole top floor. If you are worried your hamster might escape, put them in the bottom tank while you clean the top.
Ferplast HAMSTERVILLE Hamster Habitat Cage
Best eco-friendly hamster cage
Specifications
Size:
23.6 x 13.4 x 19.3 inches
Reasons to buy
+
Pull-out tray
+
Sustainable wood
If you want to go green when purchasing a hamster cage then this is definitely your best choice. Hamster cages are usually made from plastic and metal, both man-made materials. Neither of these are as environmentally-friendly as the wooden Ferplast HAMSTERVILLE Hamster Habitat Cage. It is made from all natural, sustainable, liquid resistant wood and is accompanied by a strong robust wire net cage. Note that the wood comes from forests that are managed in a responsible way.
The cage comes as a self-assembly kit so you will need some DIY skills and a few basic tools to put it together. But once the cage has been assembled you will have a strong, sturdy, attractive cage for your furry friend to wander around in. And, as it is made from wood you do have the option to paint it any colour you want. Just make sure you buy pet-safe paint.
The Hamsterville measures 22.75 x 12.25 x 2.6-inches, a good size for all hamster breeds, and plenty of space for a dwarf breed. The base is deep enough to contain ample bedding for digging and burrowing. While, the cage design conveniently allows for the base to be pulled out, emptied, cleaned and replaced quickly.
To keep your hamster fit and well the Hamsterville hamster cage comes equipped with a wooden hamster hide-out and three wood platforms and ladders. Additional accessories include a 5.5-inch plastic exercise wheel, plastic water bottle and a plastic food dish. There are no connecting rings here so you won't be able to expand the cage easily. But there are two doors – one top, one on the side – to give easy access to your furry friend.
Ferplast Combi Hamster Cage
Best easy-to-clean hamster cage
Specifications
Size:
31.3 x 11.6 x 10.4 inches
Reasons to buy
+
Fun-looking plastic cage
+
Comes with a little gym


It's hard to describe this curious-looking set as a cage in the traditional sense other than the fact it keeps hamsters safely inside. But there's no doubting that the transparent molded plastic gives you a great view of your little pet and there's more than enough here to keep the adorable critter happy.
As you'll see from the photo, there are two sections. The main part includes sleeping quarters and a place for food, and there's a tube running out of the compartment and back in again which allows the hamster to have a bit of fun. It's sizeable, but not huge, although it looks great and will appeal to kids. Helping matters is the second section which acts as a gym. Accessed via another tube it includes a ladder and a wheel and because the latter is relatively silent, it won't annoy you over time.
By connecting more plastic modules using the tubes, you'll be able to expand the habitat as space (and money) allows. You'll also be able to remove the base or open the side door to give the cage a good clean: indeed its been manufactured for easy maintenance and the company is quick to mention this.
It's just worth bearing in mind that some owners say their hamsters have chewed at the plastic and caused damage. Some dislike the water bottle that comes with the set-up, too, saying it doesn't dispense enough liquid. It's certainly one to consider, however, especially if you're looking to encourage children to care for pets.
Little Friends Mayfair Gerbilarium Cage with Accessories
Best chew-proof hamster cage
Specifications
Size:
20.28 x 11.02 x 15.75 inches
Material:
Glass and metal
Color:
See-through and black
Reasons to buy
+
Chew-proof
+
Shelves and ramps can be configured for variety
+
Deep base for burrowing
+
Durable and easily cleanable
Reasons to avoid
-
Quite small
-
Wooden shelves aren't the most hygienic material
-
No water bottle provided
Is your hamster a master escapologist? Are they liable to chew their way through normal cages in a matter of hours? Then you need the Fort Knox of cages – the Little Friends Mayfair Gerbilarium Cage.
Instead of plastic, the base of this cage is glass, meaning any aggressive chewers won't be making their way out of the bottom of this habitat. Sitting on top of this is a cage made of thicker than usual metals bars, perfect for defying naughty nibblers. It also looks great, making a pleasant addition to any household.
The glass base is deep too, ensuring there's plenty of room for burrowing and hiding activity, and as the whole metal top of the cage comes away you get easy access for cleaning and retrieving your little hamster when it's playtime.
The cage includes an exercise wheel, house, bowl and some fun scalable wooden ramps and shelves so your hamster will have multiple levels to explore. The ramps and shelves are moveable too, so you can introduce a little variety into their habitat every time you clean it. Note this doesn't come with a water bottle included, so you will need to source that separately.
Some users have mentioned that as the wooden shelves and ramps come untreated, it may be worth using a little animal-friendly varnish to ensure if they mess on them they won't start to discolour or smell. You also may find the ramps a little long for all configurations, but they can easily be cut down with a saw.
These are minor quibbles though, especially if your main consideration is keeping your pet inside its cage!
PawHut Small Animal Cage with Main House and Run
Best indoor/outdoor hamster cage
Specifications
Size:
34.75 x 50.5 x 22 inches
Material:
Alloy steel, plastic
Reasons to buy
+
Comfortable size
+
Well constructed
+
Easy to move around in
Reasons to avoid
-
Can be difficult to assemble
Designed with a main house and a large run, this indoor/outdoor cage is the perfect home for your hammy, giving them plenty of space to sleep and play. Measuring 34.75" L x 50.5" W x 22" H with a run size of 34.25" L x 34.25" L x 17.25 " H, this cage offers the best of both worlds and saves you having to purchase the two items separately.
Crafted from high quality rust-resistant steel and plastic, this cage is incredibly strong and durable and the latched door design and open roof provide easy access for you and your little pocket pet. It's a breeze to move and transport with four universal wheels and the brakes mean it easily stops and stays in place.
Lightweight and foldable, the cage is easy to store and transport, and it comes with a a water bottle, water bowl, and food dish, as well as a ramp that lets your hammy effortlessly move between their sleep and exercise spaces.
It's worth noting that some buyers have found the assembly instructions unclear and so this may not be the simplest design to put together. But, if you're happy to persevere, this is a brilliant cage that offers your hammy the opportunity to move seamlessly between your home and the great outdoors.
Best for hamster burrowing
Specifications
Size:
22.6 x 18.7 x 21.5 inches
Reasons to buy
+
Deep cage for burrowing
+
Decent number of accessories
+
Easy to clean
Reasons to avoid
-
Better for smaller hamsters
In the wild, hamsters live in deep burrows so a cage that encourages these tiny pets to tap into their natural instincts is no bad thing. The cage's easily removable base is 11.5 inches high and it can be packed with material. There's also a plastic ramp that allows them to easily clamber back into the main top level which is also pleasantly spacious, certainly for dwarf hamsters.
Here you will find a range of accessories that will continue to mentally and physically stimulate your hammy. There's a 5.5-inch exercise wheel, tubes that allow them space to run around and a little hideaway which gives them a nice place to rest. It's also designed to keep added expenditure down because it comes complete with a food dish and a water bottle. Just add some toys.
The cage is hot on practicality too. A large grill is located on top of the cage which means you can gain easy access. The various parts of the cage also come apart so that you can clean them and quickly reassemble. Since it's all made from a clear plastic, you can see everything your hamster is doing as well. It should make for a secure, safe and fun environment.
How to choose the best hamster cages
Hamsters come in different shapes and sizes but all breeds are active animals and need plenty of space to run and play. Experts recommend a minimum size of 24 x 12 x 12-inches, but this can vary depending on the breed. Dwarf hamsters are smaller than other hamster breeds, such as Syrian hamsters, so they can live in smaller cages. But a simple mantra when choosing a cage is bigger is better. The Favola Hamster Cage is a good overall cage, matching the minimum recommended size and comes equipped with essential extras.
Smaller cages such as the Midwest Critterville Arcade Hamster Cage compensate for a smaller floor area by having a vertical play space where your furry friend can exercise and stay healthy.
A large cage like the Savic Hamster Heaven Metro Cage goes beyond the minimum recommended size and provides a deep base that accommodates plenty of bedding. Hamsters love to dig and burrow, so the deeper a base the better.
Alongside a deep base a hamster will need a food bowl, water bottle, an exercise wheel and a nesting area for privacy. An added bonus is connecting tubes which allow you to extend beyond the standard cage.
Toys are an essential addition and most cages do not come equipped with them. So this is the perfect opportunity to pick and choose what you want and help create the ideal space for your hamster. Just make sure that any toys you get will happily fit in the cage.
Finally, you need to clean your hamster cage on a regular basis to keep your fur friend healthy. So easy access to the base makes life easier. Both the Savic Geneva Modern Hamster Cage and Ferplast HAMSTERVILLE Hamster Habitat Cage fit the bill here. Plus, make sure any doors are strong and secure and give you easy access to the inside of the cage.
Follow the guidelines above and we will help you get the cage that will keep your hamster happy and healthy.
Steve Jenkins is a freelance content creator and long-time journalist with more than 20 years in the industry. He has written for numerous titles covering tech to pets, with his latest faithful hound always by his side. When not walking his dog, or discussing who's best - cats or dogs? Loud guitars, AFC Bournemouth, Photoshop, and trying to save the world take up the rest of this time.
Get the best advice, tips and top tech for your beloved Pets
Thank you for signing up to Petsradar. You will receive a verification email shortly.
There was a problem. Please refresh the page and try again.