Best hamster toys: Keep your curious critter entertained
From how to choose to what to buy, our guide to the best hamster toys will ensure your pet is never bored.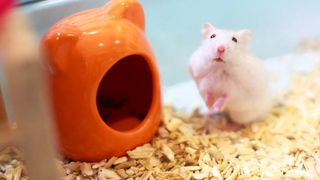 (Image credit: Getty Images)
Whether you're looking to splash out or treat your friend on a budget, the best hamster toys are the ones that provide great physical and mental stimulation.
While it may be tempting to provide your furry friend with a simple exercise wheel and ball, there's a whole variety of hamster toys out there that will keep your furbaby entertained for hours. Look to add lots of different objects to your hamster cage to keep them happy and healthy. 
Before selecting toys for your hammy, it's a good idea to get to know their personality by watching their behavior. Some hamsters love to chew on things, while others are more naturally wired towards wanting to burrow and hide. Learning a little bit about your furry friend's preferences can help you select toys they'll love and want to use. Hammy's are also nocturnal, so quiet toys are a good option if your pal lives in a bedroom.
When choosing the best hamster toys opt for a mix of chew toys and exercise toys. Wooden toys and chew sticks will help satisfy your pet's chewing instincts while also keeping their teeth clean and healthy. Many of these toys also have spaces that you can fill with treats, providing your hamster with an extra challenge and some added incentive.
In addition to a hamster wheel for exercise, pop in some fun climbing tubes and ladders that they can hide out in and explore. It's worth noting that hamsters are great at scaling to new heights, but not so good when it comes to getting down again, so make sure there's a safe way for them to descend. You'll also want to ensure there are no hanging toys or ropes that they could get stuck in.
Whatever options you go for, the best hamster toys are a fun way of keeping your hammy happy and healthy. Here are a few of our favorite affordable options that provide all the physical and mental stimulation your furry friend needs to thrive...
PetsRadar's pick of the best hamster toys
Best overall hamster accessory: Trixie suspension bridge
Best for teeth: Happy Pet fruit nibblers
Best eco choice: Happy Pet nature first large willow ball
Best for exercise: Trixie small animal running disc
Best luxury toy: Haypigs! Circus hidey hut
Best budget option: Rosewood boredom breaker shred-a-log corrugated tunnel
Best hammock toy: WINOMO Pet Hammock Hamster Hanging Toy Hut
Trixie suspension bridge
Best overall hamster accessory
Pieces: Four | Dimensions: 17cm x22cmx 15cm | Material: Natural wood, polyester, rope | Suitable for: Hamsters, mice and other small rodents
Loads of activities
Visually appealing
Promotes exercise and curiosity
You'll need a large cage
May get messy
Your hamster may not be Bear Grylls, but that doesn't mean it doesn't want to explore. The Trixie suspension bridge will bring out the intrepid adventurer in your cute little pet. It incorporates loads of features; a rope ladder, suspension bridge, hoop and rope ring, all in one bright and attractive toy that hangs from the roof bars of the cage.
This little hamster gym will tax even the most active of pets, with monkey bars to really build their muscles! The suspension bridge is made from wood, as is the rope ladder, making it safe if your pet stops its workout for a quick snack or nibble. While this has the benefit of keeping their teeth in shape as well as their body, it would be wise to check the accessory from time to time to look for signs of wear and tear. After all, you don't want them taking a tumble.
When your pet has finished working out, there's a fluffy hammock for them to chill out in. We bet lots of pets will love to have a nap in it, and as hamsters sleep for between six and eight hours a day – mostly during the daylight hours – there will be plenty of opportunities to get cosy in the fluffy, fleecy bed. The hammock is made in a brightly trimmed nylon and is lined in soft polyester fleece, making it fairly durable, but owners will likely want to mop up any accidents quickly to avoid it becoming smelly. Despite this, the hammock is a lovely addition if you want to spoil your pet and is useful in providing a great hideaway where they will feel comfortable and safe in their cosy lookout. 
An important consideration of this accessory is its size, more particularly the hanging space required in the cage. It is more suited to larger hamster cages with a decent drop. That said, if your hamster has a sizeable residence, it will enjoy scaling this imaginative toy. Given the multipurpose nature of this accessory, its play and discovery possibilities and the added bonus of somewhere cosy for your hamster to rest its tiny paws at the end of the day, it offers plenty of bang for its buck.
Rosewood boredom breaker shred-a-log corrugated tunnel
Pieces: 1 | Dimensions: 18cm long, 9.5cm diameter | Material: Corrugated cardboard | Suitable for: Small pets, including hamsters
Multipurpose tunnel for play, chewing and sleeping
Safe, non-toxic materials
Cheap
It won't last long
This has to be one of the best budget options for any small caged pet. To you, it might be just a simple tube made of corrugated cardboard and designed to look like a log, but to a hamster it's an activity centre, hideaway and delicious snack all in one.
Cardboard has some big advantages: It's cheap, easily recyclable and incredibly appealing in texture and taste for little hamsters. The only drawback is that it may prove too irresistible, with hamsters keen to explore and nibble it, taking a 'seek and destroy' approach! At best, they are likely to play with it for a toy for a while before shredding it, but you can rest assured the material used is safe and non-toxic, and the product, even when shredded, has no sharp edges like plastic. Even though it may seem like a waste, all the shredding will keep your pet stimulated and its teeth trimmed and healthy. They might even use it as bedding, which would save you topping up the sawdust.
Nibbling, gnawing and shredding apart, the play and exploration possibilities are many and varied. Most hamsters just love scuttling through the tube and peering out from the ends of the tunnel. Others quickly discover that they can have fun chewing the tube. For some, though, it's just a good place to have a quiet nap. Just as important as providing physical and mental stimulation is the need to give your hamster somewhere to feel safe and secure, and the tunnel is a perfect place to hide.
Happy Pet fruit nibblers
Best for keeping their teeth in check
Pieces: Four | Dimensions: Each approximately 8.5 cm, | Material: Wood | Suitable for: Hamsters, guinea pigs and rabbit
Multipack for convenience
Promotes natural chewing behavior
Colour and attractive
Might not last very long
It's a fact that your hamster's teeth never stop growing. Gnawing on hard objects plays a vital part in keeping its teeth healthy and their growth in check. A hamster will gnaw on just about anything it can get its little paws on, so it's wise to provide objects made from a natural, safe material such as wood, otherwise it may resort to nibbling on the metal bars of its cage, or worse still, plastic toys.
Cue Happy Pet Fruit Nibblers. Your hamster can't fail to be attracted to these sweet looking fruit shapes, which are brightly coloured and designed to stimulate curiosity, which is a must for a caged pet. Yes, it's true that you could just put a piece of wood in your hamster's cage, but these chews are so much more fun for your hamster and look nice, which may be of interest, particularly if a cage is on display.
While the wooden toys might seem to be something of a luxury, they could save you costly visits to the vet to have the hamster's teeth trimmed. Your hamster will thank you for it; not only will it be practising good dental hygiene, but it will also be having fun into the bargain as it explores play possibilities. It's not unusual to see a hamster dragging or rolling one around their cage, perhaps for fun, or for some reason only known in their furry little brain.
Coming in packs of four, the nibblers are an affordable alternative to finding your own wooden logs and more convenient too. Multipacks are also great as you're less likely to run out… for a while at least. Of course, the nibblers will be worn down fairly quickly, so it's important to regularly check for wear and tear as small pieces could break off the fruit shapes and you don't want your hamster to get them lodged in its little throat. But if you're careful, your hamster will have had great fun with the shapes and replacing them certainly won't break the bank.
Happy Pet nature first large willow ball
Pieces: One | Dimensions: Approx 14.5cm diameter | Weight: 80g | Material: Natural willow
Aesthetically pleasing
Encourages your hamster to keep its teeth trimmed
100% natural product and pesticide free
It's quite big
Your hamster will destroy it quickly
This simple but pleasing ball is one of the best-looking small pet toys and a clever addition to any hamster environment. A bonus is that pet owners will appreciate its carefully crafted, natural appearance that will look good in any hamster home. If you're an eco-conscious pet owner, you'll appreciate the toy's natural construction, and as it's compostable, there will be no waste when your pet has finished with it. 
The ball is made from natural willow and is pesticide free, with low levels of salicin, making it a safe and irresistible choice for small pets to nibble, gnaw and chew. Gnawing and chewing makes up quite a good portion of your pet's day, and without a safe, hard material to gnaw on, they can develop dental problems. It's a much better (and cheaper) option to provide your hamster with a material that will keep its teeth healthy, plus there are other benefits too.
At approximately 14cm in diameter and designed with a range of small pets in mind, this toy is quite large for a little hamster, but it will no doubt have fun pushing and moving it round its cage, or your floor when it's playtime. This will provide the hamster with lots of exercise and contribute to its physical well-being as well as helping to prevent boredom and stress.
As with all-natural materials that appeal to gnawing animals, the willow ball's condition should be checked for damage at regular intervals and replaced when it's beyond help. It's not one of the cheapest play balls on the market, but for the quality and health benefits, we think it represents good value for money and is the perfect toy for a hamster with an appetite for some gnawing destruction!
Trixie small animal running disc
Pieces: 1 running disc and stand | Dimensions: 17cm diameter | Material: Plastic | Suitable for: Dwarf hamsters and mice
Quieter than a metal wheel
Flat running surface protects the hamster's spine
Provides enjoyable exercise for hamsters
Plastic, which can be a worry
The clever design of this running disc makes it one of the best activity toys around for small pets. In their natural habitat, hamsters would cover a lot of ground just looking for food, so running is second nature to them. This wheel allows them to run to their heart's content inside their cage.
Unlike the traditional running wheel with metal rings, this one has a flat, solid running surface which protects the hamster's spine. The running disc is big enough for a small hamster to use without bending its back and the smooth-running disc means that it cannot injure itself on metal rungs. The running disc is slip resistant too, making it a safe place for a hamster to exercise while having fun.
Anyone who has a hamster knows just how annoying the noise generated by a hamster running on a wheel can be. The Trixie wheel is different in that it is not fixed to the side bars of the cage, so the cage doesn't make a racket. Coupled with the smooth action of the free-standing running disc, this accessory is a much quieter affair than a traditional hamster wheel. When you consider that your hamster is most awake and lively when it is dark, the near silent action of this disc should not result in anyone being unnecessarily disturbed by their hamster's exercise… just tell them to chew quietly!
The only drawback of this toy is its material, which may be a deal breaker for eco-conscious pet owners. Made of plastic, the disk may be easy to clean, but a metal wheel would last longer. If your hamster chews anything and everything you may worry about it consuming some pieces of plastic, meaning you would have to be vigilant checking its condition. And, when it is time to buy a new wheel, this one would probably be destined for landfill, which isn't good news. 
Haypigs! Circus hidey hut
Pieces: 1 hut with 2 interchangeable 'pee pads' | Dimensions: L 30cm x W 25cm x H 25cm | Material: 100% polar fleece with 100% polyester fiber non-toxic filling | Suitable for: All small caged pets including hamsters
Two 'pee pads' included in the price
Can be completely machine washed and dries quickly
A snug hideaway in a colorful and imaginative design
Quite expensive
If you fancy spoiling your diminutive pet big time, the Haypigs! Circus Hidey Hut – Fleece Hidey Hut is a good place to start. The Hidey Hut is part of a wider range of well-made circus-themed pet accessories by British company Haypigs, whose aim it is to enrich the everyday lives of small pets and their owners. The Hidey Hut is designed for use outside the cage, when the hamster is being played with, or just introduced to a different environment.
This makes it the perfect place for your hamster to play or to stage a mini Instagram photo shoot… because the world needs to see how cute your hamster looks in a big top. It also acts as a lovely place for it to hide and rest, if scampering along the living room carpet gets a bit much.
As it is meant to be used for occasional play outside the cage, the hut can be squashed flat in moments for easy storage and will recover quickly without creasing when it is ready to be used again. A real bonus is that it comes supplied with two interchangeable 'pee pads', which can be switched over very easily so you can keep playtime going without any soggy unpleasantness. It's also a very useful feature as it means that the whole hidey hut doesn't necessarily have to be washed every time. The pads can be cleaned in the washing machine and dried over a radiator. But washing the whole hut is simple too. Being made completely of polar fleece, it can just be popped in to the washing machine and it will line dry within a short time.
The price of this item is a possible negative, but if you are thinking of buying an accessory for the hamster who has everything, and are looking for a head turning 'des res' to be proud of, this could be the product for you. And after all, you can't put a price on the perfect Instagram photo.
WINOMO Pet Hammock Hamster Hanging Toy Hut
Pieces: 1 hut with 4 hanging clips | Dimensions: 9.9 x 5.7 x 1.3 inches | Material: Plush; metal | Suitable for: Hamsters, guinea pigs, rats and other small animals
Offers a cosy retreat 
Well-sized
Easy to clean
Long chains can be difficult to attach
Treat your special friend to a super cosy WINOMO Pet Hammock Hamster Hanging Toy Hut and they'll have space to both sleep and play.
Featuring a super soft plush material, you can either sit the hut on the ground so it becomes a cosy place for your hamster to rest or clip it to the top of the cage using the hanging clips and it transforms into a hamster swing. 
If your hammy is a little on the larger side, then this snug retreat is much roomier than you might expect at first glance.
Multiple hamsters will love nipping in and out of the holes, which is just as entertaining for you as it is for your pet. Simply hang a bell or another hamster toy above it for extra entertainment value.
Some pet owners report having difficulty attaching chains to top of the cage or finding the chains too long but the multi-functional approach of having the hut either as a bed or swing means you're guaranteed to always find a use for it.  
How to choose the best hamster toy
You know your hamster best. Perhaps they like their treats a little too much and avoid exercise, or maybe they lack mental stimulation. Whatever the case, it's best to choose a toy that's tailored to their needs. Look at what the toy promises and try to think whether a toy's function will suit them and enrich their little fury life… or simply clutter up their cage.
Another important consideration is the material from which a toy is made. Plastic may be easy to clean but can be a worry if your pet gnaws it. Wood, on the other hand, is eco-friendly and non-toxic, making it a better choice all-round. It tends to be fairly durable, but if your hamster is on a mission, it could gnaw through a toy in no time. Then there's fabric. Cute hideaways can often be made of cosy fleece, but while your hamster may love snuggling up in them, you may not love the extra washing they create!
Last but not least, it's important not to crowd your pet's cage with too many toys or enormous gym kits if your hamster lives in a compact property. And of course, budget plays a role too. It may be tempting to splash out on something luxurious, but bear in mind you'll probably have to replace toys sooner rather than later.
Get the best advice, tips and top tech for your beloved Pets
Thank you for signing up to Petsradar. You will receive a verification email shortly.
There was a problem. Please refresh the page and try again.