How to clean a dog collar and walking gear
You may brush your dog regularly, but have you ever wondered how to clean their collar and walking gear?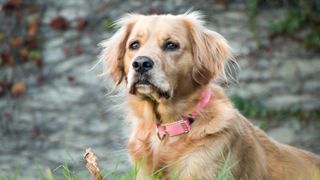 (Image credit: @Roberto Lopez on Unsplash)
Have you ever thought about how to clean a dog collar? It's generally clear to any owner when our dogs need a bit of a clean up – their fur looks tangled, they have muddy feet or they're a bit smelly!
Most of us also wash or clean dog beds regularly. Keeping equipment clean will not only be more comfortable for your pet but is also more hygienic and helps to stop dirt and hair spreading. It's one of those jobs that's best done regularly rather than once a year, so here's our guide on how to clean a dog collar and their full walking gear for pets and owners that are always on the go.
How to clean dog collars, leashes and harnesses
What you need to do to clean your dog's collar, harness and leash depends on what they're made of, so we've broken our guide down into different types of material.
When you clean your dog's collar, it's a good idea to take off any identity tags first so they don't get damaged – remember to put them back on afterwards! Collars and harnesses should be completely dry before they go back on your dog as damp kit can be uncomfortable.
Nylon: nylon equipment is the easiest to clean. You can either wash it by hand in the sink with a little hyposensitive laundry detergent or put it in the washing machine on a 'delicates' cycle. If you do put your dog's collar in the machine, it's a good idea to put it in a laundry bag to prevent the metal fittings from banging against the door. If you don't have a laundry bag, you could use a pillow slip or a sock, tied up tightly with a boot lace.
Leather: leather is a little more tricky to look after, but looks beautiful when it's done and will last for many years. If you use a leather dog collar, leash or harness it's important to look after it properly, as leather hardens and cracks if it gets too dry which can be uncomfortable for your pet. Clean the surface with a damp sponge squeezed almost dry, then rub in a little saddle soap to keep the leather soft and supple. Don't put wet leather on a radiator to dry as the heat will dry it out and cause it to crack – leather should be left to dry out naturally before treating.
Fabric: there are some beautiful collars and leashes on the market these days, made with anything from cotton to Harris Tweed. Care of these varies, so check the label before you do anything. You should be able to wash most fabric collars by hand with warm water and laundry detergent (always choose one that's suitable for sensitive skin). Tweed collars may need to be sponged and then brushed rather than immersed.
Metal: all-metal collars can go through the dishwasher on a hot cycle and will come out sparkling. Never use this approach with leather collars, though.
How to deodorize a dog collar
Dogs love rolling in stinky things – and as owners, we're less than keen on the consequences! If your beloved pooch comes in with a caked collar, it's time for drastic measures.
If the collar is made of nylon or washable fabric, scrape off the worst of the mess and put the collar in a bowl of hot water. Add three teaspoons of baking soda and three of apple cider vinegar and give it all a good stir round. Leave it to soak for 20 minutes, drain off the water and scrub the collar.
Rinse well in clean water – you can add a couple of drops of lavender or peppermint essential oil to the final rinse water for a natural deodorant that won't irritate skin. It's a good thing you love him!
Bowls and travel bottles
Travel bowls and 'on the go' water bottles are a great idea and mean you can keep your dog hydrated on the move – essential in hot weather. Bowls and water bottles can be left unwashed in backpacks and trunks for weeks until they're needed again, so there's a risk they'll breed bacteria. Try and remember to clean bowls and bottles after every use so they'll be clean and ready when you need them.
You can wash hard plastic bowls and bottles in the sink with warm water and dish soap and leave until dry. If you have a soft fabric foldable bowl, then you may be able to wash it – check the label for details. If it's not washable, sponge it with a damp cloth and hang it up to dry.
Every so often you can give water bottles a good clean by using an antibacterial denture cleansing tablet such as Polident – just fill the bottle with water, drop in the tablet and wait for a few minutes. These tablets are a form of very mild bleach, so give the bottle a good wash out afterwards as well.
Car trunk liners
Trunk liners are the pet owner's best friend! They're a great investment and will cut down the amount of car cleaning you have to do – but sometimes you have to clean the liner itself. Liners come in two types – soft fabric that covers the whole of the inside of the trunk and attaches with Velcro, and sturdy rubber mats that cover the floor. Running the vacuum cleaner over the trunk regularly will help to keep things tidy, but every so often it's well worth having a big clear out.
Choose a warm dry day and strip out all the liners from the car. Rubber matting can be cleaned with some warm water, dish soap and a scrubbing brush and then rinsed with cold water. Make sure the mat is completely dry before you put it back in the car! Fabric liners are not normally suitable to go in the washing machine. Vacuum off any pet hair and use a damp cloth to remove any areas of mud. Leave to dry before using.
Giving your dog's collar, harness and walking equipment a good clean every few weeks will help it last longer and make sure your dog looks smart and tidy – right up until he sees a nice muddy puddle!
Get the best advice, tips and top tech for your beloved Pets
Sara is a freelance journalist and copywriter of many years' experience with a lifelong love of animals. She's written for a range of magazines and websites on subjects varying from pet care to travel. A horse rider since the age of five, she's currently a full time pet slave to horse Blue and gorgeous, goofy English Springer Spaniel Olly. Adorable Olly has a huge sense of adventure and no sense of direction, keeping Sara on her toes.