How to wash a dog bed
Discover how to wash a dog bed the right way and leave your pooches bed fresh and clean for your nose and theirs.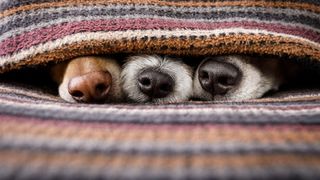 (Image credit: Credit)
It's necessary to know how to wash a dog bed. Dogs bring in all kinds of organisms from simply walking on the ground, not to mention their habit of rolling in and eating all kinds of nasty stuff. They might have even gotten some urine, poo, or vomit in their beds. Even if they have the best dog bed you can buy and it looks clean, germs may well be lurking on the surface. According to home cleaning service Molly Maids, dog beds should at least be washed monthly. PetMD recommends a weekly wash. You know your dog best, so wash as needed.
Because dog beds come in so many different styles and fabrics, there's no one-size-fits-all solution when it comes to cleaning it. But we've got you covered.
Vacuum!
No matter what the type, most dog beds need a good vacuuming on a regular basis to remove hair and dirt. The best vacuums for the job have a good filter and an upholstery attachment, preferably one specifically designed to trap hair.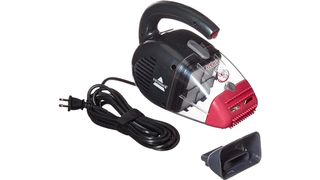 Bissell Pet Hair Eraser 33A1B
On the budget end, this handheld vacuum makes short work of pet hair on upholstery as well as in your car and on the stairs.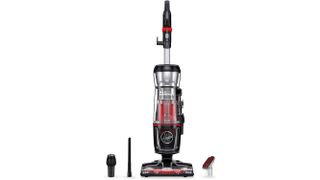 MAXLife Pro Pet Swivel HEPA Media Vacuum Cleaner
This mid-range priced vacuum cleans your entire home, with special attachments and powerful suction to get pet hair out of every crevice.
Spot clean!
Once you get your dog's bed free of hair and dirt, you might still be left with a mess. Grab a spray made for cleaning up after dogs. That way you'll not only get everything out, you'll keep them safe. Waterproof or outdoor pet beds just need a wipe down and they're good to go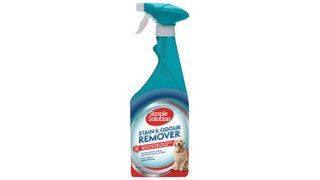 Simple Solution Stain and Odour Remover for Dogs 750ml
This spray-on cleaning solution promises to permanently remove the toughest stains your dog can dish out.
Into the wash!
Washing a removable dog bed cover is a snap; just use a gentle cycle and the highest temperature you can in order to kill germs. Other beds might be able to go into the wash as well, but check the tag. A large dog bed, even if washable, could require a visit to a laundromat or a hand wash. Check to ensure the bed is completely dry before giving it back to your pup.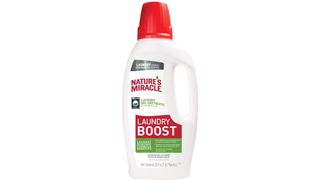 Nature's Miracle Laundry Boost
Use this laundry additive when washing a dog bed to help break down additional stains and odours left behind.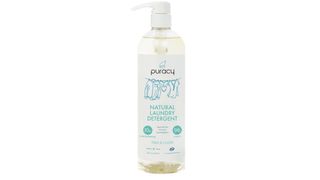 Puracy Free & Clear Natural Laundry Pet Detergent
You can also buy a detergent made just for laundering pet items. It's hypoallergenic and safe for sensitive skin.
Coming clean
Now that you know how to wash a dog bed, your investment should last your buddy even longer and help keep your entire house smelling fresher. Just don't be surprised if they get it messy in less time than you took to clean it. Dogs like to smell like dogs, after all!
Get the best advice, tips and top tech for your beloved Pets
Shanna Tyndall has been writing and editing for the web and print for most of the 2000s. She is also a happy life-long cat owner and acquired a cat-like dog seven years ago. She believes that pets are generally better than people.