How to deal with an aggressive rescue dog: A vet's advice
An aggressive rescue dog can be influenced by difficult life experiences. How should you respond?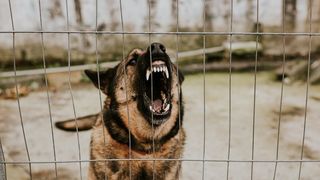 (Image credit: Getty Images)
Having an aggressive rescue dog can pose a number of issues. We all know that adopting a rescue pet is a commitment, but what should you do if you find that you have adopted an aggressive rescue dog? While some people may choose to return an aggressive dog to the rescue group in the hopes that it can receive treatment, many owners have already become attached to their dog by the time aggression becomes apparent. If you choose to try to work through your dog's aggression, it's important that you are able to recognize aggressive behavior and address it in a prompt and appropriate manner.
First things first: Develop a safety plan
In the long run, you will need to identify and address the underlying cause of your dog's aggression. In the short term, however, your primary focus should be on keeping yourself and your family safe. Work to develop and implement a safety plan that minimizes the risk of bites to you, your family members, visitors to your home, and anyone else who may interact with your dog.
The specifics of your safety plan will vary, depending on your dog and the contexts in which aggression occurs. For example, keeping people safe around a small-breed dog who is only aggressive around food will be far easier than keeping people safe around a large-breed dog that is unpredictably aggressive!
Think about the situations in which your dog has shown aggression. Can you identify any common triggers that were present? If so, your safety plan should focus on avoiding that trigger. For example, imagine that you have a dog who is only aggressive towards people who walk past his food bowl when he is eating. Feeding that dog in a separate room, behind a closed door, would minimize the chances of that aggression occurring. You might also confine the dog at family mealtimes, to minimize the risk of an aggressive interaction over dropped food.
In contrast, imagine you have a dog that only shows dog aggression towards strange dogs on walks. In that situation, you can adjust your walk schedule and route to minimize the likelihood of encountering other dogs. If you have a private yard that you can let your dog out into, you may completely forego leash walks until you can begin to address the aggression.
If your dog has shown aggression in a variety of contexts, with no single identifiable trigger, you will need a more robust safety plan. You might choose to have your dog wear a basket muzzle to minimize the risk of bites. Consider confining your dog to a dog crate or a separate room any time there are visitors in the home, especially children. Using barriers to prevent aggression is not a long-term fix, but it is a completely viable short-term safety plan!
The goal of your safety plan is not to 'fix' your dog's aggression. That will require far more consideration and effort. Instead, the goal of a safety plan is to prevent serious injury in the short term, until you can implement long-term solutions to manage the aggression.
Underlying causes of aggression in dogs
There are many possible causes of aggression in dogs. Understanding why your dog behaves aggressively can go a long way towards developing strategies to manage aggression.
Common causes of aggression in dogs include:
Fear aggression: Occurs when an anxious dog feels cornered or trapped (eg. your nervous dog bites you when you are trying to trim his nails).
Dominance/Social aggression: Occurs when a dog is trying to compete with other human or canine family members for status (e.g., your dog is fine with one owner in the family, but shows aggression toward other, lower-status family members).
Possessive aggression: Involves guarding toys or other possessions from others (eg. your dog bites you when you try to take away a scrap of paper that he stole from the trash can).
Food aggression: This is similar to possessive aggression, but specifically refers to guarding food (eg. your dog barks and growls when you walk by his food bowl during meals).
Territorial aggression: Intended to ward off a perceived intruder (eg. your dog is aggressive towards visitors).
Protective aggression: Intended to protect a family member (eg. your spouse goes to give you a hug, and your dog bites your spouse).
Redirected aggression: Aggression towards one person or animal is redirected to another individual (eg. your dog is growling at another dog on a walk and then turns to snap at you).
Predatory aggression: Directed towards an animal that is perceived as prey (eg. your dog chases and injures your small kitten).
While an aggressive rescue dog might have one single underlying cause of their aggression, other dogs will display multiple types of aggression. Your veterinarian or trainer can help you identify the underlying cause(s) of your dog's aggression, but it's helpful to begin thinking about these issues and looking for patterns early in the process. Once you identify the underlying cause of your dog's aggression, you are in a better position to begin taking steps to manage your aggressive rescue dog.
Seek professional help to rule out medical issues and manage aggression
Your veterinarian is an excellent resource for helping you manage your dog's aggression. Your veterinarian can rule out medical causes of aggressive behavior, and assist you in identifying and managing the underlying causes of your dog's aggression.
Your veterinarian will begin by performing a thorough physical exam. This exam will likely be accompanied by laboratory testing, including bloodwork, fecal parasite testing, and other tests as indicated. In some cases, aggression is caused by pain or underlying disease. If your dog has not already been spayed or neutered, your veterinarian will likely recommend doing so; spayed and neutered dogs are less likely to be aggressive.
If your veterinarian does not find a medical cause for your dog's aggressive behavior, the emphasis will shift to diagnosing and addressing the psychological cause of your dog's aggression. Some veterinarians offer in-house behavior services, while others may refer you to a veterinary behaviorist (a veterinarian that specializes in animal behavior) or a qualified local dog trainer.
The treatment of aggression typically involves a combination of trigger avoidance and behavior modification. Behavior modification involves the use of rewards to desensitize your dog to triggers and teach new responses to stressful situations. Medication is sometimes used to help a dog be more receptive to behavior modification, depending on the underlying cause of your dog's aggression.
Realistic expectations are key
When working with an aggressive rescue dog, it's important to have realistic expectations. With effort, you can likely learn to identify and avoid your dog's triggers. You may also be able to manage the underlying cause of your dog's aggression, with the help of a veterinarian or trainer. Realistically, however, your dog may never be the type of dog that enjoys dog parks or being surrounded by small children. Be prepared to invest ongoing energy and attention to manage your dog's environment and behavior, to provide the best possible quality of life for your dog and your family members.
Get the best advice, tips and top tech for your beloved Pets
Dr. Barnette is a graduate of the University of Florida, where she received both her B.S. in Zoology and her Doctor of Veterinary Medicine (DVM). She has 15 years of clinical experience as a small animal veterinarian, treating dogs, cats, and occasional exotic patients. She now works as a freelance veterinary writer, creating educational content for veterinarians, veterinary team members, and dedicated pet owners. Dr. Barnette lives in southwest Florida with her husband and daughter (plus two cats, a dog, and a rescued dove!) and enjoys kayaking, biking, and hiking. Learn more about Dr. Barnette at www.linkedin.com/in/catherinebarnette.