How to set up a birdcam and enjoy your garden more
Spotting birds through the window is lovely. Capturing a visit on a birdcam helps you savour it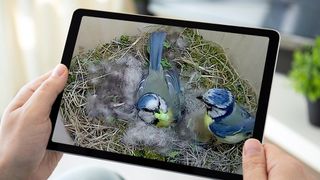 (Image credit: RSPB)
Bird boxes are ideal for encouraging feathered friends to take up residence in your garden, giving you a grandstand view of their lives. A birdcam gets you an even closer insight, helping you capture the moment birds come to feed in your garden or even fledge from their nest.
You have probably noticed that it's been a fantastic year for wildlife, in part due to less pollution and interference from humans. Plenty of sunshine also encouraged plants to flower, in turn attracting birds and bees to visit gardens. According to UK citizen wildlife monitoring site iRecord, its contributors noticed 97% more butterflies and moths during this year's lockdown than last year. The Natural History Museum refers to the return of nature as an 'anthropause'.
Even those of us who have been restricted to enjoying birds, bees and butterflies from home have had a chance to experience an unprecedented return to British gardens of species that were becoming rare. With darker nights upon us we now have a chance to observe bats and owls, even in urban areas – something that's made far easier with a motion-detecting birdcam to alert us to nocturnal activity.
Selecting a viewing site
Watching wildlife can be as straightforward as choosing a window and gazing outdoors, making sure you don't startle the birds you're watching with your own movement or noise. A fixed birdcam might be better off either close to the nest or feeding station, or sited in an undisturbed upstairs window looking down on the action.
If you're training a camera or webcam on the garden from indoors, you'll need to avoid window glare and ensure curtain movements neither obscure the camera nor cause a disturbance. For evening and night-time viewing, consider whether indoor lights or ones in the garden will affect how well your birdcam displays footage and whether lights may be a wildlife deterrent.
Try to position the viewfinder just above but looking down on the feeder, nest or water bath. This way you should be able to see the birds' magnificent plumage as it comes in to land.
Ideally, you want a wildlife camera that doesn't betray its presence with a light that suddenly turns on whenever it senses activity, since this might very well scare the animal or bird away.
Selecting a suitable birdcam
A Bird Box Camera such as its £149 Digital Wired Nestbox is ideal for hole nesting birds such as tits and is easily adapted to suit wrens and robins. For these birds the box should be sited slightly lower down. Viewing panels in the sides of the box need to be left unobstructed.
A microphone inside the box provides ongoing audio while the setup is designed for display on a TV screen (a video cable is included), with colour footage during the day and black and white infrared images at night. A wireless version of the Bird Box Camera is also available, although the steady video stream from the wired version will provide superior footage.
Once nesting season is over and the young have fledged, the camera elements can be re-sited to instead monitor the action at the bird table. The RSPB sells a separate housing for this purpose.
Another good option is Greenfeathers' high-definition WiFi Bird Camera Kit £129 which stands out for its ease of setup and because, using WiFi, you can view nestbox footage on a tablet. Less pricey options in the Greenfeathers' range include the £49 Bird Box Camera Kit which connects to an IP-based network using an Ethernet connection and has a 1.2-metre AV cable to hook it up to a screen. There's also a USB image-capture device so you can take still photos of your garden's wildlife for posterity. LEDs for its infrared camera shows creatures up to a metre away while in daylight you should be able to view birds at least 20 metres away.
If you prefer the challenge of putting together a bird cam setup yourself, consider the £40 Naturebytes' Wildlife Cam Case, which has a 3D printed case that's durable enough to withstand all weather conditions and still keep your electronics safe. It works with the tiny but powerful £35 Raspberry Pi computer and there's a handy tutorial about how to set one up.
Setting up an outdoor birdcam
In most cases you'll want a birdcam that can be positioned close to the nest or feeder. The RSPB advises that bird boxes with a nest cam should be fitted to a wall or mature tree and fixed at least two metres from the ground and await from fences and other convenient launching places for predators such as cats and foxes. It also needs to face away from the prevailing wind and out of direct sunlight.
Why you should get birdwatching
Watching wildlife has obvious benefits in keeping our minds occupied and is rewarding in its own right. Birdcams provide an opportunity to watch the wonders of nature without disturbing our feathered friends.
For a preview of what's in store, see the magnificent NestBox Live video stream set up by Liverpool's Jamie Wainwright. Nestboxes at the Wirral Barn Owl Trust have now been joined by others across Europe, so you can enjoy a variety of fascinating species.
Get the best advice, tips and top tech for your beloved Pets
Amy Davies is a freelance writer and photographer with over 15 years experience. She has a degree in journalism from Cardiff University and has written about a huge variety of topics over the years. These days she mostly specialises in technology and pets, writing across a number of different titles including TechRadar, Stuff, Expert Reviews, T3, Digital Camera World, and of course PetsRadar. She lives in Cardiff with her dog, Lola, a rescue miniature dachshund.