Six ridiculous (but fantastic) ways to show the world you love your pet
Check out these outrageous and over-the-top gifts for the most pampered pets in the world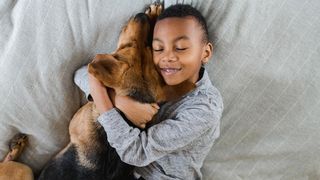 (Image credit: Getty)
You love your dog. You love your cat. But loving isn't sufficient. You need the world to understand just how much you adore your furry pal. It's not enough for your buddy to be well-fed, groomed, and healthy – any responsible pet owner does those things. Let everyone know just how extraordinary your dog or cat is with one of these absurd declarations of undying devotion. Will it go to their heads? Possibly. Do they deserve it anyway? Definitely.
1. Commission a renaissance pet portrait
For centuries, people have commissioned great artists to paint portraits of the ones they love. Why not extend that tradition to your pets?
For less than $100, Crown & Paw will turn a picture of your pet into a stunning work of Renaissance art. You choose the costume, upload a picture, and voila! Custom, wall-hangable art starring your very own pet.
2. Hire a private pet chef
The way to a pet's heart is through its stomach. Show the world you love your pet's stomach the most with a diet custom-created by a (pet) celebrity chef.
The Hampton Pet Chef caters events with hors d'oeuvres that are tasty for humans, but safe for pets. Featured on the Hallmark channel, chef Bonnie Emmerich says, "My background in catering has taught me great flavors and working with vets has taught me what's good for your pet. I have combined both to come up with a great catering menu."
For the day-to-day, The Farmer's Dog offers meal delivery for your pet made from fresh, real ingredients that are vet-approved, and tested on humans.
3. Buy them a diamond collar…
Turn heads with the La Jeune Tulip, one of the world's most exquisite and valuable collars.
Hand crafted with an array of marquise-, pear-, and brilliant-shaped diamonds, the La Jeune Tulip features a stunning 1.52 carat marquise-cut diamond front and center, making it an extravagant and ridiculous accessory for your pet.
4. …Or a Versace pet bowl
An ordinary dog can eat out of any old bowl, but your pooch is anything but ordinary. Feed your beloved only the finest delicacies from the Versace-created Barocco Pet Bowl and show the world how much you love your pet.
Made of fine porcelain and trimmed with 22-carat gold leaf, it's a steal at just over $750.
5. Take them on a pet-friendly getaway
It's hard work, being your dog. From the hours spent lounging around, wondering when the next scritchies will come, to the time spent alone with no one to play with, the stress can just stack up. Why not give your pet a relaxing vacation?
Bring Fido is a vacation rental listing service exclusively featuring pet-friendly accommodations, eateries, and activities. From Glasgow to Georgia, Bring Fido has you covered with everything you need to book a relaxing stay with your pet.
6. Turn their ashes into diamonds
Let's face it: Your pet will eventually pass on. And while there are plenty of different ways to memorialize your pet's life after they're gone, few are more extravagant and ridiculous than turning their ashes into diamonds.
Starting at $2,999 for a .1 carat diamond, Eterneva will turn your pet's ashes into a lab-created diamond suitable for setting into jewelry.
The drawback? The Eterneva process can take as long as a year to purify and manufacture the diamond. But in the end, you can turn your special friend into a quality gemstone that will last forever, showing the world how long you will love your pet even after they're gone.
Get the best advice, tips and top tech for your beloved Pets
Susan Arendt is a writer and editor with more than two decades of experience from companies including AOL, Conde Nast, and The New York Times. She currently resides in North Carolina with three dogs (Alice, Bridget, and Chloe) who, frankly, run her life.