Tramadol for dogs: Vet's guide to uses, side effects and dosage
When and why do veterinarians prescribe tramadol for dogs? Read on to find out...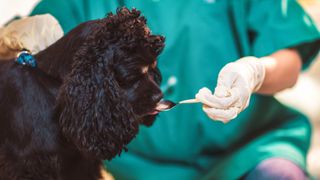 (Image credit: Getty Images)
Tramadol for dogs is one of a number of medications used to treat pain in dogs. In some cases, tramadol is used for the short-term control of acute pain.
For example, your veterinarian may send home tramadol, in combination with other drugs, to control post-surgical pain. More often, however, tramadol is used to treat chronic pain, such as osteoarthritis, hip dysplasia, and other orthopedic conditions.
Pain management is a complex and rapidly-changing field. Effective pain control, which may be covered by the best pet insurance, often requires combining multiple medications with different mechanisms of action, as well as a bit of trial-and-error to see what works best for a given individual.
Below, we walk you through everything you need to know about tramadol for dogs, including what it does, the potential side effects and how the dosage works. Let's take a look...
What does tramadol do for dogs?
Tramadol is a pain medication used in both humans and dogs. It is often used in combination with other pain medications, such as a non-steroidal anti-inflammatory drug (NSAID) or gabapentin. (For more information on gabapentin, see a vet's guide to gabapentin for dogs.)
Research shows variable benefits associated with tramadol. Some studies suggest it helps reduce pain, while other studies don't show any significant benefits. These contradictory results have led to tramadol going in and out of favor among veterinarians over time, depending on the latest research.
However, given that it is an affordable medication with a low risk of side effects, many veterinarians add tramadol to a patient's pain protocol when other medications (such as NSAIDs) are not strong enough. If tramadol helps, it can be continued long-term.
Tramadol acts on multiple receptors within the body, targeting pain in several ways. It can have opioid-like effects, reducing the transmission of pain signals in the nervous system.
It can also act as a serotonin reuptake inhibitor, similar to some antidepressants. Tramadol is rarely used alone, but these benefits can prove helpful when combined with other pain medications.
Is tramadol for dogs the same as humans?
Tramadol is used in both dogs and humans, with similar effects. In humans, like in dogs, tramadol is often combined with other pain medications.
Although canine and human tramadol are identical, it's important to never share tramadol with your pets. Your vet needs to determine the best tramadol for your dog. Additionally, tramadol is a controlled substance that is regulated by the Drug Enforcement Agency (DEA).
If you and your dog have both received prescriptions for tramadol, it's important to keep your medications separate and not share medication with your dog.
Tramadol for dogs: side effects
Tramadol's most common side effect is lethargy or drowsiness. This is more likely to occur in dogs receiving high doses of tramadol. If your dog is lethargic after taking tramadol, contact your veterinarian to determine whether a change in dosing or medication is recommended.
Other side effects include dizziness, anxiety, nausea, constipation, and/or a decreased appetite. These effects are typically mild and should resolve once the medication wears off.
If your dog was recently started on tramadol and is experiencing any of these effects, stop giving the medication and contact your veterinarian for guidance. Your veterinarian may recommend a change in your dog's medication or change your dog's tramadol dose.
Rarely, dogs can have an allergic reaction or seizures in response to tramadol. Fortunately, these severe effects are rare. If you see signs of an allergic reaction or seizures in a dog that is taking tramadol, seek veterinary care immediately through your veterinarian or an emergency veterinary hospital.
Tramadol can interact with a number of other medications, leading to potentially serious side effects. Whether your dog is taking prescription medication like Clavamox (see a vet's guide to Clavamox for dogs) or over-the-counter medications like Pepto Bismol or coconut oil, talk to your veterinarian before combining tramadol with any other medications.
Your veterinarian will review your dog's list of medications, checking to ensure that none of your dog's current medications are known to react adversely with tramadol.
Use tramadol with caution in geriatric dogs and dogs with seizures, liver disease, or kidney disease. Tramadol is also typically avoided in pregnant or lactating females.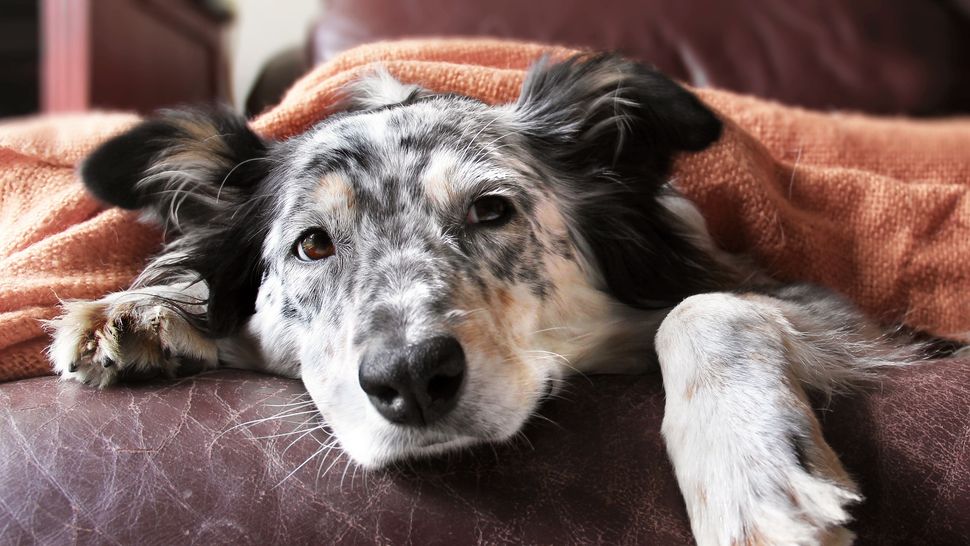 Tramadol dose for dogs
Your veterinarian will determine the best tramadol dose for your dog, depending on your dog's size and the condition to be treated.
Some conditions are controlled on very low doses of tramadol, while other dogs require higher doses. The risk of side effects increases as dose increases, so your veterinarian will balance potential benefits and risks when determining the best dose for your dog. Dose adjustments may be needed to determine the best tramadol dose for your dog.
Tramadol is typically supplied as an oral tablet, which can be given with or without food. The tablets can have a slightly bitter taste, so you may need to hide your dog's tramadol in a soft treat or Pill Pocket.
If your dog is really difficult to pill, your veterinarian may be able to have your dog's tramadol compounded into a liquid suspension.
Summary
Tramadol for dogs can be an effective addition to an NSAID or other pain medication to provide more effective relief for acute or chronic pain.
Side effects are rare, although you may notice mild lethargy or gastrointestinal signs. Contact your veterinarian if you notice any concerning side effects, to determine whether a medication change or dose adjustment may be needed.
Get the best advice, tips and top tech for your beloved Pets
Dr. Barnette is a graduate of the University of Florida, where she received both her B.S. in Zoology and her Doctor of Veterinary Medicine (DVM). She has 15 years of clinical experience as a small animal veterinarian, treating dogs, cats, and occasional exotic patients. She now works as a freelance veterinary writer, creating educational content for veterinarians, veterinary team members, and dedicated pet owners. Dr. Barnette lives in southwest Florida with her husband and daughter (plus two cats, a dog, and a rescued dove!) and enjoys kayaking, biking, and hiking. Learn more about Dr. Barnette at www.linkedin.com/in/catherinebarnette.