Best kitten teething toys: Fun ways to soothe sore gums
By Steve Jenkins published
Providing hours of fun and relief, the best kitten teething toys are so entertaining that your baby bundle of fur will forget all about their sore gums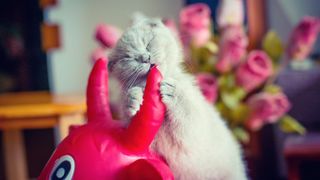 (Image credit: Getty Images)
Keep those sore gums soothed and your furniture free from chew marks with the best kitten teething toys to see your feline friend through those painful few months when their new adult chompers are growing in. And with so many great options to choose from, the hardest decision you'll face is trying to stick to just one or two!
Teething in kittens occurs between the ages of three to six months and just like human babies, it can be a time of massive discomfort. Your little one will likely try to self soothe by mouthing any object they can find, including clothing, furniture and other belongings. Teething toys are ideal for helping to teach proper chewing behavior during this phase while also helping to make the teething period a bit more bearable.
While it's great to have plenty of the best kitten toys around your home for them to play with, when it comes to providing relief to inflamed and sore gums, you're much better off selecting specially designed teething toys as these are made of materials that your little one can really sink their teeth into. Some even come with catnip, which will make them even more appealing, and anything that has a soft feel will be particularly comforting.
When choosing a teething toy, we recommend you take the same precautions you'd take if you were choosing one of the best cat toys for adult felines. Look for safe playthings that have been made with non-toxic materials and have no small parts that your little fur baby might break off and accidentally swallow. You'll also want something fairly durable as your kitten will likely be showing their toy a lot of love over the few months that they're teething, so it'll need to be able to hold up to plenty of gnawing!
To help you find the right option for your little one, we've rounded up the best kitten teething toys that are so much fun your bundle of fur will forget all about those new chompers they have growing in. Let's take a look...
PetsRadar's pick of the best kitten teething toys
Best overall kitten teething toy: Petstages Dental Health Chews Pair
Best budget kitten teething toy: Petstages Dental Kitty Chew Wheel Catnip Cat Toy
Best kitten teething toys soft set: Legendog Catnip Chew Toy
Best kitten teething toy for dental health: Catnip Plaque Away Pretzel
Best durable kitten teething toy: Ronton Cat Toothbrush Catnip Toy
Best stylish kitten teething toy: Leaps & Bounds Little Paws Teething Mouse Kitten Toy
Best kitten teething toy with catnip: Lil' Avocato Dental Health Catnip Cat Chew Toy
Petstages Dental Health Chews Pair
Best overall kitten teething toy
Specifications
Dimensions:
1 x 3 x 9 inches
Reasons to buy
+
Cleans teeth
+
Multi-sensory features
+
Two toy set
Reasons to avoid
-
Toys are on the small side
Need a chew toy that will give your kitten hours of fun and keep their teeth in tip-top condition? Then this double offering from the good people at Petstages could be just what you're looking for.
These two dental kitten chew toys are covered with mesh material that gently removes soft plaque and tartar from your kitten's teeth every time they start chewing on the toy. Much like the Plaque Away Pretzel in this buying guide the mesh material is strong and durable and made not to unravel however hard your kitty chews on it.
But this dental health pair of soft chew toys have a little more to offer than the Plaque Away Pretzel. For starters, you get two toys in the set, both offer the teeth cleaning mesh material, but they are different shapes and colors and have different features to entice your fur friend to bat and play.
There are feathers, bells, strands of various fabrics - along with the ever-popular cat favorite, catnip - which are all sewn into different sides of the perfectly-sized chew toy for kittens. This helps create a more rounded multi-sensory experience that will keep your kitten happy, occupied, and fulfill their teething needs.
Petstages Dental Kitty Chew Wheel Catnip Cat Toy
Best budget kitten teething toy
Specifications
Material:
Cotton and plastic
Dimensions:
1.97 x 1.97 x 0.2 inches
Reasons to buy
+
Inexpensive
+
Durable
+
Infused with catnip oil
This simple design is budget-friendly, has enough features to give your cute kitty plenty of action, and will improve their dental hygiene. Pretty much everything you could want for a teething kitten - or even a cat.
There are three components to the chew toy - a plastic ring that is flanked by two fabric streamers that are made from cotton and tied around the ring. These are infused with catnip oil to attract and keep your fur friend energetically engaged when playing.
The centerpiece is a durable, food-safe rubber ring that is gentle on the gums but at the same time satisfying to bite. This encourages your fur friend to keep on chewing without destroying the ring. The ring's outer edge is surrounded by a ring of spokes, which have the added bonus of improving your kitten's dental hygiene. The spokes massage the gums when they are chewing, which helps remove tartar, and the big bonus for owners - not so stinky breath. The hole in the middle of the ring adds another edge to sink teeth into but is also the perfect place to tie on a couple of bite-resistant fabric streamers.
It's the streamers that provide stimulation and fun for your kitten and the knots in the streamer provide another strong chew point. Plus, when the streamers are all tattered and worn you can go DIY and simply tie on another couple of streamers or even add feathers or a bell.
Best kitten teething soft set
Specifications
Dimensions:
8.66 x 3.94 x 1.97 inches
Reasons to buy
+
Stuffed with catnip
+
Bite-resistant fabric
+
Set of five
How do you turn a small cute simple soft toy into a tempting and alluring plaything that provides hours, days, and weeks of fun for your kitten? You stuff it with catnip and this is exactly what Legendog has done with this set of chew toys that are made from a breathable fabric that allows your kitten to smell the catnip easily.
Catnip is a perennial herb from the mint family and boasts an essential oil that alters the behavior of domestic cats. Essentially it gets them excited, often rubbing, kicking, chewing, and rolling in it, but it doesn't work with all cats and kittens.
If your kitten is one of those 'couldn't care less about catnip' types then you still have a collection of five soft chew toys that are ideal for a teething kitten.
The toys are made from a durable bite-resistant fabric that is safe and pet-friendly just like the stuffing (soft PP cotton) that you'll find inside the chew toy. The fine stitching makes it difficult to break the toy apart, which in turn means that your cutesy kitten will get plenty of chewing action on each of the toys in the set. This provides the bonus of helping aid better breath and better dental hygiene. And, when your fur friend finally loses interest (you can't replace the catnip) or destroys the toy, you have another one from the set in line to take over chewing duty.

If your small fur friend is a fan of this set there are a couple of slightly more expensive sets that can be added to the collection. Again all have five pieces, are multi-colored, bite resistant, and stuffed with catnip.
Catnip Plaque Away Pretzel
Best kitten teething toy for dental health
Specifications
Dimensions:
2.5 x 0.75 x 2 inches
Reasons to buy
+
Dental floss for cats
+
Stuffed with catnip
+
Tough chewable netting
It looks like a pretzel but it doesn't taste like one and is more the size of a pretzel from a packet rather than one of those tasty giant ones you get from a vendor at the mall. It measures a diminutive 6cm x 7cm - this is about 2 inches x 2.5 inches - which is perfectly suitable for small or young kittens but doesn't offer so much for older kittens or cats.
This simple soft pretzel-shaped chew toy uses its shape to entice and encourage play. It is conveniently stuffed with catnip so that the toy holds the attention of your fur friend and gets them batting and chewing the toy and generally having fun. But, alongside the pleasure and excitement, the toy brings a more health-driven purpose - dental hygiene.
The chew toy is effectively a soft chewable material tube that is covered with special netting to protect the tube but also help clean your kitten's teeth. It's the netting that is the unique element of the toy - strong and durable and made not to unravel no matter how hard your kitty chews on it. It's like dental floss for cats, so when they chew the netting gets between their teeth and gently cleans away any soft plaque and tartar, freshening their breath and giving you a far more pleasant experience when they want to cuddle up on the sofa.
The one drawback is the netting, which your kitten could easily get stuck in, so we recommend you keep an eye on your fur baby when they're using this toy.
Ronton Cat Toothbrush Catnip Toy
Best durable kitten teething toy
Specifications
Dimensions:
6.69 x 4.72 x 1.38 inches
Reasons to buy
+
Tough and durable
+
Two colors
+
Pet safe materials
Reasons to avoid
-
Not ideal for small kittens
What do kittens like to do when teething? Have a good old chew on their favorite toy. So you'll need something that's tough, durable, won't fall apart in days, and won't be a waste of money. Say hello to the Ronton Cat Toothbrush Catnip Toy.
Made from a non-toxic hard rubber, this shrimp-shaped toy won't crumble or break apart into small pieces when it's chewed or clawed. This makes it ideal for endless hours of fun without the worry of choking on or swallowing any breakaway pieces.
Plus, its tough exterior helps promote good dental health. Chewing helps fight the build-up of plaque and tartar and helps freshen your kitten's breath, And, who doesn't want that. Though its tough exterior can be a downside for smaller kittens, who may find it difficult to chew on.
Its easy-to-carry size, flexibility, and raised texture on the back of the toy make it almost irresistible to your fur friend. To ramp up the interest even further there's a compartment for a small bell to add sound stimulation along with room for a sachet of catnip that will take the toy from almost irresistible to completely irresistible. When the allure of the catnip fades you can simply empty the old sachet, wash the toy and slip in a new sachet for more hours of fun. Alternatively, you can slip in a few small snacks to give them a challenge and some mental stimulation.
You can buy the Ronton as a single pack or a double. The single pack comes in green while the twin pack brings together a green and blue toy. Two colors that cats can see shades of.

Leaps & Bounds Little Paws Teething Mouse Kitten Toy
Best stylish kitten teething toy
Specifications
Material:
Plush and plastic
Dimensions:
6.42 x 6.34 x 1.85 inches
Reasons to buy
+
Durable plastic ears
+
Big plush head
+
Includes catnip
Cats and kittens traditionally love mice because they bring out their natural hunting instincts. This cute mouse soft toy might not be the real thing, but it will definitely keep your cute kitten baby happy and give them something to chew on, ultimately helping with any teething issues.
More than just a teething toy it comes with an oversized plush head to grab your kitten's attention and make it hard for them to ignore. Especially as a cat's favorite - catnip - sits inside the toy making it even more irresistible. Be warned not all cats are big on catnip, but it's harmless so it shouldn't cause any issues.
The head is big enough to be a cuddle buddy when your kitten is feeling weary and tired after a long day of fun and frolics. But it is just as capable as being a kicker toy when they are feeling excited and playful. The accompanying textured plastic pet safe ears are where the chewing fun is at. They provide a durable satisfying surface that your kitten can really get its teeth into and have a good chew until its heart is content - and then come back for more when they're ready.
The netting around the body and the long tail adds texture and interest when playing. It gives something to grab on to and helps your kitten throw the toy around and chase. But it's not so great for chewing. Your kitten's small sharp teeth can get stuck in between the netting leaving them to fight their way out or break it.
Lil' Avocato Dental Health Catnip Cat Chew Toy
Best kitten teething toy with catnip
Specifications
Dimensions:
2.7 x 2 x 1.8 inches
Reasons to buy
+
Super affordable
+
Promotes positive chewing behavior
+
Stuffed with catnip
This kitten teething toy really does have it all: style, substance, and best of all, affordability! Great value at under $5, the adorable Avocato Chew Toy is stuffed with catnip to encourage your kitty to learn positive chewing behavior.
The mesh material gently cleans soft plaque and tartar off your kitty's teeth as they play and chew and because of its lightweight design and small size (it measures 2.7-inches in height and 2-inches in width), this toy is also great for tossing and batting.
It's worth noting that the dried catnip inside the toy is fairly subtle in scent and can't be replaced, but you can easily spritz the toy with some catnip oil once the dried catnip has faded.
While some pet parents report the toy is smaller than they'd like it to be, it's sized to fit perfectly inside your kitties mouth, so they can carry it around with them from room to room.
How to choose the best kitten teething toy
When it comes to choosing the best kitten teething toy for your fur baby, there are a few key areas you'll want to pay attention to. Here are our top tips on what to look out for when selecting a new toy for you feline friend.
Design
Kitten teething toys need to serve more than just one purpose. First, they need to have a feature or surface that your fur friends can chew, That's the whole point of buying a teething toy. But, a toy also needs to entertain and amuse your kitten, because if it's not interested in the toy it won't play with it. So you need to look for a teething toy that has an area for your fur buddy to sink their teeth into, but also features that will make them want to play with the toy. Look for something that stimulates your kitten such as streamers, bells, feathers, and mesh. All of these are great entertainers when it comes to kittens and cats.
Durability and material
The material goes some way to determining the durability of a teething toy. The majority of chew toys are made from cotton - or similar - and provide a soft surface for your fur friend to sink their teeth into and chew. These don't last as long as chew toys that are made from more durable rubber, but rubber toys are tougher for your kitten to chew. As a compromise, you can choose bite-resistant cotton with strong stitching. But in reality, it's a matter of experimenting to see which works best for your kitten.
Does it include catnip?
Catnip is a herb that comes from the mint family and most cats love it. A lot of chew toys are stuffed with dried catnip - some are infused with catnip oil - which makes them irresistible to a lot of cats. So it is worth trying a toy that has catnip involved. But over time its appeal will fade, so think about a toy that lets you swap sachets of catnip for more fun.
Steve Jenkins is a freelance content creator and long-time journalist with more than 20 years in the industry. He has written for numerous titles covering tech to pets, with his latest faithful hound always by his side. When not walking his dog, or discussing who's best - cats or dogs? Loud guitars, AFC Bournemouth, Photoshop, and trying to save the world take up the rest of this time.
Get the best advice, tips and top tech for your beloved Pets
Thank you for signing up to Petsradar. You will receive a verification email shortly.
There was a problem. Please refresh the page and try again.