Best DNA dog test: Discover who your dog really is
Detect your dog's breed and hook up a health check with a DNA dog test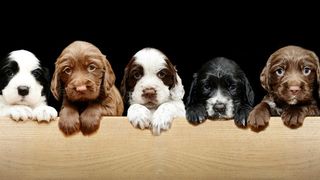 (Image credit: Getty Images)
Every dog is different, every dog has a history, and a DNA dog test will help you discover what makes your fur friend that lovable, cuddly, ball of fun. Are they really a Labradoodle? Do they have a little German Shepherd in them? Identifying the genetic makeup of your dog with a DNA dog test allows you to finally reveal what breeds your pet pooch is made from. So the next time a fellow dog lover stops you in the park, you can tell them with authority exactly what mix they are.
But the real purpose of a DNA dog test is not just about making you look smart in the park. It's about helping you identify genetic mutations that might be common to certain breeds, and checking for any health issues that your dog could have. The more comprehensive kits have extensive breed databases that can help identity over 350 varieties and types and at the same time test for 200+ genetic diseases So, if there are any specific issues that affect your dog, you can get down to the vets and get them sorted out early on. Here, we help you decide which is the best DNA dog kit for you and your dog.
1. Embark Dog DNA Test Breed & Health Kit
Best overall DNA dog test
Breed Identification: Yes | Health screening: Yes | Webite: Yes | Return of results: 2-4 weeks
Comprehensive testing
Large breed database
Health screening
Canine relative finder
Expensive
Up to a month to get results
If you want an in-depth analysis of your pet pooch then this kit from Embark is what you need on your shopping list. Recognized as one of the most comprehensive tests on the market, your dog will be tested to identify its breed makeup and be screened for any possible health issues. The Embark database contains over 350 dog breeds, types, and varieties – pretty much every breed recognized by the World Canine Organization. It uses a research-grade genotyping platform developed in partnership with Cornell University College of Veterinary Medicine. So whatever breed your dog is, this test is likely to list it.
But this kit offers so much more than just a breed breakdown. Alongside its database of breeds, it tests for over 200 genetic diseases, including some of the more common, such as MDR1 drug sensitivity, glaucoma, degenerative myelopathy, and dilated cardiomyopathy. This will help you determine if your pet pooch needs any medication or treatment to give it a healthier, happier, and longer life.
Getting your dog's DNA is simple and straightforward with the kit including all the necessary equipment. Open the packaging and place the swab inside your dog's mouth. To make sure you get the best results, make sure you don't touch the swab. Expect to get results within two to four weeks. A video tutorial on the Embark website gives precise instructions on how to take a sample. The website is also the key to getting access to your easy-to-read test information. Simply sign in, register your dog, and activate your kit.
As an added bonus, you can find out if pet pooch has any brothers or sisters using Embark's canine relative finder. If your dog has a match with any other dog on the database then Embark will let you know and tell you how close a relative they are. You and your pup could be making new friends very soon.
2. Wisdom Panel Essential
Breed Identification: Yes | Health screening: Yes | Website: Yes | Return of results: 2-4 weeks
Price
Large breed database
Breed info on website
Reduced health tests
Want to save a few dollars, and still get a comprehensive breakdown of the genetic make-up of your fur friend? This kit could be just the ticket. As an 'Essentials' kit, it focuses on identifying the different breeds that your dog is made up of. Wisdom will use its database to test for 350+ breeds and varieties to uncover your dog's breed down to 1%. Check out the Wisdom website and look through its extensive Browse breeds feature. This gives detailed information on hundreds of breeds, including average lifespan, history of the breed, traits, temperament, and how to care for them.
This test is ideal if you have a heavily mixed-breed dog, or if you got your pet pooch from a rescue, and have no idea what breed they are. But to get your dog's DNA you will need to use the two swab system Wisdom has in place. This is to make sure that they get enough DNA to test, but it's not as easy as the single swab approach that some other kits use.
Identifying what breed your happy-go-lucky fur friend will help determine if you need to be on the lookout for any hereditary conditions or diseases your dog might be prone to. This Wisdom kit does include a health screening, but only offers a reduced list of 25+ medical complications including drug sensitivities like MDR1 (Multi-Drug Sensitivity). Also, it does provide a genetic trait analysis for up to 35+ possible issues. If you want a longer list of medical effects then you will need to invest in a more expensive and comprehensive kit, such as the Wisdom Premium kit or the Embark Dog DNA Test Breed & Health Kit.
3. Embark Breed Identification Kit Dog DNA Test
Best breed identification DNA dog test
Breed Identification: Yes | Health screening: No | Website: Yes | Return of results: 2-4 weeks
Large breed database
Canine relative finder
Easy to upgrade
No health screening
The accurate identification of your pet pooch's breed is often the primary purpose of taking a DNA dog test, and this is what this kit focuses on. It is similar to sister product Embark Dog DNA Test Breed & Health Kit, but you have the privilege of paying less. This makes it perfect if you only want breed identification, and are not so concerned about health issues. But it is worth noting that the full breed and identification kit doesn't cost a huge amount more. So if you can afford it, and want both breed and health options, it makes sense to choose the more comprehensive kit.
However, there is an alternative. You can purchase the breed identification kit now, and upgrade to the combined kit at a later date without too much hassle. You won't need any additional swabs or kits, as Embark will already have your dog's DNA, and you will already be registered on the website. All you need to do is log in to your Embark account, and enhance your package for the same difference in price as if you were purchasing the physical product. And as an added bonus, you won't have to wait the usual 2-4 weeks for results.
But even if you don't make the upgrade immediately, your fur friend will still be tested against over 350 dog breeds, types, and varieties using its tried and tested research-grade genotyping platform. You will still be getting the comprehensive and accurate breed breakdown via the website and access to the canine relative finder to find out if your dog has any relatives you can go and say hello to. Options, options, options. What are you going to do?
4. Wisdom Panel Premium
Best all-round DNA dog test
Breed Identification: Yes | Health screening: Yes | Website: Yes | Return of results: 2-4 weeks
Large breed database
Extensive health tests
35+ trait tests
Expensive
If you need to know everything about your fur friend then you need a comprehensive testing kit like this one. This DNA dog test kit is a step up from the Wisdom Panel Essentials kit, hence its grand moniker of Premium. It contains all the information you get in the cheaper kit, but adds in a host of extra health and traits tests to give you a more rounded report of your dog's genetic makeup.
You will still get access to the Wisdom database to test for 350+ breeds and varieties to uncover your dog's breeds. This makes sure that you will get an in-depth insight into your fur friend's breed makeup, with the test going right down to 1%. But more importantly, the test will take a big step up from the reduced list of 25+ medical complications. The Premium kit provides over 200+ health tests, including vision, weight, mobility, and to see if your pet pooch has drug sensitivities like MDR1. Still included in the kit are the 35+ traits tests which will help you discover exactly how one of a kind your dog is. It will reveal the factors behind hair length, ideal weight, muzzle shape, and more.
All this information is accessible via the easy-to-use website, and will help determine if any hereditary conditions or diseases are likely to affect your dog's health, and allow you to get on top of them immediately.
5. Orivet Dog DNA Test
Best personalized life plan DNA dog test
Breed Identification: Yes | Health screening: Yes | Website: Yes | Return of results: 2-3 weeks
Large database
Personalized life plan
Appointment schedule
Health care advice
Not easiest to use website
This is a DNA dog test kit that embraces all the core components needed to help identify the different breeds that make up your fur friend, but it also looks to give a little more. Like all good DNA dog test kits, it has an extensive database that has 350+ breeds and varieties to help uncover your dog's breed, which it presents in percentages for quick and easy identification. And to help your pet pooch live a happier and healthier life it tests for over 200 common genetic diseases that can affect different breeds. It also includes a three-generation family tree to see where your pooch has come from.
But its big focus is on puppies and helping them deal with any issues early on and providing a life plan to help them as they grow and make sure they enjoy life to the full. Each report includes a personalized plan based on your dog's breed, age, weight, gender, geographic location, and lifestyle. If you are testing a pup under 12 months of age it predicts how big your puppy will grow offering customized daily energy needs analysis and dietary recommendations.
To complete the life plan Orivet includes a schedule that you can follow with your vet, this includes nutritional suggestions for your dog, routine health care advice, and alerts to make sure your dog doesn't miss any important vaccinations and appointments.
You'll find this swathe of undoubtedly useful information via the Orivet website, although be warned that the site is not the easiest to use. It takes time to navigate, but once you get used to it, it's a goldmine of doggy data.
6. Dna My Dog
Best quick results DNA dog test
Breed Identification: Yes | Health screening: Yes | Website: No | Return of results: 2 weeks
Least expensive
Quick results
Small database
No Wolf/Coyote test
This is the least expensive DNA dog test in this guide, so offers good value for money if you aren't on the lookout for an exact breakdown of every single breed that your pet pooch may be made up of. The Dna My Dog test kit has a smaller database of breeds – around a third of breeds, compared with Embark and Wisdom DNA dog testing kits – but it still retains the most common breeds, such as German Shepherd, Bulldog, Yorkies, and Affenpinschers. But, it doesn't test to see if your fur friend has any wolf or coyote in their breeding history, so if you think that you have some wild dog, a rare breed, or a breed of rare origin then this kit probably won't provide you with the results that you are looking for.
But the test doesn't just provide a breakdown of breeds. It also gives an insight into genetic health concerns and if your dog has a predisposition to diseases, although it won't determine your dog's genetic age. To get your hands on your dog's DNA, the test kit includes a painless and easy-to-apply cheek swab. Simply rub the swab on the inside of your dog's mouth, package it up, and send the free-to-post sample to the lab.
Results are pretty swift – typically, they are emailed to you within two weeks of the receipt of your sample. Moreover, you will get a custom certificate of the breeds found, along with a percentage breakdown of the levels of each breed, and essential health information.
How to choose the best DNA dog test
Why you can trust PetsRadar Our expert reviewers spend hours testing and comparing products and services so you can choose the best for you. Find out more about how we test.
DNA dog tests primarily serve two purposes: identifying the different breeds in your dog's makeup, and testing for any hereditary or common health problems associated with specific breeds.
The less expensive DNA dog tests typically have a single purpose, which is to identify the different breeds in your fur friend's genetic makeup. These are perfectly adequate if that is all you want to know. But if you are going to DNA test your dog, you seriously need to consider kits that provide breed identification and health screening, like the Wisdom Panel Premium kit and Embark Dog DNA Test Breed & Health Kit. These will help identify associated genetic diseases and other health troubles that can be dealt with earlier rather than later.
The Essential version of the Wisdom kit has a reduced number of health tests, but it does have a very tempting price point. Alternatively, the lite version of the Embark kit is a great starting point, as it allows you to upgrade to the full kit via the website without having to retest.
If you want more than breed and health information, the Orivet Dog DNA Test includes dietary advice, a personalized life plan, and a schedule to make sure important appointments are not missed. Finally, if you want a simple breed identification at a low price that will be with you quickly, you need to try the DNA Dog test.
Get the best advice, tips and top tech for your beloved Pets
Steve Jenkins is a freelance content creator and long-time journalist with more than 20 years in the industry. He has written for numerous titles covering tech to pets, with his latest faithful hound always by his side. When not walking his dog, or discussing who's best - cats or dogs? Loud guitars, AFC Bournemouth, Photoshop, and trying to save the world take up the rest of this time.