Best Halloween costumes for cats 2021: Get the party started
By Steve Jenkins published
Dress up your fur friend in one of the best Halloween costumes for cats this holiday season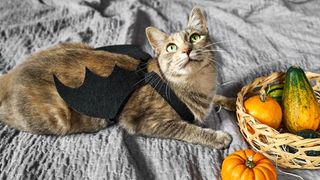 (Image credit: Getty Images)
The spooky season means it's time to dress up and impress and our guide to the best Halloween costumes for cats will ensure that your feline furkid can join in the fun too.
If you also have a pet pooch in the household, then you may have already researched the best Halloween dog costume; choosing to go all out and pick outfits for both guarantees a spooktacular photo opportunity - although your cat may be less than enthusiastic to embrace their new attire!
If you have a black cat in the family, then they're already halfway ready for October 31st, but whatever color cat you have a cute - or scary - costume will make them all part of the party.
First up, you'll want to consider what kind of outfit you are going to go with. Do you want to stick with the traditional choices? Then dress them up in a witch hat and cloak, or stick on some bat wings for a quick transformation. Looking for something a little bit different? How about something delightfully devilish such as a black cape and a set of horns? There's always embracing a Harry Potter and Hogwarts theme too - glasses included!
Just keep in mind that our feline friends are unlikely to sit still in their new outfit for long. You'll want to consider something that's easy to take on and off, that's fully comfortable and doesn't restrict movement for long periods of time.
There's a lot of choices out there but we are here to make your life a whole lot easier. All you need to do is choose the one you - and your cat - want to get the party started.
PetsRadar's pick of the best Halloween costumes for cats
Best overall Halloween costume for cats: Halloween Cat Costume Bat Wings Witch Cloak Wizard Hat
Best budget Halloween costume for cats: Legendog Cat Costume Halloween
Best hoodie Halloween costume for cats: Coomour Halloween Hoodies Pet Cute Ghost Costume
Best pumpkin Halloween costume for cats: Bolbove Pet Pumpkin Costume for Cats
Best wizard Halloween costume for cats: Impoosy Cat Halloween Costume Funny Pet Clothes Cloak
Best spider Halloween costume for cats: Cat Spider Costume for Halloween Party Decoration
Halloween Cat Costume Bat Wings Witch Cloak Wizard Hat
Best overall Halloween costume for cats
Size: One size | Pack size: 3 | Weight: 2.08 ounces | Color/style: Black
Three piece costume
Choice of what to wear
Flexible sizes
Hat not comfortable for your cat
Not ideal for kittens
Witch, wizard or bat? With this three piece Halloween costume you get to choose which outfit you want your pet puss to wear on the 31st October. Why not be a little daring and start out with one outfit and slip your fur friend into another as the evening goes on. Or go all out and let them wear the complete costume to create your own flying witch/wizard.
With this costume you get a cape, a witches/wizards hat, a set of bat wings and to add a little more Halloween spirit there's a sorcerer pumpkin accessory that fits neatly on the cape. The outfit is only available in one size so you will need to make sure that you measure your pet puss before splashing out. But there is plenty of flexibility in the sizes so it will fit most cats. Made from soft to the touch fabric the black cape - with orange trim - is tailored for an eight to ten inch neck, And it offers a decent length - 11 x 11 inches to look good on most cats.
The witch/wizard hat is made from a soft felt fabric that is just thick enough to help keep its shape. An adjustable strap that slips under the chin makes sure that it won't get lost on its travels, but it's not the most comfortable for your cat. You'll like it, your pet puss less so.
Completing the outfit there are the bat wings that have an impressive wingspan of 18 inches. These are fitted around the neck and chest and can accommodate almost all cat sizes thanks to adjustable velcro straps, though not ideal for kittens. Detail on the back gives the wings a more realistic look and there is even a gap if you want to keep your pet puss on a leash when strolling through the neighborhood on Halloween.
Legendog Cat Costume Halloween
Best budget Halloween costume for cats
Sizes: Small | Pack size: 2 | Weight: 1.41 ounces | Material: Satin | Color/style: Red, Black
Easy to put on
Adjustable neck sizes
Comfortable
Cat might not like the horns
If you want your cat to look cute and devilish at the same time then this Halloween costume definitely fits the bill. It may stray from the more traditional idea of what should be worn, but October 31st is a great time to dare to be a little different. And you'll get it for a price that won't break the bank.
Red and black are colors that conjure up images of the devil and that's exactly what this outfit brings. A two piece ensemble it consists of a cape and a separate set of horns. The cape is black with a red trim and is made from a smooth, comfortable satin material that your pet puss will happily have sitting next to their fur. It measures 11.41 inch x 11.02 inch - so not too small - and has a neck length of 8.66in. But there is plenty of movement in the neck size. The cape uses a couple of long ties to keep it on, so these can be adjusted to fit any cat, making sure they are comfortable and making it easy to put on and take off for you.
The horns sit on the opposite color scheme with red horns decorated with black fur, creating a contrast that makes the outfit look well coordinated and smart. Soft plush lines the inside of the horns - so comfortable for your pet puss - while fashionable red fake leather gives the horns a shiny look. An adjustable elasticated strap makes sure that the horns stay in place, but like most cat hats your pet puss may not approve and soon have it off their head. So make sure you get a picture quick.

Coomour Halloween Hoodies Pet Cute Ghost Costume
Best hoodie Halloween costume for cats
Sizes: X-Small - 3X-Large | Pack size: 1 | Weight: 2.39 ounces | Material: Cotton | Color/style: Ghost, Skeleton, Pumpkin
Lots of sizes
Three different designs
Soft natural cotton
Machine washable
Not easy to get on
If you want your pet puss to be the coolest cat on the block then one of these hoodies from the good people at Coomour is what you need to get your hands on.
Made from pure natural safety cotton they incorporate a hood and a pair arms so that your fur friend can slip in their front paws and keep their head warm - or hide their face from the local dogs. Soft, comfortable and odor free means your cat will be more than happy to wear it - once you have managed to get it on. Perhaps more importantly your fur friend's outfit is going to see a lot of outdoor action and will inevitably get dirty. So, thankfully you can throw it in the washing machine, or there is the option to hand wash as well.
Big, small, medium, large, whatever size your cat is there will be a hoodie to fit them. The range starts at X-Small for 2-4 pound animals going right up to 3X-Large, but these are intended for large dogs rather than large cats. Just make sure to measure your fur friend's neck and chest to get the best guide on what size you need. No-one wants to see their pet puss in a tight-fitting top, and it will be a struggle to get it on.
Not only are these hoodies stylish, but you get a choice of designs, perfect for Halloween. An all white hoodie is emblazoned with a scary ghost face and the words 'Boo' to reinforce the message. But if ghosts are not your thing, how about an all black hoodie with a skeleton body printed on it, unfortunately it doesn't glow in the dark. If you want something more traditional there is a cute orange hoodie with green trim and a slightly sinister face. Whatever you choose, your cat is gonna stand out from the crowd.
Bolbove Pet Pumpkin Costume for Cats
Best pumpkin Halloween costume for cats
Sizes: One size | Pack size: 3 | Weight: 2.4 ounces | Material: Polyester, metal | Color/style: Orange
Cute hat
Soft two layered fabric
Happy pumpkin face design
Bonus silver metal Bolbove keychain
Not for large cats
Mention Halloween and it immediately conjures up images of witches, warlock, skulls, spiders, cobwebs, stars, moons, candy corn and black cats. But it's the humble pumpkin that is the star of the show when it comes to the eve of October 31st. Wherever you go in your neighborhood you will see carved pumpkins glowing in the dark showing off happy faces, scary faces and crazy faces.
You might not get to see a happy face as you dress your pet puss in this cute costume, but there is no doubt they will look adorable. You get a two-piece outfit that comes in the ubiquitous pumpkin colours at Halloween - orange and green. There is a bodysuit and a neat little hat to top off the holiday pumpkin look.
The body suit boasts a happy pumpkin face on the back - so nothing scary here- and a ring of green shiny leaves around the top. There are two layers with a soft furry fabric on the outside and a comfort lining inside so it won't irritate your cat - too much. Velcro straps make it quick and easy to put on and are adjustable but there is only size available. Designed for cats with a neck girth of 11.8 to 13 inches and a chest girth of 18.5 to 20 inches, it's not really suitable for kittens or small cats.
To complete the outfit there is a pumpkin hat which is orange and comes with a green stalk. It has two ear holes for comfort and has two velcro straps so that it stays in place and on your cat's heads. The hat has a head girth of 13 to 15 inches - ideal for most cats - but it might not stay on for long if your cat is anything like ours.
Impoosy Cat Halloween Costume Funny Pet Clothes Cloak
Best wizard Halloween costume for cats
Sizes: Small, Medium, Large | Pack size: 2 | Weight: 0.63 ounces | Material: Soft fabric | Color/style: Red, black
Hogwarts style tie
Easy to put on black cloak
Sizes for all cats
Cat won't wear the glasses for long
Harry Potter fans will love this cute cat costume. They will be able to transform their pet puss from a mild-mannered day-to-day cat into the feline answer of the world's best known wizard. Your fur friend won't be able to go round the neighbourhood waving a wand, casting spells, or slip on a cloak and become invisible. But they will be able to look cute, smart and attract admiring glances from other cat owners.
As you would expect from any wizard costume there is the obligatory cloak in shiny black. But this one boasts a red trim and white collar to transform it into the realms of a pretty good lookalike. It's not just the cloak that makes this costume, there is a smart Hogwarts tie to complement the cloak. But the crowning glory is a pair of round glasses that made the boy wizard so instantly recognisable. They definitely complete the costume, but we're not sure that your pet puss is going to be so keen on wearing them. In reality they are there more for effect and a photo opportunity than to be worn. We tried them on our cat and they lasted less than a minute.
The easy to put on and take off cloak is the crux of the costume and luckily it comes in three simple sizes - small, medium and large. The smallest size fits a cat with a seven-inch neck and a 15-inch body, while it covers around 10 inches of your fur friend's back. The medium is for 9-inch necks while the large is perfect for cats with 11-inch necks. Is your pet puss somewhere in between? A quick tip - choose the larger size. The neck is the crucial size here, so make sure you measure up and get this right, so your fur friend is perfectly attired to strut their stuff for a happy Halloween.
Cat Spider Costume for Halloween Party Decoration
Best spider halloween costume for cats
Sizes: Small, Medium | Pack size: 1 | Weight: 3.99 ounces | Material: Felt | Color/style: Black
Posable legs
Transform your cat into a scary spider
Lightweight
Easy to put on/takeoff
Small body
Not for large cats
Do you fancy turning your cute four legged fur friend into a scary hairy giant eight-legged spider to scare the neighbours this Halloween? Well you can with this simple strap on spider costume. It boasts eight black realistic furry legs and if you have a black cat you can really up the scare stakes even more. The eight fake legs plus your fur friend's four real legs help create a black twelve-legged mutant monster that will make everyone who sees them take a second glance - or run aware in fear. Just imagine seeing it in the shadows on October 31st, you just won't be sure what you are looking at.
Designed for most sizes - but mainly small and medium cats - the costume has adjustable velcro straps that you can easily slip round your cat's neck and check. The neck strap fits 8.6-11.8 inch necks while the body strap is for 13.7-16.5 inch chests. So make sure that you measure up your cat before you buy, just in case your cat is one of those it won't fit. But it is worth noting that the body of the costume - made from a soft comfortable felt fabric - won't fully cover your cat's back. Which is a shame as it would have made the outfit far more fitting for the halloween holiday. But on the plus side the legs are not rigid so they don't have or stay in one pose. Get a little adventurous and move the legs into creepy spider-like positions. It might even scare off the unwanted attention of the neighborhood dogs.
How to choose the best Halloween costumes for cats
Measure up to get the right size
Getting the right size is critical. Get your pet puss an outfit that's too big it will simply slip around making your cat uncomfortable and grumpy. Get them something too small and it will be tight and restrictive - again making your cat grumpy. Make sure that you measure your cat's neck, head and chest size properly. Leave a finger's gap when measuring any part of your cat. A simple tip - if your cat is in between sizes get the larger option.
Style and design
There's plenty of choices when it comes to design and style and what you want is subjective. Do you want an outfit that is cute and sticks with the traditional themes, such as pumpkins and witches? Or do you want something a little more daring like a devil or something that pays homage to your favourite movie like Harry Potter. Whatever you choose, check the quality of the material, make sure you get the right size.
Wearability and comfort
You know your cat best. Do you have one of those cats that's always on the go and loves to run around and play. Or do you have a cat that likes to lie back and take it easy. If you have an active cat you should consider a Halloween costume that is easy to get on as they probably won't stay still for long. Maybe something simple like a set of bat wings. For a more friendly cat you can look at two or three piece outfits with hats. You will be able to get them on, but how long they stay on is a different matter.
Steve Jenkins is a freelance content creator and long-time journalist with more than 20 years in the industry. He has written for numerous titles covering tech to pets, with his latest faithful hound always by his side. When not walking his dog, or discussing who's best - cats or dogs? Loud guitars, AFC Bournemouth, Photoshop, and trying to save the world take up the rest of this time.
Get the best advice, tips and top tech for your beloved Pets
Thank you for signing up to Petsradar. You will receive a verification email shortly.
There was a problem. Please refresh the page and try again.