Best Halloween dog costumes: Enjoy trick or treat with your pet in fun (and safe) attire
Your pooch will turn heads with these Halloween dog costumes that are sure to impress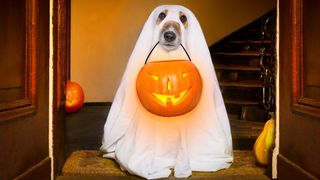 (Image credit: Getty)
It's officially that time of year again, and while one of our favorite holidays might look a little different in 2020, these cute Halloween dog costumes are sure to get you and your pup in spook-tacular spirits.
But before you get all excited about decking your dog out in head-to-toe Halloween craziness, a quick word about safety. We don't want to rain on your parade before it starts, but the most important thing when choosing a costume is that it doesn't restrict your pup's freedom of movement or their ability to see, hear, or breathe. You can read our safety tips at the end of this article or read 'Should you buy a halloween costume for your pet?' for more info. Also, when it comes to halloween goodies do stick to the best dog treats listed in our buying guide or even find out how to make your own dog treats.
We want you and your beloved canine companion to have an awesome and worry-free Halloween, so we've made sure that every single pick on our list of the best Halloween dog costumes is the perfect mix of playful and safe. Are there more outrageous get-ups out there? For sure, but we think you'll be pleasantly surprised by our favorites below that prove safe definitely doesn't have to equal boring.
So, let's hit the Amazon warehouse shelves and peruse those Halloween dog costumes to find the perfect ensemble for your pooch.
1. Mogoko Halloween Pumpkin Costume: Best overall Halloween dog costume
Mogoko Halloween Pumpkin Costume
All eyes will be on your pooch in this cute and cozy Halloween dog costume
Size: S - XXXL | Material: Microfiber & Velvet | Machine Washable: Yes
High-quality material
Easy to wear
Warm and cozy
Small fitting
We are head over heels in love with this adorable pumpkin fleece, so it's no surprise that it takes top spot. Turning up in a pumpkin costume on Halloween might be a tad predictable, but when it's this cute, who cares?
Your dog is going to be turning heads left, right and center in this warm and cozy hoodie, and the soft and breathable microfiber material will have your pooch feeling super comfortable while doing it.
If you love Halloween costumes but worry about safety, this is a great option. There's no obstruction of your dog's ears or face, and no small parts that they might decide to chew or swallow. It's easy to put on and take off, with a simple, click-together button design, and it's durable with solid stitching to prevent fraying.
You'll be relieved to know this costume holds up well in the washing machine too, simply wash with warm water and air dry. There's a variety of sizes and a handy measurement and recommended weight guide to help you choose the right one. Some reviewers have noted that the sizes are a little snug, so if your pooch is at the upper end of the guide for one size, we would recommend choosing the next one up to ensure it fits well with plenty of space for comfortable movement.
2. Vehomy Cape and Hat: Best value Halloween dog costume
Vehomy Cape and Hat
Simplicity meets style in this safe and affordable costume
Size: Adjustable | Material: Polyester | Machine Washable: Handwash
Soft and breathable material
Easy to put on
Adjustable
Not suitable for larger breeds
If affordability and safety are your key concerns, this is a great Halloween costume that ticks both boxes. We love that this is simple and no-fuss while at the same time being fun and playful. The price makes it a steal, and most importantly, it won't restrain your dog's movement or make it difficult for them to see or hear.
The soft and breathable material makes this a comfortable costume to wear, and the strings on both the hat and cape are adjustable so you can find the perfect fit for your pup. Black and decorated with gold witches, wizards, pumpkins and bats, the quality is great given the low price, so you should get plenty of Halloween wear out of this for years to come.
We recommend hand-washing the cape and hat in warm water, rather than putting it in the machine. The sizing of this costume makes it unsuitable for larger breeds of dogs, but those things aside, this cute costume is a bargain that's sure to receive admiring glances.
3. Frisco Formal Dog Tuxedo: Most stylish Halloween dog costume
Frisco Formal Dog Tuxedo
The ultimate Halloween costume for the dapper and debonair dog
Size: XS - XXL | Material: Polyester & Cotton | Machine Washable: Yes
Adjustable
Leash hole for easy walking
Hook and loop fasteners won't trap hair
Velcro is low-quality
Come on down bachelor number one! This is the ultimate in suave sophistication for the lad about town, the James Bond of Halloween costumes if you will. Whether your pup is single and ready to mingle or more of the older gentleman type, this costume oozes style and class.
This is a tuxedo that's as comfortable as it is convenient. The black jacket comes secured to the white shirt flap, and the bowtie is sewn-on – you'll love this all-in-one ensemble. We love that the hook and loop fasteners won't snag your pooch's hair, and the strips allow for adjustability to get that perfect fit.
Unlike some costumes, this one comes with a leash hole, which makes it super easy to walk your pup and keep an eye on them; after all, when they're dressed to impress in this get-up, who knows what they might get up to.
Fully machine washable, the costume is easy to keep clean, and air drying will keep it looking crisp. The only drawback is that the velcro isn't the best quality, but if you don't mind bearing with it or attaching your own, then this is definitely one of the swankiest costumes around.
4. Roman Toga Dog Costume: Best historical Halloween dog costume
Roman Toga Dog Costume
Journey back in time with this classic costume
Size: S - XL | Material: Cotton | Machine Washable: Yes
Comfortable and lightweight material
Lovely design
Well made
No leash hole
If you're a fan of Ancient Rome, then why not dress your pup up like a mini Julius Caesar in this sweet toga costume that will never go out of style. The soft material makes it comfortable to wear, while the ivy headwear and golden clothing are sure to draw admiring glances.
Available in four different sizes, this is an especially great costume for small and medium-sized dogs. We love how lightweight this costume is, so your dog will barely know they're wearing it. At the same time, it's made from durable fabric that can be gently machine or hand-washed.
The team at Coppthinktu are so sure you'll love their premium products, they will happily give you a full money-back guarantee if you're not happy with the costume. You can also exchange it for a different size if it's too big or snug.
The only drawback is the lack of a leash hole, but aside from that, this is a super cute costume that's sure to make your dog the envy of any Halloween party.
5. Delifur Dog Cowboy Costume: Most humorous Halloween dog costume
Delifur Dog Cowboy Costume
A fun and playful costume that's bound to draw plenty of laughs
Size: XS - L | Material: Polyester | Machine Washable: No
Stays in place with no sliding
Cowboy hat can be worn on or off the head
Great value for money
Inaccurate sizing measurements
If your dog loves being the center of attention, they'll enjoy dressing up in this playful cowboy costume. This hilarious get-up has been a hit with pet parents, and it's not hard to see why with the costume blending uniqueness and fun with affordability.
Available in four sizes, this is a good choice for all breeds of dog, and the hook and loop system makes it easy to put on. The straps are self-adjustable to ensure a comfortable fit and the saddle won't slide around once in place. The cowboy doll is fixed in place and completes the look perfectly. The hat can be worn on or off his head.
Made from high-quality cotton, the costume is lightweight so it won't weigh your dog down or restrict their movements. It's a great choice if your dog is already used to wearing a harness or coat, as it gives that same sort of feeling.
The one downside is that pet parents report the sizing can be inconsistent, and the measuring guide is not always accurate, so we recommend reading the accompanying sizing advice carefully before purchasing.
6. Dorakitten Bat Wings: Best understated Halloween dog costume
Dorakitten Bat Wings
Add a touch of mystery with this spooktacular set of wings
Size: One Size Adjustable | Material: Felt Cloth | Machine Washable: No
Adjustable chest strap
Sturdy safety buckle
Leash included
Leash doesn't work well when attached to wings
If you and your dog prefer understated minimalism to over-the-top fancy dress, then these fangtastic bat wings are sure to be a winner. If you fancy jazzing it up a bit, the wings come with two carved pumpkin bells that add a splash of color and a touch of pizzazz, while still keeping things classy and cool.
Lightweight but durable, this costume is made from 5mm strong felt fabric that helps the wings maintain their shape and stay upright, while at the same time being soft enough to feel comfortable on. With two felt belts that fasten around the neck and chest, the wing straps are also adjustable to ensure maximum comfort.
The costume comes complete with a leash that can be fastened onto the wings or the collar. We suggest the latter as some reviewers report that the wings aren't strong enough to withstand pulling and tugging.
These eye-catching bat wings are easy to wear and super affordable, making them a must-have for this year's Halloween season.
How to choose the best Halloween dog costume
If you're thinking of dressing your dog up this Halloween, we've pulled together some tips to make sure your pup has fun and stays safe.
The ASPCA recommends that you don't put your dog in a costume unless you know they enjoy dressing up. For some dogs, wearing a costume can cause them to feel stressed and anxious, so keep that in mind when making your pick. Watch how they react to things such as the velcro and headpieces – if they're not comfortable, don't force them to wear it.
If you do decide to dress your dog up in the Halloween spirit, then make sure the outfit is lightweight and doesn't restrict their movement or their ability to breathe or bark. It's best to keep things away from their eyes and ears too so that they can see and hear, so avoid masks and let their cute face shine.
Steer clear of costumes with small or dangling parts that could easily be chewed or cause your dog to choke. Make sure the costume fits well, as anything loose or ill-fitting could cause your dog to fall and injure themselves. Go for a durable material that isn't easily flammable and make sure your dog is by your side throughout the night so you can make sure they're safe and happy.
We recommend trying your dog in their costume before the big night to see how they react. If they're at all distressed, let them don their birthday suit, a cute bow tie, or a warm dog coat, instead of fancy dress.
Kathryn is a freelance writer with a passion for creating health and wellness, travel and wildlife content. Originally from New Zealand, her nomadic lifestyle has her currently fur baby-less. She scratches her pet parent itch by stealing frequent cuddles with any neighbourhood cat kind enough to indulge her.
Get the best advice, tips and top tech for your beloved Pets
Thank you for signing up to Petsradar. You will receive a verification email shortly.
There was a problem. Please refresh the page and try again.