Best Pet Odor Spray
Get rid of unwanted pet smells and odors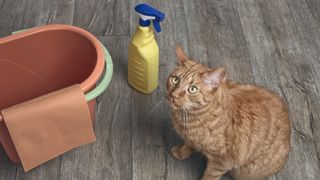 (Image credit: Getty Images)
We love our pets, but there's no denying that they can leave a trail of odors wherever they go. Thankfully, with the help of a good pet odor spray, you can help eliminate animal smells, freshen up a room or space, and give your pet a spritz to make them smell sweet. Take a look at our top picks to help you decide the best option for you.
Best overall
Replace unwanted pet odors with the fresh scent of orange
Keep your carpets, tiles, wooden floors, patios, driveways, and your grass odor-free, and kill off those hard to remove pet odors with this potent double strength cat and dog stain deodorizer. Its special ready-mixed formula is made with real oranges, great for bringing a zesty and clean scent to any indoor or outdoor space. Safe for children and pets, spray it directly onto your pet's urine and solid waste to easily and almost instantly eliminate stains and any lingering odors.
Best budget buy
Eliminate unwanted odors and smells at the source
There's no messing about with this powerful but gentle deodorizing pet spray. Head straight to the source of the smell and spray directly to break down any long-lasting odors and unwanted and unpleasant pet smells. Its naturally derived plant and mineral-based ingredients are dye-free making it safe for your pet and perfect for soothing and conditioning their coat. Available in five fruity scents.
Best triple strength
Keep problems areas odor and stain free
Formulated to quickly neutralize odors instead of covering them up, this certified pet spray will tackle the toughest smells and stains. It contains a unique triple concentrated enzyme recipe to help eliminate difficult to remove odors and stains such as urine, vomit, feces, and grass safely from your carpets. It works by destroying the odor-causing bacteria and helpfully eliminates the pheromones that cause pets to resoil spots, ensuring that problem areas stay odor-free.
Best for sensitive skin
Keep your pet smelling sweet and looking good
Keep your pet pooch relaxed, stress-free, and odor-free with this gentle and long-lasting dog grooming spray. It boasts a long list of natural ingredients that are 100% safe for dogs and 100% biodegradable, ideal for dogs who suffer from sensitive or dry skin, and perfect for saving the planet. Saturate your furry friend's coat with the easy to apply spray, brush through to clean, and finish up with an all-over mist for a shiny, healthy, rehydrated, and sweet-smelling coat.
Best multi-purpose
Break down and get rid of stubborn smells and stains
Say goodbye to stubborn, tough to remove stains and odors with the help of this professional-strength spray. A pro-bacteria and enzyme formula breaks down, neutralizes, and safely and permanently removes stains and odors, while a 3-in-1 multi-functional sprayer gives distinct options to tackle problem areas on carpet, upholstery, and floors. Try mist to cover larger areas, unleash stream to get into the crevices of floor surfaces, or fire up foam to break down stains and stop repeat marking by pets.
Best for outdoors
Keep all your outdoor spaces free from pet odors
Outdoor spaces aren't safe from unwanted pet odors and this spray is specially formulated to stamp out smells outside the home. It uses powerful natural enzymes to tackle stubborn odors at the source, rather than simply covering them up. Safe for pets, it's gentle on grass, artificial turf, gravel, concrete, patios, and decks and easy to apply. A specially designed bottle boasts an integrated hose attachment nozzle to make sure that you can get to all those hard-to-reach areas and leave a clean fresh scent every time.
How to choose the best pet odor spray
Why you can trust PetsRadar Our expert reviewers spend hours testing and comparing products and services so you can choose the best for you. Find out more about how we test.
Odors, smells, and stains are all part of owning a pet, so you'll need to freshen up your home on a regular basis to get rid of them. Do you want your carpets and furniture cleaned? Do you want your grass and yard odor-free? Do you want to give your furry friend a fresh, sweet-smelling coat? Different situations need different solutions, so check out what works best for you.
Our top pick is the ANGRY ORANGE 24 oz Ready-to-Use Citrus Pet Odor Eliminator Pet Spray (opens in new tab) which eliminates unwanted odors indoors and out and leaves behind the fresh sweet smell of oranges. If you want a different fruity flavor the TropiClean Deodorizing Sprays for Pets (opens in new tab) comes with five different scents for more variety and choice. If you want a sweet-smelling pet but they have sensitive or dry skin Aromatherapy Freshening & Shining Spray For Pets (opens in new tab) is a perfect choice.
If you simply want to get rid of odors that leave no scent you should try out the OUT! Advanced Stain and Odor Remover (opens in new tab). Its triple strength formula quickly neutralizes odors instead of covering them up, and it has the added bonus of getting rid of stains on your carpet or furniture. For an outdoor solution to keeping your grass, driveway, and yard free from pet odors and smells then Simple Green Outdoor Odor Eliminator for Pets (opens in new tab) is what you need.
Get the best advice, tips and top tech for your beloved Pets
Steve Jenkins is a freelance content creator and long-time journalist with more than 20 years in the industry. He has written for numerous titles covering tech to pets, with his latest faithful hound always by his side. When not walking his dog, or discussing who's best - cats or dogs? Loud guitars, AFC Bournemouth, Photoshop, and trying to save the world take up the rest of this time.
Thank you for signing up to Petsradar. You will receive a verification email shortly.
There was a problem. Please refresh the page and try again.