Six head cone alternatives to help your pet recover
Does your pet hate wearing a head cone? We present some viable alternatives to help them through the recovery process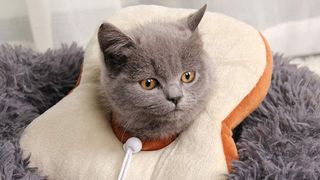 (Image credit: Getty)
The head cone may be tried and tested, but that doesn't mean it's always the ideal solution.
The so-called 'cone of shame' doesn't always work. Vets' cones can be uncomfortable, provoke anxiety, and let's be honest, are extremely unflattering.
But you don't have to settle for this. There are a vast number of protective cones and collars available to buy, all in a range of designs and styles, so the right one for your pet should be available somewhere.
It's very important to ensure you have selected an alternative that will aid your pet's recovery, while at the same time not causing them any unnecessary discomfort. With this in mind, we've put together this buying guide to showcase the popular alternatives and break down the pros and cons of each product.
The perfect protective cone will be comfortable for your pet, cause minimal disruption to their daily life, and be durable, while at the same time still do the job of shielding any wounds or injuries.
Here, we have picked a selection of cones. None of the alternatives break the bank, so you can browse the best option without keeping too much of an eye on your wallet. Whether your kitty needs a full body suit to leave those stitches alone, or your dog needs to be able to see properly to ease the post-op anxiety, we have the perfect cone of shame alternatives for you.
PetsRadar's pick of the best head cone alternatives
Why you can trust PetsRadar Our expert reviewers spend hours testing and comparing products and services so you can choose the best for you. Find out more about how we test.
Best overall head cone alternative
Specifications
Size:
from X Small – 8.5 x 1 x 4.5 inches to XX Large - 14.96 x 14.65 x 1.18 inches
Material:
Foam-backed, padded nylon
Securing:
Velcro sizing strips and removable plastic stays
Reasons to buy
+
Velcro closures for custom fit with loops at neck to keep secure
+
Can be worn reversibly
+
Water resistant and repellent
+
Easy to wipe clean
+
Veterinarian tested and approved
Reasons to avoid
-
May obstruct pet's vision
-
Can obstruct ability to continue normal eating and drinking
The Comfy Cone is sure to be a snug recovery cone alternative. All Four Paws has designed this cone with everything in mind, encompassing both practicality and comfort, to help your pet recover from surgeries, procedures, allergies and hot spots.
Firstly, the material means the cone is more durable than the USAMS Lion design and KVV Toast design. There's no need to worry about rain or mud with the Comfy Cone as it is water resistant, as well as the padded nylon being effortless to wipe clean. The tight gauge of the nylon even prevents cats from getting their claws into the material, eliminating wear and tear in that department. However, buyers reported the material meant the cone picked up unfortunate smells, such as dog or cat food.
As for how dynamic the Comfy Cone is, it can be reversed inside and out, as well as front to back to support shoulder and upper back injuries. The Velcro means it is quick to put on and take off, but the supporting plastic stays means there is no risk of this protective cone falling off. Moreover, the stays enable you to determine how the cone should be secured onto your pet. Remove the stays for a more flexible cone and keep them in for firmer structure, like when a pet has had eye surgery. This also enables the Comfy Cone to be folded back for added freedom while eating and drinking or when checking wounds and irritations. There is also a reflective edge for safety and elastic loops at the neck to thread your pet's collar through, making it perfect for homelife and the park.
Buyers say their pets had no trouble sleeping with the cone but eating and drinking was a struggle without adjusting the plastic stays, sometimes resulting in quite a mess! Others mentioned that the lack of peripheral vision caused some confusion at first, albeit for the cone to function properly this was necessary. Overall the Comfy Cone has rave reviews and does the job it needs to do.
Best soft head cone alternative
Specifications
Size:
One adjustable size, 3.9 - 11.8 inches
Securing:
Adjustable toggle
Reasons to buy
+
One size fits a wide range
+
Can eat, drink, play and sleep normally
+
Quirky and cute design
+
Soft and washable
Reasons to avoid
-
May not be effective for larger pets
If you're after a cone with maximum cuteness and minimum cost, then the Toast Neck Cone is the perfect purchase.
The design of the collar means it is more effective on cats. Buyers found it was not protective enough for their dogs, although did provide the same degree of adorableness. The soft collar means your pet can wear it without irritation. Its lightweight nature enables the cat to play freely as well as eat and drink with normality.
The flexible material won't be as restrictive as the BiteNot Collar, and there is no risk of it causing any sores or rubbing on your pet's neck. This alternative certainly scores high for comfortability. And even better, this cone is 'one size fits all' (up to a 30cm size neck) as it comes with an adjustable toggle. There is no need to stress about securing the perfect fit, unlike some alternatives, such as the Recovery Suit.
The collar can be used to prevent your pet from aggravating a healing wound or injury, or to overcome lick-bite, itch-scratch cycle. However, for bigger injuries, such as stitches, this alternative may not provide sufficient protection. Bigger animals could potentially still reach certain areas of their body due to just how flexible the cone is, so there should be a degree of consideration before purchase.
A great bonus of this design is that it won't scrape or damage any of your furniture, unlike the vet-supplied cone of shame. And the collar can double up as a great outfit for photoshoots!
Best reliable head cone alternative
Specifications
Size:
from XXXS – 22-35cm to XXL – 80-92cm (collar to base of tail)
Material:
Cotton / Lycra fabric
Reasons to buy
+
Lightweight and breathable
+
Veterinarian approved
+
Freedom of movement
+
Allows outdoor use
Reasons to avoid
-
Difficult to size correctly
-
Pets may try to bite and scratch
If you're looking for complete assurance your pet cannot lick or bite their wounds, the Suitical Recovery Suit could be the option for you. And the need for a cone is completely eradicated here!
The exclusive and patented design is made to protect your pet in comfort. It comes with a protective collar around the neck and a high turtleneck function in case extra protection is required. The shirt is completely closed to ensure that the entire torso of every physique is protected. Despite these thorough functions for ultimate protection, the Recovery Suit is perfect for nimble movement. Whilst wearing the suit, your pet can continue all its normal activities.
For medicinal purposes, the interior of the suit is light blue so that fluid loss can be easily detected. Moreover, a sanitary towel can be positioned inside or, if necessary, an ice pack can also be inserted between the double layer.
It is virtually impossible for the dog to open the Recovery Suit itself because the closure is on the back. However, it is quick, safe and easy for you to put on and remove the suit. Adjustable snaps can make the shirt slightly looser or more secure when needed. Beware that it doesn't match the degree of flexibility the cone alternatives, such as the Comfy Cone, have.
Overall, buyers were largely satisfied by the Recovery Suit. In some instances, there can be confusion around sizing, and for maximum functionality the size must be snug. The other possible downside is that your pet may try to damage the suit – as your pet will have normal mobility, it is difficult to prevent this. Some buyers reported the material being poorly durable in the face of this, tearing easily.
Renzchu Protective Inflatable Cone Collar
Best flexible head cone alternative
Specifications
Size:
from Small - Diameter: 7.5", Neck Circumference 6-9" to Large - Diameter: 15.3", Neck Circumference 12-18"
Material:
Inflatable PVC, covered by plush fabric
Securing:
Inner loop rings around the collar
Reasons to buy
+
Easy to secure
+
Can deflate to store in small places
+
Will not obscure pet's vision
+
Washable
Reasons to avoid
-
Will not protect from all wounds/ injuries
-
Risk of being too tight and uncomfortable
The Renzchu Dog Collar Cone resembles a travel pillow more than a traditional veterinary cone. Designed for flexibility, this protective collar is inflatable to provide maximum comfort for your pet. A handy side feature is that when deflated, it can be stored away neatly when it is not needed.
Whilst avoiding the cone shape, this collar will still prevent your pet from biting and licking their injuries, rashes and post-surgery wounds, facilitating a healthy recovery. This also means the collar will not infringe your pet's mobility, vision or their eating. The soft outside material and supportive structure will feel comfortable even at night-time. The material is resistant to any bites or scratches aimed at the collar, as well as being easy to clean – just wipe it down and it'll be looking brand new in no time.
Some buyers found that the collar was not always effective for preventing pets getting at their wounds. The eradication of the cone shape is undoubtably better for the animal's comfort, but perhaps not as suitable for all injuries.
To accommodate for the varying shapes and sizes of pets, the collar comes with an adjustable strap, meaning each size encompasses a wide range. It is easily fitted by inserting your pet's standard collar through the inner ring loops.
Best head cone alternative for lively pets
Specifications
Size:
from 3.5"W X 16"L to 8"W x 32"L
Material:
Flexible plastic and foam
Securing:
Fixed collar with a strap
Reasons to buy
+
Unobscured peripheral vision
+
Can eat easily
+
Machine washable
Reasons to avoid
-
Compromises comfortability
-
Risk of slipping over head
Another alternative to the traditional cone of shame is this BiteNot Collar. Like with the inflatable collar, BiteNot eradicates the needs for the cone shape, allowing your pet to retain its normal vision, easy eating and a comfortable night's sleep. This can be particularly helpful if you have a lively pet who becomes anxious or reckless whilst wearing a cone! Buyers have said their pets were significantly calmer wearing the BiteNot collar.
The machine washable feature makes it convenient to clean and perfect for any rainy walks. As well as being a durable material, the design of the collar means your pet cannot attempt to bite, scratch and ruin it. Many buyers reported that their pets did not get on well with cones, ending up going through several, so this collar acts as a great alternative for them.
There are a few design flaws. The strap is intended to function as a secure hold so that the collar does not slip over your pet's head, but there are reports of the pets wriggling off the collar. Ensuring you purchase the correct size collar will reduce the likelihood of this happening.
The other major negative to the collar is the lack of comfort for some pets. Reviews said it can cause sores and irritation due to the lack of padding on the edges. The advice was to not leave the collar on constantly, allowing your pet breaks or not having them sleep in the collar. However, in some cases this is not appropriate for the protection your pet needs.
USAMS Pet Adjustable Dog Cat Cone
Best fashionable head cone alternative
Specifications
Size:
from X Small - Neck Size = 7.9″-9″, Cone Length = 5.11" to Large - Neck Size = 11.4″-13.8″, Cone Length = 7.5″
Securing:
Wrap around with Velcro
Reasons to buy
+
Doesn't obscure pet's vision
+
Pet cannot lick wounds when wearing
+
Lion costume means it doesn't look medicinal
Reasons to avoid
-
Velcro securing could come undone easily
-
Cotton not durable in rain or with mud
This recovery cone is barely recognisable as a cone of shame. Far from the sharp plastic edges and restrictive shape, USAMS' adorable lion costume cum protective collar will make your dog look cuter than ever whilst aiding their recovery.
Aside from the decorative lion's mane and ears, the lightweight and comfortable nature of this cone is the key selling point here. Its padding and soft cotton cover won't be a burden on your pets' body as well as not obscuring their vision, meaning they are free to eat, drink and play as normal. The design will prevent your pet from licking any wounds or biting bandages which would aggravate their healing process. After your pet has fully recovered from any wounds or injuries, the cone can also act as good protection whilst taking a bath, trimming nails and general body care.
Whilst the cone is suitable for indoor use or a quick trip out, if you're taking your dog out for a long walk in the countryside, durability may become dubious. The soft material will likely ruin in the rain and get dirty very easily. And if your pet is particularly playful, the Velcro securing may not be strong enough to keep the cone in place, especially whilst running through forests or clambering up cat frames.
That said, you'll love how adorable the lion costume looks on your pet. There are definitely lots of photo opportunities with this one – it could even double up as a great Halloween costume!
How to choose
There are a few crucial considerations to make when selecting the ideal cone of shame alternative for your poorly pet.
Firstly, you know the personality of your feisty feline or daring dog best. Perhaps your pet already has some problems with stiff joints which would make the Recovery Suit alternative unsuitable. Or maybe your pet struggles bending down to eat, meaning a cone that obstructs neck movement would not be the best fit. And if your pet is otherwise healthy and particularly boisterous, a sturdier cone is probably necessary.
You may want to consider how durable the alternative is. Hard to wash options would not be great for muddy walks in the park, but perhaps perfect for a house kitty. If your cat likes to get their claws into things, a fabric with a tight surface is probably best to avoid tears!
The seriousness of your pet's injury will also determine the option to go for. The Lion main and toast costumes rank high in the cuteness category, but are there protective measures high enough to stop your pet hindering their recovery? For a persistent rash or to break a scratching habit, the soft options could be ideal for a long-term, less invasive cone of shame alternative. However, if your pet has undergone a big operation with fragile stitches, the BiteNot Collar may be more effective for preventing any aggravation.
Whatever cone of shame alternative you opt for, your pet's health and comfortability are the most important factors to keep in mind.
Get the best advice, tips and top tech for your beloved Pets
Shona is a freelance writer and Projects and Editorial Exec at tech and digital hub TechSPARK. Shona is also a bit obsessed with her ageing staffy, Pip, who is just too cute to handle.