Here are five things a championship dog trainer does to train her own dogs
Lara Sorisi is a championship gundog trainer with years of dog training experience – this is how she produces such amazing dogs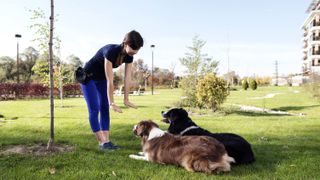 (Image credit: Getty Images)
Whether you've recently brought home a new puppy, you're deep in the throes of canine teenage angst or you're a well-versed pet parent, we can all appreciate the unique challenges of training a dog. From figuring out how to stop a dog from jumping up to preventing incessant barking, mastering the art of training takes time, patience and consistency.
While having a stash of the best dog treats on hand can certainly encourage your pup to repeat the behavior you're wanting to see, training can still feel overwhelming at times, which is where gaining a bit of insight from trainers who go beyond the ordinary obedience protocols and take their dogs to dizzying heights of success can be super helpful.
Lara Sorisi is an APDT-accredited dog trainer who has been formally competing in gundog trials for the past three years. In addition to being a qualified Hoopers instructor and a UK Sniffer Dogs Instructor, in 2022 she competed in the Kennel Club 92nd Championship Field Trial for Cocker Spaniels. We sat down with Lara to ask her how she's managed to train her dogs to such a high standard, all while working as a professional dog trainer.
Lara Sorisi is a science-based and force-free dog trainer that has been working with dogs for many years. She is accredited by the APDT (Association of Pet Dog Trainers), which is one of the most rigorous dog training qualifications available. Lara holds a bronze-level qualification with UK Sniffer Dogs, which means that she is an accredited UK Sniffer Dogs instructor. Lara has trained her own dogs to be trial winners and dedicates her time to helping other dog owners in group and one-to-one sessions.
1. Start training as soon as possible
Lara is not only a dog trainer, she also breeds cocker spaniels. She says that she starts training her puppies as soon as possible. "I do noise and sound desensitization, I get them used to being handled and I also introduce toilet, car and crate training as well (check out our guide to how to crate train a dog for some handy tips and tricks). I also introduce the puppies to a foundational recall by introducing the concept of following me and keeping close to me. The puppies that leave at eight weeks will also have a basic understanding of appropriate play with other dogs as well.
"However, I also offer a part-trained puppy service as well, where people can choose to leave their puppies with me for longer than the standard eight weeks. Not only will these puppies have a more advanced version of all the training that my eight week old puppies get, they'll also be introduced to a more formal training regime, which includes foundational lead walking, a basic retrieve and a more advanced recall. I also do some whistle work with them – I like to use Acme whistles for this, as the pitch of the whistle is particularly crisp and clear and it's designed to be pitched at the perfect octave for dog training."
"I often joke that I call myself the crazy dog lady, because I'll be training my dogs in every spare moment I've got. It's my passion, my hobby and my life. Also, with the amount of dogs I've got (five and counting!), I've got to spend every spare moment training them in order to give them enough stimulation and progress their training."
2. Build a strong (but flexible) routine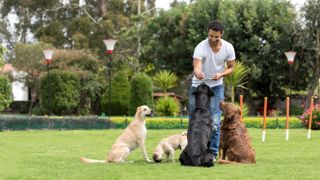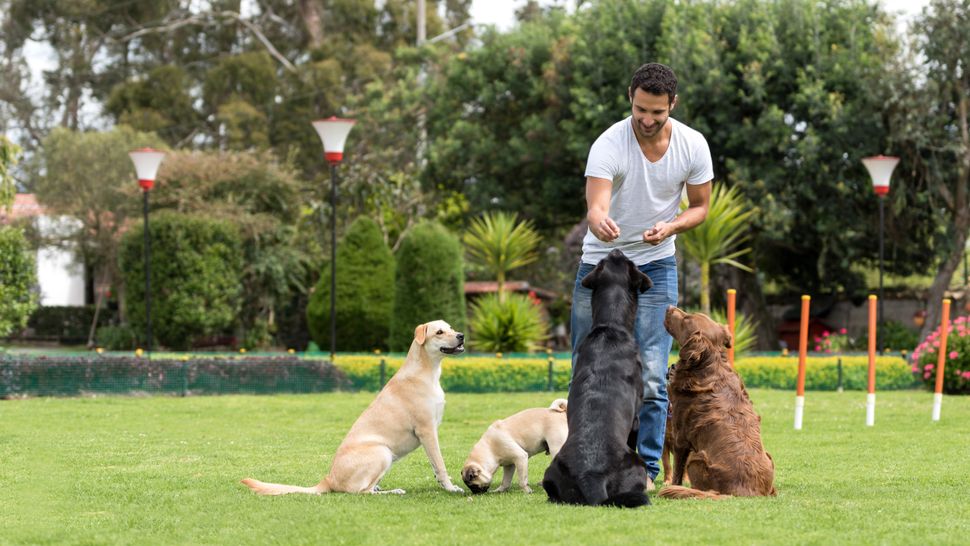 Part of the challenge of dog training is to focus on consistency. However, Lara doesn't like to over-plan her training. "It's good to have a general plan of what you'd like to achieve during a week and I always have an end goal to work towards. However, having a specific training plan that's too rigid can easily fall into the dog becoming frustrated. In terms of my own dogs, cocker spaniels are known to be a little quirky, so I have to ensure that I'm patient and adaptable to ensure we have a successful training session.
Gundog training is a bit of a fine art, as it's a specific style of training that can completely fall apart if it's put under pressure. I don't use milestones, as I don't have a timeframe that I need to work to. I want the dog to succeed and enjoy the training. I feel that there's already enough elements to deal with without having the additional pressure of having a strict timeline. For me, the training is the best part, so I make sure both I and the dog are enjoying it."
3. Never skip over the essentials
When training her own dogs, there are a few non-negotiables that Lara always sticks to. "I tailor an individual plan to each dog that I have. They've all got their own personality types, learning styles and rates that they like to learn in. I also ensure that all of my dogs are getting the right nutrition and supplements – they're deemed as athletes, so they need a specific diet to complement their activity levels. And lastly, I work really hard to establish a strong bond with all of my dogs. No matter whether it's a puppy or a rescue, all of my dogs want to work for me, they stay close to me all the time and they enjoy what we do together.
"My dogs can do everything I want them to because they've got that bond with me. I've built this bond through spending loads of time with them, doing lots of socialization work and exploratory games and essentially having structured training regimes to set out the framework for how I want them to behave. However, I also make sure that they have free time where they can enjoy themselves, such as by coming up onto the sofa and having a chew. My dogs come everywhere with me and we do everything together – and our bond is unbreakable."
4. Prioritizing the important bits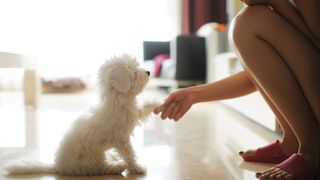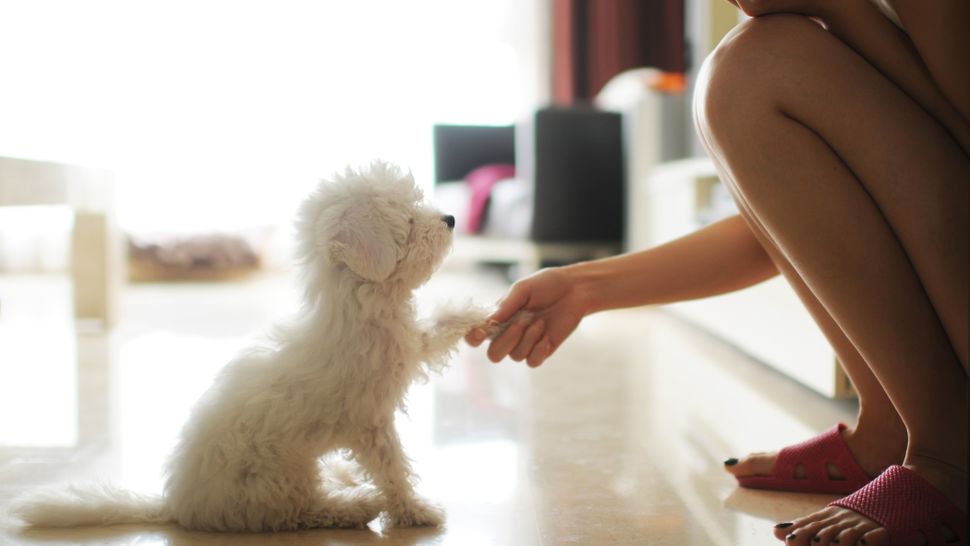 With so many aspects to training a dog, it can be easy to be overwhelmed and be unsure where to begin. Lara says that she focuses on the core essentials. "I give all of my dogs a foundational training that always includes a solid recall, which is essential for a nice retrieve. I also focus on building engagement, as it means that the dog is able to listen and respond to you when you're sending them out to work at a distance. This also helps with steadiness further down the line.
"I also work hard on building the dog's self control, so that they understand where they are and that they're allowed to pick something up – that's a really important skill in gundog training in particular. I need to trust that our bond is strong enough that they will stop once they've flushed a bird or a rabbit."
5. Tackle problems with positivity
No matter how experienced you are as a dog trainer, sometimes you can experience a curve ball and encounter an unexpected problem. However, Lara is well versed in handling issues like these. "As a professional trainer, I've had the privilege of dealing with many dogs with training issues, psychological issues and tough backgrounds. The most important thing I do is fact-find as much information as possible on the dog's prior history and spend lots of time with the dog myself as well. This is because the dog will be able to show me how it's feeling through its body language, which gives me an opportunity to gain its trust.
With my own dogs, if I experience a training session going wrong, then I know it's time to take a step back. I try to work out why it's gone wrong – is there something in the environment that's putting them off? Are they nursing an injury? However, sometimes the dog is simply just having a bad day – just like humans do sometimes. In this case, I put them away to give them a brain break and then the next time we tackle the problem I'll simplify the behavior for them. I always make sure that every training session I have with a dog they're able to succeed and learn something from it."
Looking for more great training tips? Check out our guides to three of the most common loose leash walking mistakes (and how to fix them) and three reasons why your dog's recall isn't reliable (and what you can do about it).
Get the best advice, tips and top tech for your beloved Pets
Louise Carey is a freelance writer and the Editor of sister website Top Ten Reviews. She has been working in publishing for seven years, contributing to publications including The Independent, TechRadar, Digital Camera World and more. As the proud pet parent of a reactive border collie with a food allergy, it's been necessary for Louise to explore a variety of fun and exciting ways to enrich an energetic dog that can't always go on walks. She's passionate about sharing the information she's learned to help other pet owners as well.