Three of the most common loose leash walking mistakes (and how to fix them)
Wondering why your dog always pulls on the leash? Here are three of the loose leash walking mistakes you could be making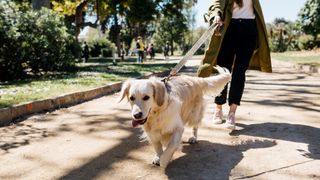 (Image credit: Getty)
If your idyllic daydreams of your dog trotting beautifully beside you have been rudely dashed by a panting dog straining at the end of its leash to chase after the nearest squirrel, then don't worry – you're certainly not alone! Training your dog to walk nicely on a leash can be a bit of a slog even if you are armed with the best dog treats, but there are some common loose leash walking mistakes that you might be making that could be prolonging the process.
We sat down with Lara Sorisi, a championship gundog trainer and an APDT-certified dog trainer, to ask her what the most common loose leash walking mistakes she sees owners making are.
Lara Sorisi is a science-based and force-free dog trainer that has been training dogs for six years. She is accredited by the APDT (Association of Pet Dog Trainers), which is one of the most rigorous dog training qualifications available. Lara holds a bronze-level qualification with UK Sniffer Dogs, which means that she is an accredited UK Sniffer Dogs instructor. She's also formally competed in gundog trials for three years. In 2021, two of her dogs became field trial winners. Meanwhile, in 2022 she qualified for the Kennel Club 92nd Championship Field Trial for Cocker Spaniels. In addition to her own competing accomplishments, she's also produced three award-winning dogs for other competitors as well.
1) Not putting in the right foundations
Considering that dog owners have to walk their dogs at least once a day, it's easy for bad habits to creep into the routine. However, Lara says that "One of the most common loose leash walking mistakes that I see owners make revolves around not building in the correct foundations for the desired behavior. Your walk starts the minute that you put on your dog's harness, collar, or lead. However, most people don't put in any work to desensitize the dog to these tools so that they get used to wearing the equipment without the context of the walk being associated with it."
You might be wondering what putting a harness on has to do with practicing loose leash walking, but it's all about the mental state of the dog. If you're beginning the walk in an emotionally intense and excited state, then it shouldn't really be a surprise when the dog begins to pull and strain at the leash. Lara says, "You're looking for a non-emotional response from the dog, as opposed to getting over-excited the minute that a leash appears."
2) Placing the dog in the wrong environment
Many dog owners dream of having the perfect "cafe dog" – i.e. a dog that can sit quietly at a cafe without making a fuss while their owner indulges in a coffee and a croissant. However, while some dogs are born with the type of calm temperament that makes this possible, many dogs need to be trained in order to be capable of this type of behavior.
Loose leash training is actually quite similar, according to Lara. "If I asked you to complete a math quiz in a quiet office or a loud rock concert, which environment do you think you'd perform better in? We often ask our dogs to do something quite challenging in an environment that makes things even more difficult for them."
While you might not see anything particularly challenging about a sidewalk, try to think about it from your dog's perspective. There are cars, strange people, unusual objects such as scooters or buggies, and more – plus, your dog won't just see and hear these things, they'll be using their strongest sense as well, their sense of smell. All of this can be overwhelming for a dog, especially if they're also expected to behave nicely on their leash.
Lara says, "So, rather than expecting a perfect heel while walking down a busy sidewalk, get your dog used to performing good leash manners in calmer environments instead. From getting in and out of the car, to entering and exiting the house, you want to work on your dog performing these behaviors in a calm and neutral manner."
3) Introducing movement too quickly
You might think that 'taking your dog for a walk' means that the dog has to actually walk, right? Well, Lara advises that this might actually be a little too much for your dog at first. "Everybody assumes that taking your dog for a walk means walking a physical route. However, we need to think about the fundamentals of what we're trying to gain with loose leash walking.
"We want a dog that's calm, gives eye contact, and matches our pace. We need to teach your dog to be calm on the lead in a static manner first through engagement while standing still. Once your dog is capable of this, you can introduce movement at the pace and amount that the dog can handle."
If you drive to a large grocery store and stand outside the entrance for 15 minutes, you'll be surprised at how alert and interested your dog will be – and how tired they'll be afterwards as well. This is a great way to get your dog used to busy environments, which will help them be more resilient and responsive when they're walking on a leash.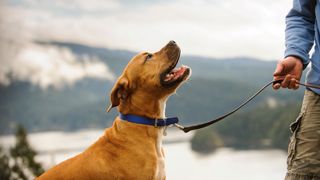 How to fix your dog's walking
If you've made any (or all!) of these mistakes, don't worry – it's never too late to teach your dog how to walk with a loose leash. We asked Lara for her top tips on how to train your dog to walk nicely on their leash.
"Remember that loose leash walking is often something that requires patience. Personally, I separate my walks into leash-training walks and off-leash walks (if the dog doesn't have proper recall, I'll use a long line instead). This means that both myself and the dog both get a break from leash-training on their walks.
"In terms of teaching the fundamentals of loose leash walking, I like to teach dogs inside the house in an environment that's really calm and boring. My favorite thing to do is teach established eye contact first and then introduce a small amount of movement. I create a feeding point by my feet to reinforce the dog to stay close to me and I do incremental steps, i.e. going one step at a time and feeding, which is then slowly increased."
Get the best advice, tips and top tech for your beloved Pets
Louise Carey is a freelance writer and the Editor of sister website Top Ten Reviews. She has been working in publishing for seven years, contributing to publications including The Independent, TechRadar, Digital Camera World and more. As the proud pet parent of a reactive border collie with a food allergy, it's been necessary for Louise to explore a variety of fun and exciting ways to enrich an energetic dog that can't always go on walks. She's passionate about sharing the information she's learned to help other pet owners as well.