Meet Misfit K9, the latest in elite protection dogs
Watch protection dog company Misfit K9 put their top recruits through their paces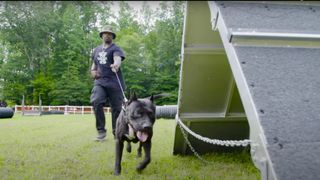 (Image credit: Beastly)
Misfit K9 have a way of standing out. We've seen a number of highlight reels for various protection dogs companies, but this one has to be one of the more impressive we've seen.
Based out of Upper Marlboro, Maryland, trainers Dez Lynch, Nic Tolson, and OJ Blagmon came together to form Misfit K9 and 2016, and haven't looked back.
Today their company includes a number of protection dogs who are clearly remarkably effective at what they do: their top three recruits are two bandogs called Luca Brasi and Black Doug, and an American pitbull terrier called Drop Top Wop.
"What makes Misfit K9 stand out from other trainers is we like to see what our natural dog's abilities are, and we like to take them and enhance them as much as possible," says Dez.
As we see from the video, there are a number of different abilities they display. First on show is odor detection, primarily used in uncovering narcotics.
Next up is some obedience training, which involves Dez tying a substantial amount of padding around himself – known as a 'bite suit' – with Drop Top Wop fully expected to bite him, since he's going through a carjacking scenario.
It goes without saying that even for experienced trainers such as these guys, it's an incredibly dangerous experience, and Dez has the battle scars to prove it.
"I've been bitten several times. I had plastic surgery on my lip, I've been bitten on my face. Last week I was bitten on the stomach – I still have a scar here!" Not that it puts him off – he calls it "an adrenalin rush every time I get in the suit."
In this instance, things thankfully go without a hitch. While Drop Top Wop is full-on in his assault, he ceases almost immediately when told to sit.
Finally, Luca Brasi is put through a 'transport' scenario. With OJ suited up, he follows menacingly closely behind, making sure he stays on the correct path. When he doesn't – well, watch what happens.
"Luca Brasi is the best dog I've ever had", says Dez. "And I've had at least five or six before."
With the bonds that are required with both the dogs and each other, it's unsurprising that the trainers who form Misfit K9 are very close-knit.
Get the best advice, tips and top tech for your beloved Pets
Steve writes and proofreads buying guides, news stories and advice for Pets Radar, drawing on his lifelong experience as a pet owner. Currently sharing his house with two cats and a dog, he draws on the many highs and occasional lows of pet ownership he has borne witness to in his writing. He has worked in publishing for 15 years as an editor, sub editor and writer on a range of titles, such as SciFiNow, How It Works, All About History, Real Crime and Horrorville. You can follow him on Twitter @stevewright22