Meet the couple with a pet puma in their apartment
Know any unusual pets? This pet puma probably beats what you were thinking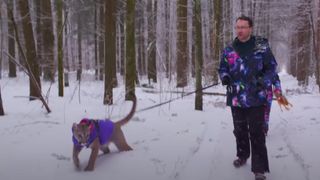 (Image credit: Beastly)
A pet puma - that's a first. We all know someone with an unorthodox taste in pets – perhaps someone who owns something like a duck or tarantula. But this pet puma has to take the accolade of most unusual pet. And wait until you see what's involved in looking after her.
Sergey and Marina Ross keep their pet puma in their apartment in central Moscow, Russia.
"Irma is an amazing animal," says Sergey. "Very smart, very loving and affectionate, and just astonishingly beautiful.
Having originally lived in a zoo, they got wind that Irma was due to be put down after the zoo could no longer afford to keep her.
Determined not to let this happen, Sergey and Marina took on Irma as their own.
"We took care of Irma when she was seven months old, but before that time, we didn't know what kind of lifestyle she had," says Sergey. "But we can imagine that it wasn't a good zoo, it wasn't good conditions for her."
Obviously, Irma can't be expected to rattle around an apartment all day, so she gets regular exercise. This includes an hour-long walk every day at 5.30am, during which they allow her to climb trees.
In addition to this, they take a longer walk – 3-4 hours – in the local park. This is essential, as even in the wild, pumas are very energetic.
Moreover, they're solitary animals by nature, not accustomed to being surrounded by people. With this in mind, they try to avoid excess human contact as much as possible.
"When we first got her, she didn't think we were trustworthy, and was suspicious of us", says Sergey. "It took a long time for us to find common ground."
"She didn't allow us to touch her", adds Marina. "She has been with us for over a year, and only now can we say we have gained her trust."
Despite admitting that there were some issues with biting and scratching in the early days, both are at ease around her.
"She is not aggressive", says Sergey, "And we have complete faith in her. I even sleep with Irma!"
While her behavior has become manageable, there are other considerations to bear in mind: her appetite, for a start. She eats between 1.5 and 2 kilos of meat every day, which has to be farm meat like goats and rabbits, or wild meat.
Naturally, questions have been asked about whether it's fair to keep what is usually classed as a wild animal in a house, to which Sergey isn't afraid to respond.
"Wwe would say that Irma is not a wild animal. She has never lived outside of the house or a zoo, so she cannot be reintroduced, says Sergey, with Marina adding, "She doesn't have any survival skills, any hunting skills."
Despite all the obvious challenges keeping Irma poses, the couple clearly don't regret anything.
"Irma is totally worth everything," says Marina. "She is totally worth every bite and every scar, and to gain trust of such a magnificent animal is something amazing."
Get the best advice, tips and top tech for your beloved Pets
Steve writes and proofreads buying guides, news stories and advice for Pets Radar, drawing on his lifelong experience as a pet owner. Currently sharing his house with two cats and a dog, he draws on the many highs and occasional lows of pet ownership he has borne witness to in his writing. He has worked in publishing for 15 years as an editor, sub editor and writer on a range of titles, such as SciFiNow, How It Works, All About History, Real Crime and Horrorville. You can follow him on Twitter @stevewright22