This incredible lady gave up her home to live with over 1000 cats
Lynea Lattanzio spent her entire retirement fund setting up California's largest no-cage, no-kill sanctuary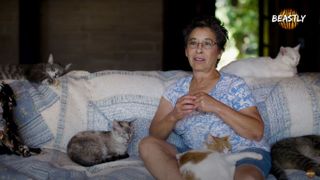 (Image credit: YouTube)
It might sound like a dream come true to live with 700 adult cats and 350 kittens; but for Lynea Lattanzio it's more than a fantasy, it's a necessity for the sake of her precious feline friends.
The real-life cat woman sold her five bed home, two luxury cars, her diamond ring and more to establish California's largest no-cage, no-kill habitat for feral and abandoned domestic felines, The Cat House On The Kings, over 27 years ago.
"When I was a child, my mom wouldn't let me have a cat," Lynea recalls, "I think that's what began my obsession."
The Cat House is located on what was once Lynea's home - her bedroom has since been converted into a quarantine space for cats needing to be isolated from the general population. But her devotion has not been in vain – since achieving non-profit status in 2003, the sanctuary has rescued over 38000 cats and kittens.
"This is my life, 24 hours a day, seven days a week, 365 days a year, 27 years," Lynea explains.
With separate secure spaces for contagious cats suffering with ailments like FIV and leukaemia, feral cats, seniors, kittens, newbies and more; Lynea has truly put her heart and soul into creating the ultimate safe haven for her beloved felines - many of whom would have been exterminated had it not been for her intervention.
"Where we live, the city of Fresno is the highest kill rate in the United States. The county shelters in all of the cities around in Fresno county, don't take cats.So there's got to be close to 200,000 on the streets," says Lynea.
"Killing all the unwanted animals, it makes us a third world country. It boggles my mind, that here in Fresno we choose to kill them rather than go the no-kill route. And if I stop now then I would feel like my job wasn't complete. And I don't think it will be complete until we become a no-kill nation. No-kill at least a no-kill area here."
The sanctuary also provides space for homeless dogs and any other poor unfortunate animal who is in need, facilitating their move into safe, loving, healthy and permanent homes.
And there work doesn't end there, when Lynea and her army of staff and volunteers aren't tirelessly working to feed, treat and clean the animals they work within the community educating the public on how to become directly involved in improving the quality of animal welfare.
Get the best advice, tips and top tech for your beloved Pets