10 bird-watching social accounts you must follow
Get your daily fill of wonderful bird photos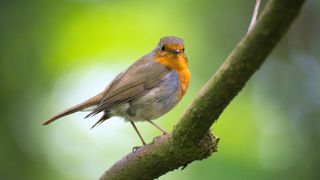 (Image credit: Pixabay)
What better way to escape the stresses and complications of the world than to look to nature? Birdwatching has soared in popularity in the last 20 years and could become an even more beloved past-time whilst the indefinite lockdowns continue all over the world.
For many of us, stepping outside into the fresh country air is only an option once or twice a year. Thankfully, these stunning social accounts can transport you to the Cornwall hedgerows, Florida Keys, or Scandinavian wilderness, and bring you up close and personal with their feathery inhabitants.
1. National Audubon Society
Twitter - 176.9K followers l Instagram - 585K followers
America's premier bird conservation society has been running since 1909 and has built a following of the same repute. Alongside their conservation projects for American species and their habitats, their Instagram and Twitter accounts showcase the best of the country's aerial wildlife from Alaska to the Florida Keys.
2. BirdSpot UK
Twitter - 22.2K followers l Instagram - 13.5K followers
Coined simply as "The place for birds", BirdSpot UK is a twitcher's paradise showcasing the best shots of British birds from garden to grasslands and their social media accounts are a feast for the eyes. Their website is also a treasure trove of information, containing detailed identification guides on over 170 birds.
3. BTO Garden BirdWatch
Twitter - 49.6K followers l Instagram - 14.1K followers
BTO stands for the British Trust for Ornithology, one of the UK's oldest bird watching trusts. With over 13,000 members across Britain and Ireland, the project's website and social media accounts are an endless source of information and visual delights focussing on British birds. They also accept submissions and participation from anyone with a keen eye and a camera!
4. Heather Thorning
Heather is a wildlife photographer who highlights the ornothological treats of her native Australia on her popular Instagram and Flickr accounts, including an endless feed of adorable chicks!
5. John Crawley
Instagram - 125K
Wildlife photographer John Crawley has built an incredible portfolio of nature shots, but his work with birds has earned him particular recognition, including a commendation in the 2019 Bird Photography of the Year Awards. Check out his Instagram for a high-resolution feathery feast from British Columbia to Costa Rica.
6. Vesa Korhonen
Instagram - 3.5K
Finnish photographer Vesa Korhonen's Instagram brings the Scandinavian landscape and the birds who inhabit it to life throughout the country's dramatically changing seasons.
7. Jeffrey Patrick Karnes
Jeffrey Klarnes' photography is among the most intense and colorful you can find on birdwatching social channels. Follow his work for the best close-ups and high color exposures of birds across North and South America.
8. Kothiala
Indian wildlife photographer Aseem Kothiala's work has been published in National Geographic magazine and by the World Wildlife Fund, and with one glance at his feed you can see why. Kothalia's breathtaking shots capture all that Asia's birds have to offer.
9. Melissa Groo
Instagram - 78.1K followers l Online portfolio
Melissa Groo is one of the most decorated wildlife photographers in the game today, earning accolades for her stunning work all over the world. She is a contributing editor to Audobon Magazine, mentioned at number one in this list, and alongside her comprehensive documentation of the world's birds, Melissa takes her talent to land and sea as well.
10. Graham Jeffrey
Instagram - 3.7K followers
Graham Jeffrey is a Midlands-based amateur twitcher, the kind that we love to showcase! Graham takes all the snaps on his wholesome Instagram feed from the comfort of his own garden, and offers the choice to buy prints of his stunning work.
Get the best advice, tips and top tech for your beloved Pets