Best bird feeder: Squirrel-proof, window-mounted and feeding stations
The best bird feeders have something for everyone, with a range of styles that'll have your favorite feathered friends flocking from far and wide
Included in this guide:
1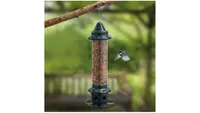 Squirrel
Buster Plus
2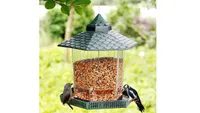 Twinkle
Star Wild Bird Feeder
3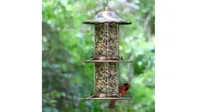 Perky-Pet
325C 2-Tier Panorama Bird Feeder
4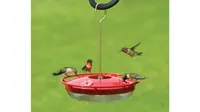 Aspects
HummZinger Highview
5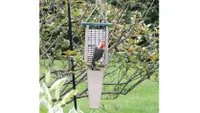 Birds
Choice 2-Cake Pileated Suet Feeder
6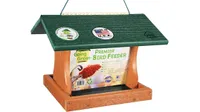 Woodlink
Going Green Large Premier Bird Feeder
7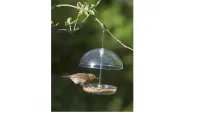 Clear
hanging bird feeder
8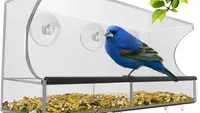 Nature's
Hangout Bird Feeder
9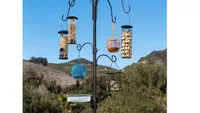 Best
Choice Products 6-Hook Bird Feeding Station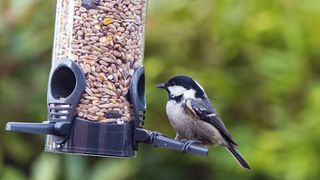 (Image credit: Getty)
If you enjoy watching birds flock to your garden, then you'll need to invest in the best bird feeder. Especially when you've noticed an increase in colorful, feathered friends making an appearance.
But with so many types of feeders (and birds!) available, it can often be challenging to know which one is suitable. Surprisingly, birds are rather fussy about the type of feeder they eat from, so there are a few considerations to make before buying.
Tube-style feeders are great for attracting smaller birds and protecting them from ground predators. These are hung from a height which makes it difficult for cats or foxes to disrupt their nibbling. For ones with squirrel-deterring technology, check out our guide to the best squirrel-proof bird feeders.
Another popular choice is the hopper-style feeder. This is designed to release seeds once a bird lands on it and closes if it senses anything heavier, like a squirrel. At least you'll have peace of mind that your birds are getting all the nutritious and delicious food they need.
Large birds will definitely need a ground feeder (sometimes called a platform feeder), which is much easier to eat from. In addition, ground feeders are not as limited to what can go inside them like hoppers or tubes. If you don't have a big garden, window feeders are another great option and are easy to use. Simply attach to the glass with outdoor suction cups, and get up close and personal with your favorite birds.
If you've always wanted to know how to attract birds to your garden, then it's worth checking out our picks of the best bird feeders.
PetsRadar's pick of the best bird feeders
Best overall bird feeder: Squirrel Buster Plus
Best budget bird feeder: Twinkle Star Wild Bird Feeder
Best stylish bird feeder: Perky-Pet 325C 2-Tier Panorama Bird Feeder
Best bird feeder for hummingbirds: Aspects HummZinger Highview
Best bird feeder for winter: Birds Choice 2-Cake Pileated Suet Feeder
Best durable bird feeder: Woodlink Going Green Large Premier Bird Feeder
Best for small birds: Clear hanging bird feeder
Best window bird feeder: Nature's Hangout Bird Feeder
Best bird feeder station: Best Choice Products 6-Hook Bird Feeding Station
Squirrel Buster Plus
Type: Tube | Material: Plastic and metal | Squirrel proof: Yes | Mount: Pole and hook
Sleek and stylish design
Includes cardinal ring
Suits different size birds
Large feed capacity
Not machine washable
More affordable feeders are available
There are all kinds of bird feeders available, each designed to attract certain types of birds and with additional features depending on your needs. This Squirrel Buster Plus tube bird feeder is a great overall option because it covers so many of the bases if you want more feathered friends accessing your bird feeder with ease.
The headline feature of this bird feeder is that it is squirrel proof, and the way they ensure this is pretty ingenious. The weight of an adult squirrel will cause a shroud to lockdown, preventing the pesky rodent from eating any of your precious birdseed.
Squirrels don't just try and eat the delicious birdseed inside a bird feeder, they sometimes chomp on the feeder itself. The Squirrel Buster Plus has covered this eventuality too, boasting chew-proof materials made of a special, tooth-proof patented RoxResin, a special compound that is also waterproof and UV balanced so it won't fade in sunlight.
One downside is that the bird feeder is described on the packaging as dishwasher safe, but users have reported this is not the case and Brome has now removed this statement from their packaging. Fortunately, it offers lifetime support and will usually replace faulty or damaged parts free of charge, where appropriate.
There's a lot of attention to the design here. Many tube bird feeders have the problem that they fill up with condensation, which can lead to bacteria spoiling seeds and potentially harming the birds. This bird feeder has specially designed vents that keep the seeds properly ventilated.
The Squirrel Buster Plus is weight adjustable, meaning you can decide whether or not to feed larger birds by changing the tension levels. If you find big birds are scaring off smaller birds you can adjust it to deny them access, or alternatively if you want to allow larger birds to join the party, you can adjust it to be less weight sensitive.
This bird feeder has a cardinal ring, a perching platform that is broad enough for this larger, colorful bird to feast on the seeds within. Users report being delighted with the product, with one customer saying this is the only truly squirrel-proof bird feeder they've seen in over 30 years.
Another user reports the bird feeder attracting a wide range of birds, from sparrows and finches to chickadees, cardinals and downy woodpeckers.
Twinkle Star Wild Bird Feeder
Type: Panorama | Material: Plastic | Squirrel proof: No | Mount: Hook
Attractive design
Beginner friendly
Affordable
Easy to fill and clean
Not suitable for larger birds
Not squirrel-proof
The Twinkle Star Wild Bird Feeder is a great bird feeder for those on a budget. Although it's made of plastic, users report it is sturdy and keeps the bird feed dry even during storms. It's quick and easy to fill and has a large grain capacity of over 2lbs, and a durable hanging wire so it's easy to fill and hang.
The designers have done a strong job on making this a lovely budget bird feeder to look at, with its fetching hexagonal design and charming green base and tile-effect roof, which is sloped to give your little birdies shelter from both sun and rain.
It can be easily taken apart and cleaned with mild soap and water, which is good because it's important for the health of your local birds that you regularly wash your bird feeder. This is only suitable for smaller birds like finches, robins and chickadees, so if you want to attract large birds, it won't do.
The feeder section can be filled with a range of mixed seeds, such as safflower seeds, which are nutritious and great for birds. The six-sided design is a good way to encourage a range of birds to feed from it without any fights in the dinner line.
Perky-Pet 325C 2-Tier Panorama Bird Feeder
Type: Panorama | Material: Plastic and metal | Squirrel proof: Yes | Mount: Hook
Stunning design
Large feed capacity
Keeps squirrels out
May rust if left out in rain
A panorama bird feeder means birds can approach the feeder from all directions and you will be able to view them from wherever you are in your garden or yard thanks to the 360-degree feeding tray and perch. It also means you can get the most amount of birds around the bird feeder at any one time.
This panorama bird feeder goes even further by offering two tiers of perches to cater for twice as many birds as conventional feeders.
It has a lockable cap to stop squirrels feasting on the grain stash, and a sloped, bell-shaped lid to provide a bit of extra cover for birds, as well as being attractive overall. The gently curved, copper finished design will make this a beautiful addition to your garden, even before any birds settle on it.
It has a sizeable seed capacity too, taking up to 4.5lb of bird feed. It features drain holes to stop water pooling in the reservoir, and the unit can be completely taken apart for ease of cleaning. Most users report it keeping the bird feed dry during rainfall, though one user reports water getting in after dripping down the running wire.
This bird feeder is a great option for attracting a wide range of birds of different sizes, although it can get a bit messy as feed easily spills onto the ground below due to the large feeding trough.
Aspects HummZinger Highview
Best bird feeder for hummingbirds
Type: Saucer | Material: Plastic | Squirrel proof: No | Mount: Hook
Red color attracts hummingbirds
Plastic won't get too hot in the sun
Easy to fill and clean
Ant moat keeps insects out
Needs refilling after 2-3 days
More attractive designs are available
This simple, well-designed hummingbird feeder is a great deal for anyone lucky enough to live in areas conducive to hummingbirds. Whilst there are more stylish hummingbird feeders out there, we've chosen this one because feeding hummers is not as straightforward as feeding other birds, and this design covers most bases.
For a start, hummingbirds don't eat grains, so your safflower seeds are of no use here. They feed on nectar, which you can make using a solution of water and sugar. Hummingbird feeders come in two different types, saucer feeders which are trays of nectar that hummers access through small sports on the lid, or 'inverted feeders' which feature a reservoir of nectar that dispenses the sweet stuff from above.
Each feeder style has pros and cons but the good thing about saucer feeders such as this is they are less likely to leak, and their streamlined design makes them easy to mount on poles or hang on hooks. Saucer feeders don't have as much capacity as inverted feeders (the Aspects High View holds 12 ounces of nectar), but they are easier to fill and clean.
It's not just hummingbirds that are attracted to delicious nectar, so are insects. This hummingbird feeder has an ant moat that can be half-filled with water to trap these pesky insects. Bees also love a bit of nectar, and the feeding ports are designed to be too deep for their teeny tongues to access (but don't worry, the hummers won't have this problem).
This hummingbird feeder is made of red UV-resistant plastic – a color known to attract hummers – and it won't fade in the sunshine. It is waterproof and easy to clean but doesn't get hot, which can be a problem with some metal feeders. Hummers are of course famous for their ability to hover, but they also like to rest their wings from time to time, which is why this feeder also comes with a circular feeding perch.
The smaller nectar well does mean you'll need to replace the sugar solution more often than with larger feeders, but one upside of that is that it's less likely the nectar will spoil. It's also good to regularly clean hummingbird feeders because bacteria build-up can be harmful for these hovering feathered friends.
Birds Choice 2-Cake Pileated Suet Feeder
Best bird feeder for winter
Type: Suet | Material: Plastic and wire mesh | Squirrel proof: No | Mount: Hook
Sturdy design
Crack resistant
Fade-proof
Holds two suet cakes
Can't be mounted on a pole
Birds don't spend all their time pecking at seeds, they also like to get their beaks stuck into some delicious fatty suet, which provides much-needed nutrition for extra energy reserves, which will come in extra handy in fall and winter.
A suet bird feeder is a fantastic addition to your garden or back yard, and this is one of the best suet bird feeders out there. It features a wire mesh cage that has space for two different suet cakes which means you can add different types of cake that will appeal to different birds, and it also means you won't have to refill the feeder so often.
This suet bird feeder is made from recycled poly lumber which is a durable, crack-proof plastic often used for exterior decking. This material is durable, fade-proof and will last you and your hungry birds for years.
This suet feeder has a long tail prop that birds such as pileated woodpeckers can use to support their tails whilst chowing down on some tasty suet goodness. The body of the feeder is a simple beige color with a leaf green top. There may be more flashy designs on the market but the design is tasteful and the birds it attracts will provide all the visual interest you need.
Users are keen to recommend this sturdy suet bird feeder, praising its longevity, excellent build and ease of use.
Woodlink Going Green Large Premier Bird Feeder
Type: Hopper | Material: Plastic and metal | Squirrel proof: No | Mount: Hook
High feed capacity
Water resistant
Durable build
Easy to fill
Not the most attractive design
Can't be pole mounted
Not squirrel proof
If you want that classic bird feeder look, this hopper feeder from Woodlink is a great way to go. Hopper bird feeders are ideal for offering your birds a large amount of feed and ensure it stays secure and dry over long periods. This bird feeder can take up to 5.5lbs of feed.
The main body of the feeder is made of recycled plastic with a powder-coated metal screen bottom for draining off water. It has a large roof that covers the feed tray beneath, which is great for withstanding rain showers. Users report the bird feeder has a durable, thick-plastic build quality, which is easy to clean and keeps the seed dry. The plastic construction means this unit won't rust or rot like some other wood or metal bird feeders.
The unit can be hung or pole-mounted, though users report it's a little on the heavy side, so you'll need to ensure you have a strong pole or hook to support it. The weight is likely an acceptable compromise for how sturdy this hopper bird feeder is, with one reviewer stating it was able to survive cold winter mornings and 65mph winds.
Some bird feeders can be tricky to fill but this one has a simple flip-up lid for loading feed into the glass-windowed hopper. The plastic material also makes this bird feeder easy to clean, which is important because it contains so much feed you don't want it going moldy.
This is a really strong and sturdy bird feeder that birds will love and will last you for years. It doesn't feature any anti-squirrel measures, so it might be worth looking into squirrel baffles that can be bought separately to keep those resourceful rodents away.
Clear hanging bird feeder
Type:: Dome | Material:: Polycarbonate | Squirrel Proof?: Yes
Attracts robins and small birds
Deters larger birds like pigeons
Dome shelters the food
A little small
Reflects light in very sunny conditions
This clear hanging bird feeder is ideal for attracting small birds into your garden, particularly robins! If you have tried other bird feeders and the big birds seem to dominate your garden, then you may find that this one attracts some of the smaller species of birds to your home. You can adjust and lower the dome so that only birds of a certain size can feed from, simply slide to top dome up or down to adjust accordingly.
In addition, this style of bird feeder protects and shelters the food so that it doesn't get wet, go stale or soggy in poor weather conditions, allowing birds to feed from fresh seeds, nuts and mealworms whenever they visit. The feeder is on the smaller side, presumably because it's designed for small birds, but this does mean it can only hold about half a cup of feed, and requires refilling daily should you get a lot of interest.
Bird lovers have been extremely pleased with this style of bird feeder, confirming it is great at keeping out other foragers and providing a safe and calm space for small birds to feast until their heart's content.
You can hang this bird feeder anywhere – off of a tree or another high place in your garden, you can even place it close to your home so that you can watch the bird's as they come to feed. Sometimes on a sunny day the reflective glare may mean the feeder is not seen by birds, but for the most part, this feeder does a great job at accommodating Robins, Sparrows, and other beautiful little birds.
Nature's Hangout Bird Feeder
Type: Tray | Material: Acrylic | Squirrel proof: Yes | Mount: Suction cups
Durable rain-proof design
Offers close up view of birds
None
Enjoy the beauty of your favorite birds close-up with this transparent window bird feeder that can be easily mounted to the outside of any window. Measuring 11.8 x 5 x 4 inches, this large feeder has strong suction cups to ensure it stays in place, and the durable all-weather design makes it perfect for every season.
With drainage holes to prevent mold from growing on the seeds and in the tray, it also has a lightweight design that makes it easy to take down and clean. The bird feeder can hold 4-cups of seeds, twice as many as most feeders, and includes a removable tray for easy refilling.
The comfortable perch design features a padded grip on the seed tray, encouraging birds to stay for longer, and the top cover keeps them protected from rain and snow. You can also make this feeder squirrel proof by ensuring it's mounted to a window that is away from any jump-off points.
If you're after a feeder that allows you to view birds close up and keeps them coming back time and time again, this model from Nature's Hangout is an absolute winner.
Best Choice Products 6-Hook Bird Feeding Station
Type: Pole feeder | Material: Steel | Squirrel proof: No
Sturdy
Easy to assemble
Great for attracting multiple birds
Versatile
Not squirrel-proof
With its attractive design and 6-way multi hooks, the Best Choice Products Bird Feeding Station is ideal for feeding a whole flock of birds at once.
Although it looks like it may be complicated to set up, this handy feeder station is actually easy to assemble. Featuring adjustable hooks and snap and lock poles, it won't be too long until nearby feathered friends start to drop by, and perhaps a few uninvited guests too.
The Best Choice Products Bird Feeding Station doesn't come with a specific squirrel-proof solution so you may need to get inventive and move the feeding station well away from building structures or use a spray of olive oil spray daily to keep them from climbing the pole.
However, it's a great starter feeding station that includes everything you need as a bird-watching novice. The pole also includes feeders, but you can also opt to add your own and get versatile if you have a surprise guest to the table.
How to choose the best bird feeder for your feathered friends
There is a wide range of bird feeders out there, and each one serves a different purpose. One of the beauties of bird watching is that no two birds are exactly the same, each species has its own characteristics and preferences.
If you are just getting started, then a tube feeder such as the Squirrel Buster Plus is a great way to start. If you want to attract certain birds to your bird feeder look for models that suit those birds. It's worth noting that birds can take time to notice your bird feeder, no matter how good it is.
Some may be used to finding enough food in the local environment and take a while to make your bird feeder their diner of choice. So don't get disheartened if birds don't instantly start flocking to your brand new bird feeder, give it some time and experiment with different foods and setting up your bird feeder in different places to see what works best.
It's a good idea to have different types of bird feeders in different places so that you can attract a wide range of birds to your garden. Look out for feeders that are waterproof and durable, have easy to maintain designs, and work for the birds that are local to your area. Now we've taken you under our wing, we're sure you'll be able to find a bird feeder that's hard to beat.
Danni is a freelance writer who never met a pun she didn't like. She is the proud owner of two Tonkinese kitties, Mr Mittens and Pocket. Pocket sometimes sits on Danni's shoulder while she's writing, Mr Mittens is a bit too big for this so usually settles for her lap. Cuties!
Get the best advice, tips and top tech for your beloved Pets
Thank you for signing up to Petsradar. You will receive a verification email shortly.
There was a problem. Please refresh the page and try again.