10 must-have pet products that every pet parent should own
Get your paws on these essential pet products that are designed to make life with your pet even better than it already is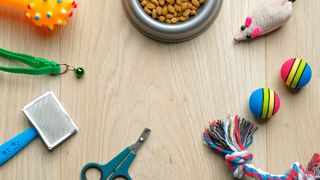 (Image credit: Getty Images)
Whether you're about to bring a new pet home or your furkid is already a well-cemented member of your family, it can be easy to become overwhelmed by the sheer number of pet products and accessories that are available.
Everywhere you look as a pet parent you're being bombarded by clever advertising and marketing that tries to convince you that your furkid needs the latest toy or gadget, but how do you know which ones are mere gimmicks and which ones might actually benefit you and your furbaby?
In this guide, we give you the rundown on the pet products that are worth parting with your pennies for, including some super-affordable options that your bank balance will barely notice.
PetsRadar's top 10 must-have pet products
Furbliss Hygienic Pet Wipes
When it's not convenient to give your pet a full bath, these compact travel-friendly grooming wipes are just the ticket. Bamboo-based with Aloe Vera and Vitamin E, they're great for cleaning coats, paws, and bums!
Dyson V11 Animal Vacuum Cleaner
While it certainly isn't the cheapest vacuum on the market, its ability to remove hair from floors, carpets, and furniture is outstanding. From surface hair to deeply embedded fur, this powerful vacuum cleaner with four attachments offers superior deep cleaning power.
Display4top Pet Travel Stroller
For your pampered prince or princess, what could be better than this luxury stroller that lets your furkid ride in style? Capable of holding pets up to 30lbs, the mesh provides plenty of visibility and ventilation and there's plenty of storage too.
Feliway Classic 30 Day Starter Kit
If you have a cat that gets easily stressed, the Feliway is the perfect solution. It releases scentless feline pheromones into the air to calm your cat and help them relax. It's a great kit to have on hand if you're trying to settle a cat into new surroundings or when something potentially disruptive is about to happen.
Best Friends by Sheri Calming Donut Bed
Send your furkid to sleep on a cloud of comfort with this cozy self-warming bed made of faux shag fur, designed to mimic their mother's warmth. Available in a range of colors with a water-resistant bottom, the high walls provide excellent head and neck support, and a feeling of safety and security.
Gonicc Dog and Cat Nail Clippers
One of the best nail clippers you can buy, the sharp blades are made of high-quality stainless steel and have a safety stop blade to reduce the risk of overcutting. Ergonomically designed, these clippers have a comfortable and lightweight feel in the hand, and there's also a locking mechanism to prevent children from being able to open them.
Kong Extreme Dog Toy
Dog owners have been going wild for years over this game-changing toy that helps satisfy a dog's instinctual need to chew. Providing mental and physical stimulation, this toy can help solve issues with separation anxiety, teething, chewing, and boredom. The durable rubber can be filled with treats and the unpredictable bounce makes it a great fetch toy too.
VivaPet Rabbit and Guinea Pig House
This durable wooden hutch is the perfect hideaway to keep your guinea pigs or rabbits warm and dry. Arriving flat packed and easy to assemble, the hutch can be used indoors or outdoors and has a lockable flap. With extra high feet for proper air circulation and a liftable top for easy cleaning, this hutch is the perfect safe haven.
Morpilot Small Dog and Cat Carrier Backpack
This heavy-duty and large-capacity foldable backpack is perfect when you want to go adventuring with your furkid. With a four-sided mesh design for ventilation and visibility, this eco-friendly polyester backpack is scratch-resistant and can hold pets weighing up to 15lbs. Featuring adjustable straps and lockable zips, there's also plenty of storage space on either side.
LIKEA Cat Scratcher Lounge
Cat parents are loving this cheap and cheerful cat scratcher pad with organic catnip that'll keep your kitty away from your sofa for good. Made with 100% eco-friendly recycled corrugated cardboard and non-toxic glue, this durable and safe scratcher is reversible to give you more bang for your buck.
Kathryn is a freelance writer with a passion for creating health and wellness, travel and wildlife content. Originally from New Zealand, her nomadic lifestyle has her currently fur baby-less. She scratches her pet parent itch by stealing frequent cuddles with any neighbourhood cat kind enough to indulge her.
Get the best advice, tips and top tech for your beloved Pets
Thank you for signing up to Petsradar. You will receive a verification email shortly.
There was a problem. Please refresh the page and try again.