Could the dog diet challenge help your chunky canine?
Last year's dog diet challenge may now be needed to help the pooches that piled on the pounds over lockdown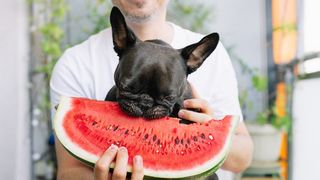 (Image credit: Getty)
In October 2020, a dog diet challenge took TikTok by storm, with users sharing their pooches' bemused reaction to being given a few pieces of kibble for their meal as opposed to their usual bowl full.
This trend left some people in side-splitting laughter and others calling it out as animal cruelty, since the dog doesn't understand why they've only been given a small amount. Either way, now that the UK's third national lockdown is nearly over, it may be time to consider whether your pooch genuinely needs to go on a diet and what to do if your dog is overweight.
Insurance group More Than discovered that over a third of pet-owners increased the amount of dog treats they had been giving their pets during lockdown. The nationwide survey of 2,000 pet-owners also revealed that one in three were unable to spot whether their pet was overweight.
Lockdown has been challenging for many of us. We're spending more time indoors, surrounded by snacks, and have been treating ourselves here and there.
Anna Ewers Clark, a vet at the People's Dispensary for Sick Animals (PDSA), says that we've been doing the same with our pets, too. "A lot of people do want to spend time with their pets, and part of that can be giving them a few extra treats. But it's just about taking small measures to make sure you are keeping your pet healthy."
Overweight dogs are more susceptible to conditions such as arthritis and diabetes, so it's important for them to maintain a healthy weight.
Get the best advice, tips and top tech for your beloved Pets
Chloe is a freelance writer, editor, and proofreader, who has more than ten years' experience in creating animal-focussed content. From National Geographic to Animal Planet, Chloe's passion for creating fact-filled features all about wildlife and the environment is evident. But it's not just wild animals that Chloe's fascinated by. Having written more than 75 articles for PetsRadar - and having her very own four-legged friend by her side - it's no wonder that her love of dogs (and, of course, cats) has grown exponentially.
Her website, www.chloemaywrites.com, and social media pages - @ChloeMayWrites on Instagram, Facebook, and Twitter - showcase her knowledge through daily facts and trivia tidbits. For example, did you know that snails have teeth?!