Cat that weighs as much as a car tyre is Insta's latest famous feline
Larger-than-life Lotus, the Swedish Maine Coon, is living his best life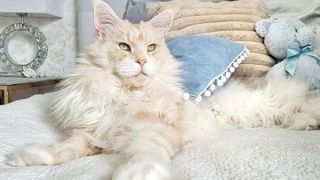 (Image credit: @lotus-the-maine-coon)
A majestic Maine Coon called Lotus, who lives with his owner in Jämtland, in Sweden, is a big fluffy cat like no other.
Lotus' owner, Lindstein, who works within the IT industry, adopted the moggy from a feline breeder in Norway when the cat was only 13 weeks old.
The pair live with two other Maine Coon's called Marion and Chivaz, all of which are strictly indoor house cats.
"They get along very well together," explained Lindstein when talking to The Epoch Times. Lotus "is social and kind [to] everyone, whether animal or human. He came into my life at a very important time and from there, our bond has grown. He's my everything!"
Lotus was described as being "already big and kind" when he joined the furry group.
Weighing a staggering 22lbs (10kg), Lotus easily dwarfs his human siblings when they all chill out on the sofa together.
Even though Maine Coon's are famous for their large size and lion-like mane, Lotus measures a little larger than average for the breed.
The name 'Lotus' was given to the cat based on his striking features - looking like a Lynx and having hairy ears. In Swedish, 'lo' means 'lynx' and 'tus' translates as 'tuft of hair'.
His owner regularly takes Lotus - and his siblings - out on adventures in dog-sized harnesses. "If [people] see him from a distance and we are out for a walk, many people think he is a dog", Lindstein said.
A guaranteed talking point among the locals and new people alike, Lotus' Instagram page has more than 340,000 online followers.
His page, @lotus_the_maineCoon, also features his siblings from time to time and previously even saw a pet rabbit make an appearance, too.
"When the rabbit ate hay, Lotus also tried to chew on some straw. I don't know if he really liked it [but] it looked very cute".
Get the best advice, tips and top tech for your beloved Pets
Chloe is a freelance writer, editor, and proofreader, who has more than ten years' experience in creating animal-focussed content. From National Geographic to Animal Planet, Chloe's passion for creating fact-filled features all about wildlife and the environment is evident. But it's not just wild animals that Chloe's fascinated by. Having written more than 75 articles for PetsRadar - and having her very own four-legged friend by her side - it's no wonder that her love of dogs (and, of course, cats) has grown exponentially.
Her website, www.chloemaywrites.com, and social media pages - @ChloeMayWrites on Instagram, Facebook, and Twitter - showcase her knowledge through daily facts and trivia tidbits. For example, did you know that snails have teeth?!