Animal charity recreates Friends credits with kittens
Friends parody video aims to promote fostering kittens with a very familiar tune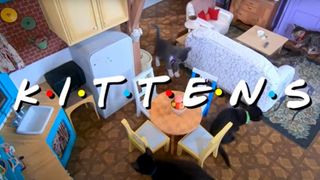 (Image credit: Best Friends Animal Society)
Following the hit TV series and follow-up reunion episode, what could make Friends even better? How about recreating the Friends credits with kittens?
The Best Friends Animal Society clearly thought it was worth a shot, and have remade the famous Friends opening scenes with cute little bundles of joy – and it's adorable.
Designed to highlight its kitten foster program which helps to free up space in animal shelters, it's a charming and creative way to highlight something so important.
In the video a bunch of endearing kittens romp through a miniature recreation of the main apartment featured in Friends. The cute little balls of fur are shown sleeping, knocking chairs over, batting at cat toys and just generally doing what kittens do. The title of the program is, of course, "The one where kittens go into foster homes".
The lyrics have had a makeover too, with the original theme tune by The Rembrandts' "I'll Be There for You" being rewritten to become distinctly more kitten-like. Here's a taster of the lyrics for "I Will Purr For You":
"You're still in bed at ten, And noon and five and eight, You stir at nightfall 'cause it's time to celebrate, Your mother warned you that she needs her sleep. But you really want to wrestle and pounce and swipe and grab a treat."
Penned by Amber Ayers and performed by Michael Hand, it's a great accompaniment to the sweet goings on of the kitten Friends.
And it's a great way to highlight the need for kitten fosters as kitten season starts and animal shelters are typically faced with an influx of unwanted kittens.
The people behind this purr-fect parody are the Best Friends Animal Society, a leading animal welfare organization working to end the killing of dogs and cats in America's shelters by 2025. It's been effective; the organization has helped reduce the number of animals killed in shelters from an estimated 17 million per year to around 625,000. As well as encouraging adoption, they look for foster homes where cats can stay for a short time.
As they explain, "Opening your home to a foster pet saves lives, plus it frees up space for another pet to be rescued. Fostering a pet, whether for days, weeks or months may be short-term, but the results are long lasting — not only to the pet, but to you, too. Studies have shown that having a furry friend around can reduce anxiety and help relieve stress — not to mention brighten even the dreariest days."
Interested in helping out? You can see more about fostering kittens here.
Get the best advice, tips and top tech for your beloved Pets
Jamie Middleton is a freelance editor and writer who has been editing and creating content for magazines and websites for over 20 years. As well as writing about the pets he loves, he has helped create websites about tech and innovation like TechRadar.com, Innovate UK and TechSPARK, written programmes for music festivals, books on inventions and architecture, TV listings magazines, and edited publications about cars such as Lexus, Toyota and Jaguar. In his spare time he writes fiction books and poetry - or at least he does when he is permitted to by his cat Pirate, who enjoys the warmth of laptops too much to allow being creative to get in the way.