Bernese Mountain Dog dies after being left in hot car during heatwave
Banjo the Bernese Mountain Dog died during a heatwave in Gloucester, England after a woman left her dog with a pet sitter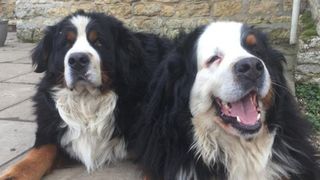 (Image credit: Andrea Brown/Gloucestershire Live)
A Bernese Mountain dog in Gloucester, England has died in a horrible tragedy that serves as a reminder to take care of your dogs during heatwaves.
Andrea Brown, the owner of Banjo and his brother Bistro, thought that her dogsitter would head over between 4pm and 8pm on June 17 and let her dogs out in the yard.
According to Brown's interview with Gloucestershire Live, "the dog sitter was meant to let the dogs in and out throughout the day. They had a lovely day having their doggy ice creams in the shade of the garden and then came in to have a lie down on the lovely cool tiles in the kitchen with the oscillating fan going."
But instead of letting the dogs out, the sitter allegedly took the two dogs into town and out for a walk, and Banjo was found dead in the sitter's car shortly after.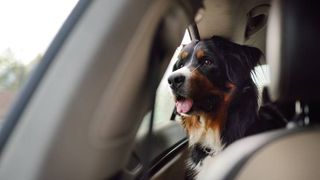 Brown explains that "the dog sitter had called me all in a panic to say Banjo has collapsed. I asked where they were and I was told in town. I could not believe what I was hearing and asked why they walked the dogs into town and they said to me they had taken the dogs in a car into town. I heard nothing then until the vets called me to tell me my dog was dead."
Gloucestershire police and the RSPCA are investigating the incident and Brown is asking anyone who may have any information to come forward. The Brown family was on vacation and immediately rushed home when they heard the horrible news.
Brown says she found the dog sitter on Rover, but a representative for the company claims that the sitter was not booked directly through the website. This is a common occurrence, especially if a dog owner repeatedly uses a sitter after finding them on Rover, as they usually get their contact information and reach out to them directly.
Brown has owned several Bernese Mountain Dogs, and knows that they do not handle the heat well because of their size and coats.
"I have had Banjo and his brother since they were pups, and both are seven years old, but I have kept Bernese Mountain dogs for years. I know you can not take them for walks like you would a Spaniel or a Terrier. You especially can not take them out when it was hot like it was on Friday," she says.
This is an incredibly sad story and a stark reminder that dogs need to be protected in the heat and should not be left in hot vehicles or taken out on long walks without proper cooling methods. Our hearts go out to Brown, her family, and Bistro.
Get the best advice, tips and top tech for your beloved Pets