Best pet charities to support today
Our guide to the best pet charities will help you pick the one that's right for you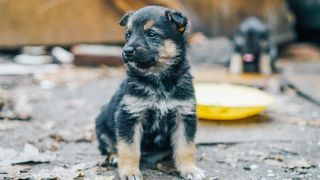 (Image credit: Getty)
It can be tough to know which are the best pet charities to support, with so many out there. How do you know where your money is going? Where can you make the greatest impact? Which charities are reputable? It's enough to make even the biggest animal lover's head spin.
Thankfully, we've done the work for you by researching the best pet charities around so that you can rest assured that whichever charity you decide to support is genuine, reputable, and putting your money and time to the best possible use. So now all you have to do is choose the one that most speaks to your heart.
ASPCA
What work do they do?
The first humane society to be established in North America, the ASPCA currently runs the largest number of non-profit pet shelters in the United States. Its belief that animals are entitled to kind and respectful treatment underpins the work it does to help vulnerable animals find safe homes. The ASPCA works to rescue, place and protect at-risk animals throughout the country and provide shelter, food and medical care to those who are most vulnerable.
What animals do they support?
From cute and cuddly rabbits and kittens to exotic animals and dog breeds such as Pitbulls that are often discriminated against, there's no animal too large, too small or too ostracized for the ASPCA to take under its wing.
What's the best way to help out?
Whether you'd like to make a one-off or monthly donation, host a fundraising event, volunteer or adopt an animal, there are a million and one ways you can throw your support behind the ASPCA. Why not donate your next birthday? Instead of gifts, set up a fundraising page and ask those you love to make a pledge. After all, there's only so many times you can smile graciously when you unwrap yet another hand-knitted sweater from your great aunt Myrtle.
D.E.L.T.A Rescue
What work do they do?
Dedication and Everlasting Love to Animals (D.E.L.T.A) is the largest 'no-kill, care-for-life' animal sanctuary in the world. This 115-acre ranch in California provides shelter to over 1500 animals that have been abandoned in the wilderness, giving them a safe home and all the love, food, play and medical attention that they need.
What animals do they support?
The D.E.L.T.A ranch is currently home to roughly 700 dogs and over 800 cats. Rather than rehabilitating animals to be re-homed, the sanctuary is a home for life for all the animals they rescue. Dogs live in big yards with straw bale houses and a pool for the summer months; specially trained assistants ensure they receive plenty of play and affection. Cats live in houses with large indoor/outdoor play areas, and the caged perimeter means they are free to roam without the fear of predators.
What's the best way to help out?
You can make a one-off or monthly donation with all of your money going directly to rescuing abandoned cats and dogs and providing them with the care they need, including keeping the on-site veterinary hospital running. Want to see exactly how your money is being spent? Why not attend one of the monthly tours for donors to get a behind the scenes look at life on the ranch.
4 Paws for Ability
What work do they do?
After trying unsuccessfully for many years to obtain a service dog but repeatedly turned down because she was deemed not disabled enough, Karen Shirk founded 4 Paws for Ability in 1998 to ensure that children and veterans can access a service dog regardless of how mild or severe their disability is deemed to be. Its meaningful work seeks to transform lives by increasing independence and providing companionship.
What animals do they support?
98% of the dogs that 4 Paws for Ability trains are purpose-bred on-site to ensure their health, temperament and skill set will make them fit for service. Occasionally the charity will use shelter dogs but only if it is sure that donor resources will be used wisely and it can guarantee these hand-picked dogs will be able to be matched at the end of their training.
What's the best way to help out?
It costs between $40,000 and $60,000 to raise and train a service dog, so donations are always appreciated. They also have a wishlist on Amazon, which is regularly updated with everything from cleaning supplies to toys. Alternatively, if you have the financial means to do so, why not sponsor a service dog in training?
House with a Heart
What work do they do?
This sanctuary provides a forever home for senior dogs and cats. These animals often lose their families and homes when their pet parent dies and because of their age and medical conditions, they have little chance of being adopted. House with a Heart takes care of these animals and fills their later years with love and affection.
What animals do they support?
House with a Heart is a small sanctuary where senior cats and dogs are walked, bathed, fed and cared for by a team of 55 dedicated volunteers. Residents live in a comfortable home environment where they have regular access to a fenced grassy field and receive frequent medical care. Check out the website to see some of the cute faces currently calling House with a Heart home.
What's the best way to help out?
Support the sanctuary via online donations or by choosing from its Chewy or Amazon wishlists. If you want something that really melts your heart, why not purchase the 2021 calendar, or if you're a local to Maryland, pop along and volunteer, as the sanctuary is always grateful for an extra pair of hands.
Friends of Animals
What work do they do?
Established in New York City in 1957, Friends of Animals (FoA) is an international organization that advocates for the rights of free-living and domestic animals. Originally formed to offer low-cost spaying and neutering services to reduce the number of unwanted and abandoned cats and dogs, the charity now takes a broader role campaigning against animal homelessness, hunting and testing, as well as protecting wildlife habitats around the world.
What animals do they support?
Alongside its continued work with cats and dogs, FoA works with a variety of creatures great and small running Primarily Primates, a sanctuary in Texas that looks after primates, birds and other animals who are victims of the exotic pet trade and entertainment industry, as well as supporting chimpanzee and antelope projects in Africa.
What's the best way to help out?
Become a member of FoA via a $25 monthly donation and receive a subscription to its quarterly magazine, Action Line, or visit the online shop where you can purchase a variety of merchandise such as sweatshirts and vegan cookery books, with the proceeds going towards the great work FoA is doing around the world.
Farm Sanctuary
What work do they do?
The leading farm animal protection organization, and first farm sanctuary in the country, Farm Sanctuary works to protect farm animals from cruelty by raising awareness of how they're treated, promoting compassionate vegan living, and campaigning for change within the food industry. Founded by Gene Baur and Lorri Houston in 1986, Farm Sanctuary has rescued thousands of animals from factory farming, providing shelter, healing and rehabilitation on its 275-acre farm in western New York State.
What animals do they support?
Farm Sanctuary houses close to 1,000 cows, chickens, ducks, geese, turkeys, pigs, sheep and goats. When the sanctuary is at capacity, staff work through the Farm Animal Adoption Unit to give thousands of abused and neglected farm animals safe and loving homes.
What's the best way to help out?
While donations are always welcome, why not give yourself a regular dose of the warm fuzzies by adopting a Farm Sanctuary resident and contributing to their care? You'll receive a digital certificate featuring your new animal bestie, a subscription to Sanctuary magazine and regular updates about your adoptee. Visit the Farm Sanctuary website to view the adorable faces of the current residents in need of your love.
Get the best advice, tips and top tech for your beloved Pets
Kathryn is a freelance writer who has spent the past three years dividing her writing time between her two great loves - pets and health and wellness. When she's not busy crafting the perfect sentence for her features, buying guides and news pieces, she can be found hanging out with a very mischievous Cocker Spaniel and a super sassy cat, drinking copious amounts of Jasmine tea and reading all the books.