Best podcasts for pet lovers
What are the best podcasts for pet owners? With so many to choose from, it's hard to know where to start. Here are some of our favorites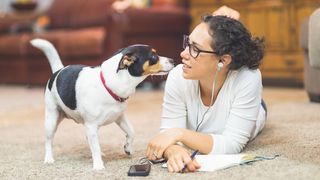 (Image credit: Getty Images)
Given how much pet owners love talking about their pets and hearing other people talk about theirs, it's no surprise that there are lots of pet and animal podcasts out there. With so many on offer, it can be hard to know which to choose, so here are some suggestions to get you started. Happy listening!
Can I Pet Your Dog?
If you're looking for light-hearted and fun dog content, Can I Pet Your Dog? might be the podcast for you. Each week, hosts and dog owners Allegra Ringo and Renee Colvert bring you the latest canine news, speak to special guests about their dogs and discuss all the dogs they've met (and pet) in the last few days.
Click here: Can I Pet Your Dog?
Creature Feature
For variety, you can't beat Creature Feature. Each episode, scientists and comedians sit down to discuss a different animal issue or theme – so far, topics have included tool use, the best animal parents, the Amazon rainforest fires, pseudoscience and Animal Crossing. The episodes range from 50 to 100 minutes, so get downloading if you need entertaining and enlightening on a long drive.
Click here: Creature Feature
Dr. Dunbar's iWoof Podcasts
With five seasons already released and a sixth just started, there's a whole load of dog chat ready for you to dive into with Dr. Dunbar's iWoof Podcasts. Dr. Dunbar is a veterinarian and dog trainer and, in his podcast, he covers all aspects of dog behavior and getting a new dog, from proper puppy socialization to dealing with guarding and squirrel chasing.
Click here: Dr. Dunbar's iWoofs Podcasts
My Dog's Favourite Podcast
Created for Spotify and based on research from the University of York, My Dog's Favourite Podcast is – as the name suggests – more for the pet than the pet owner. It's designed to help keep dogs calm when they're home alone. Each of the two five-hour episodes features a combination of ambient music, gentle background sounds, such as a washing machine, and an actor reading stories and words of praise and reassurance.
Click here: My Dog's Favourite Podcast
The Purrrcast
For the cat lovers, five stars on Apple Podcasts says you can't go too far wrong with The Purrrcast. There are over 250 episodes of this popular podcast, each featuring a different cat person talking to hosts Steven Ray Morris and Sara Iyer about their cats and their best cat stories.
Click here: The Purrrcast
Canine Nation
Looking for a little more science in your podcasts? Trying to get a better understanding of why your dog does the things it does? Check out Canine Nation. This monthly podcast dives in at the deep end of dog behavior, discussing behavioral science studies and different methods for communicating with your dog and encouraging positive behaviors.
Click here: Canine Nation
Animals At Home Podcast
Not every pet podcast focuses on dogs and cats – the Animals At Home Podcast, part of the Animals at Home Network, caters for reptile keepers and enthusiasts. Host Dillon Perron discusses all aspects of reptile husbandry and research with experts to help listeners keep their herps happy and healthy.
Click here: Animals at Home Podcast
Species
From the panda to the poison dart frog, Species covers a huge array of Earth's weird and wonderful creatures. Each episode, host Macken Murphy shares everything you need to know about that week's chosen species. The episodes are pretty short but packed full of fun facts, so you'll be impressing everyone with your animal knowledge in no time.
Click here: Species
Get the best advice, tips and top tech for your beloved Pets
Victoria is a writer, author and communicator with a background in science and has recently completed an MSc in Science Communication. She also has a degree in Evolutionary Biology and has written for magazines including World of Animals, How It Works and Science+Nature. She grew up with rabbits and a spaniel, and has had her horse, Bernie, for 11 years.