Brexit and dogs: How will leaving the EU affect taking pets to Europe
Make sure you're up to speed on the new regulations regarding Brexit and dogs travelling to the EU?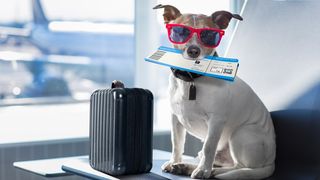 (Image credit: Getty Images)
Lots have things have now changed since the UK officially left the European Union on 31st December 2020. This means that rules regarding travel have changed and if you're wondering where you stand with Brexit and dogs, or other pets, traveling to Europe then we're going to break it down here for you.
In the past, you would have needed a pet passport to enter the EU, but this is no longer the case. This doesn't necessarily make it any easier, though. Prior to Brexit, dogs and other pets were able to travel with their owners from the UK to Europe and back without the need to quarantine, as long as you had a pet passport, but now there are a few things you'll need to ensure before you travel, such as microchips, vaccinations and more.
Read on to find out exactly what you'll need when traveling with a pet.
Can I still take my pet to Europe?
When it comes to the latest regulations regarding Brexit and dogs, the answer is yes you can still take your pet to Europe, but there is now a different procedure you will need to follow. From 01 January 2021, you will need to have an Animal Health Certificate (AHC) rather than a pet passport.
What is an Animal Health Certificate?
An AHC is a certificate that includes details of a pet, their owner's details, and confirmation that they have had all of the relevant vaccinations and treatments required to travel. This can only be issued by your registered veterinarian and there is a fee for this.
They are valid for four months, which allows you entry into the EU, forward travel, and then re-entry into the UK. An AHC can only be issued ten days before travel in order for it to be valid on your journey, but you will need to bear in mind that to get this certificate, your pet may require blood tests and treatments which will need to be given in advance of this.
In order to get this certificate, UK residents who wish to take their pet to Europe and back will need to adhere to the following steps:
Get your pet microchipped
If they're not already, any cats, dogs and ferrets travelling from the UK to the EU will need to be microchipped otherwise they will be denied entry.
Vaccinations
Your pet (cat, dog or ferret) will need to be vaccinated against rabies. You must then wait 21 days before travelling after the primary vaccination is given. Please remember that pets can only be vaccinated for rabies once they reach at least 12 weeks old.
Treatments
Rules for Post-Brexit and dogs travelling to the EU now require treatment for tapeworm to be given anywhere between 24-120 hours before landing in Europe. Remember to speak to your vet well in advance of travelling to ensure you can get booked in for this.
Which pets does this apply to?
These new regulations apply to all pets, including assistant dogs, and Brexit now means that animals from the UK will have to enter the EU through a traveller's point of entry, which include places such as Calais, Belgium, Germany and more.
These regulations apply to pets from the UK travelling to Europe and Northern Ireland. There are currently no changes to the requirements for pets entering the UK from the EU. For more information on what is required when travelling with your pets post-Brexit, visit Gov.uk.
Get the best advice, tips and top tech for your beloved Pets
Sarah is a freelance writer and marketer, covering a variety of topics from lifestyle and fitness to sustainability and travel. When she's not writing for PetsRadar or other websites, she can be found looking after her pet chickens or relaxing with a cuppa and a cute doggo snoozing on her lap!