Pit Bull used for fighting by previous owner receives funding for life changing surgery from TikTok
Bruno is scheduled to receive life changing surgery on his eye thanks to the kindness of strangers on the Internet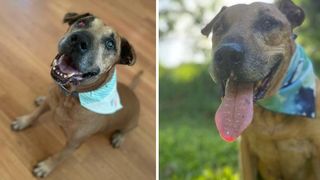 (Image credit: Instagram / @bruno_and_linguine)
Social media can come in for a lot of criticism, but dog lovers on TikTok recently showed the positive side of the online community. Dog owner Brittany Harris, who has three rescued Pit Bulls Princess, Linguine and Bruno, posted appeals on her page brunoandlinguine to help raise money for life saving surgery.
Brittany is a champion for the Pit Bull breed, which often get a bad rap despite there being several different types often saddled with the same reputation. Potential adopters are put off by the dog's history as a fighting breed. In fact, irresponsible owners have unfairly given the breed an aggressive image by buying the dogs for protection or masochism and then not training them appropriately.
According to the ASPCA, when well-socialized and trained Pit Bulls are 'one of the most delightful, intelligent, and gentle dogs imaginable.' In the right hands, they can make excellent family pets. Like all intelligent, athletic dogs though, they need good training and responsible ownership.
Bruno had a poor start in life, being used for fighting by a previous owner before ending up at a shelter. Many shelters have a disproportionate number of Pit Bull breeds in residence, as they're less likely to be adopted. This is partly due to their aggressive reputation and partly as many landlords at complexes or apartments specifically exclude the breed from a list of permissible pets.
Bruno settled happily into his new home with brother Linguine and sister Princess, but after a while Brittany noticed he'd developed a problem, which she thought was 'cherry eye'. This is normally an infection of the tear gland and causes a red, swollen, painful looking eye. After investigation, though, Bruno's cherry eye turned out to be caused by something more serious – a tumor.
Her veterinarian advised that an operation to remove the eye would be necessary to stop the growth moving up into the brain, and quoted a price of $5,000.
Anxious to save her beloved pet, Brittany turned to TikTok where she has around 200,000 followers, asking for small donations of 'just a dollar'. TikTokers came through in style on Bruno's GoFundMe page and have raised $5,587 to date.
Bruno is scheduled for his surgery tomorrow (Thursday 26 May), and delighted fans have been leaving messages of support such as 'YAAAAY!! Best of luck with the surgery and with the rest of the pupper's recover," and 'Praying for a safe and healthy recovery".
Brittany thanked Bruno's supporters in a video, saying "It's the day before Bruno's surgery and we wanted to thank all of you for your love and support. Bruno finally gets to live a happy, healthy life. We never would have come so far without you."
Good luck, Bruno – your fans are waiting for you!
Get the best advice, tips and top tech for your beloved Pets
Sara is a freelance journalist and copywriter of many years' experience with a lifelong love of animals. She's written for a range of magazines and websites on subjects varying from pet care to travel. A horse rider since the age of five, she's currently a full time pet slave to horse Blue and gorgeous, goofy English Springer Spaniel Olly. Adorable Olly has a huge sense of adventure and no sense of direction, keeping Sara on her toes.