Cat descending stairs like a slinky has TikTok users captivated
This sweet video of a cat descending stairs in the most innovative of ways is the most heartwarming thing you'll see this week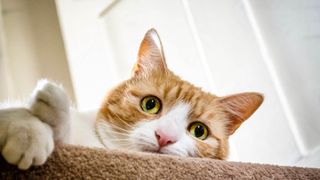 (Image credit: Getty Images)
A cat descending stairs in the most adorable way has social media users mesmerized as they watch Ricky the kitty show off his unique method in a clip that is only made sweeter by the loved up gaze he shoots his owner Rachel.
Posting a video to TikTok three days ago captioned "This is Ricky, welcome to RickTok", Rachel introduced her ginger and white feline furkid as he rolls down the stairs to the relaxing melody 'Here Comes the Boy'.
The clip has quickly amassed over one million views and garnered 12,000 comments with Francesca saying 'why does that look like it feels amazing??' A user called Hyperfocus Pod added, 'Ricky has life figured out'.
And it's clear that he does because why walk down the stairs when you can playfully roll down them like a slinky and clean your mom's floors while getting a full body massage all at the same time?
Savoring every step, Ricky is clearly in no rush to reach the bottom and we don't blame him, when you've stumbled onto something that good, you want to make it last. It's clear that this endearing kitty has won the hearts of the internet if these comments are anything to go by:
Joelle says: 'how can one not like cats when they do stuff like this'
Honey chimed in with: 'Ricky is concentrated serotonin'
And yogscast tiktoks hilariously added: 'hold on ive got a knot in my back trying this right now'. Now that's another video we'd love to see!
It looks like Ricky has given us all a serious dose of warm fuzzies this week, let's hope it's the first of many TikTok appearances for this laidback moggie.
Kathryn is a freelance writer with a passion for creating health and wellness, travel and wildlife content. Originally from New Zealand, her nomadic lifestyle has her currently fur baby-less. She scratches her pet parent itch by stealing frequent cuddles with any neighbourhood cat kind enough to indulge her.
Get the best advice, tips and top tech for your beloved Pets
Thank you for signing up to Petsradar. You will receive a verification email shortly.
There was a problem. Please refresh the page and try again.