Watch: Hilarious cat enjoying a fan is all of us during the heatwave
Blissed-out kitty makes the most of its human's fan in this adorable video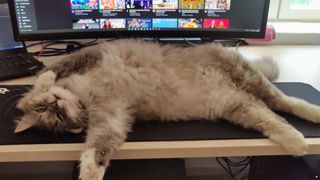 (Image credit: Reddit / spezzlv)
If you're anywhere in the Northern Hemisphere right now, chances are that it's hot. And hey, at least it's a dry heat, but even so it can still get more than a little unpleasant for those of us who are used to more temperate climes, so take a minute to think about what it must be like for our furry friends.
There can't be many things worse than being clad in a fur coat during a heatwave, and some pets cope better with it than others.
Cats, of course, being cats, are great at figuring out their own solutions to situations such as this, and often in hilarious and adorable ways, as illustrated by this glorious post from Reddit user spezzlv, showing how a friend's cat dealt with 32°C/89.6°F during a recent heatwave in Estonia.
friends_cat_during_heatwave_32c896f from r/AnimalsBeingDerps
That look on its little face! We can pretty much guarantee that this is the most blissed-out puss you're likely to see today.
However beyond the potential for delightful pet videos, there's a serious side to all this. The weather right now is super-hot in an almost unprecedented way, and whatever pet you have, you should be making sure that it's as comfortable as it can be while the mercury's so ludicrously high.
Whether you have a dog or a cat or another kind of fluffy pal, chances are it's feeling the heat right now, and there are plenty of things you can do to help your pet cope with this horrifically hot weather.
If you're currently in charge of the wrong kind of hot dog, our vet's guide to how to cool down a dog has some excellent tips on what to do – and what not to do – to chill out your pooch, as well as letting you know how to tell if your dog's suffering from heatstroke.
As for sizzling kitties, we have a guide for them too. See our collection of cat cooling tricks, where you'll find 15 great ideas for helping kitty to cope with the heat, from freezing cat treats (Lick-E-Lix popsicle, anybody?) through to providing a lovely cooling towel.
Thankfully this current heatwave's likely to recede over the next couple of days, but don't leave anything to chance; if you're worried your pet's suffering from heatstroke, be ready to cool it down, and to get it to a vet if necessary. Let's all stay safe until things cool down a bit.
Get the best advice, tips and top tech for your beloved Pets
Jim is a writer, performer and cat-wrangler based in Bath, who last year adopted a pair of sibling rescue cats who turned out to be effectively feral, and has spent a lot of time since then trying to get them accustomed to people (some success) and each other (ongoing project).