Woman shocked to discover contractor had plastered her cat into the wall during house renovations
Stripes the cat was found inside a wall after a contractor accidentally locked the adventurous kitty in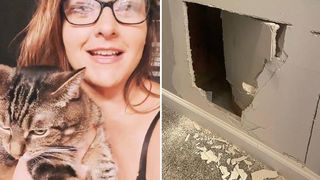 (Image credit: TikTok / @ashlin_hadden)
It's every pet owner's worst nightmare. You come home from a trip and there's no happy little bundle of fur to meet you at the door. That's what happened to cat owner @ashlinhadden, who was away for a few days on a business trip while her bathroom was being renovated. When she arrived home, she found her cat Stripes missing.
While checking out her shiny new bathroom, Hadden heard a plaintive mew coming from somewhere near at hand. After some investigation, she came to the only possible conclusion – Stripes was inside the wall!
"I ended up punching a hole in the drywall," explained Hadden. "And out comes Stripes! This poor kitty was locked under there for three days, stuck underneath the drywall."
Cats are pretty enquiring creatures, and it's common for them to end up locked in garages, sheds and inside cars. Stripes, though, ended up getting into trouble inside his own home!
"When the contractor went downstairs to get the paint he left the door open, he left the hole in the wall and obviously the cat did what cats are going to do, was curious."
Comments were divided after Hadden's video of the incident went viral on TikTok. Many commenters blamed her for the incident, saying she should never have left her cats in the house alone when there was work going on.
They advised shutting them in a room or getting a pet sitter. Others, though, supported Hadden and said the contractor should have been more careful.
In a supplementary video created to address some of the comments, Hadden said that she felt responsible for having left the cats unsupervised but 'felt like the contractor should at least have covered the hole or shut the bathroom door and put things back the way that they were when they left for the night, when I was told that this was a day job."
Stripes seemed much less worried than Hadden by his unusual experience – he'd been signed off as 'fine' by the veterinarian and was enjoying extra cuddles and treats. At least this time curiosity didn't kill the cat and he's completely unharmed by his adventure!
Get the best advice, tips and top tech for your beloved Pets
Sara is a freelance journalist and copywriter of many years' experience with a lifelong love of animals. She's written for a range of magazines and websites on subjects varying from pet care to travel. A horse rider since the age of five, she's currently a full time pet slave to horse Blue and gorgeous, goofy English Springer Spaniel Olly. Adorable Olly has a huge sense of adventure and no sense of direction, keeping Sara on her toes.