Everything you need to know about Chris Evans' dog
Meet Chris Evans' dog Dodger, who's been a big social media hit since the pair met while filming at an animal shelter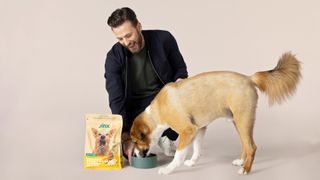 (Image credit: Jinx)
Chris Evans' dog Dodger has been a firm fixture of his social media presence for about as long as they've been together.
In fact Evans only joined Instagram in 2020 so he could use it as a platform for sharing photos and videos of his beloved pooch, to the delight of his millions of fans.
There aren't many actors who enjoy being upstaged, but as far as MCU star Chris Evans is concerned, he's quite happy to play second fiddle when the one doing the photobombing is his dog.
So, what do you need to know about Dodger? Let's take you through a few more key facts about Evans and Dodger's sweet story.
What kind of dog is Dodger?
Dodger's a Boxer mix and he's seven years old. Like many of the best dogs, he's a mixed breed as well as being a rescue pup.
Why is Chris Evans' dog called Dodger?
Dodger is named after a character from the animated movie "Oliver & Company," which the star grew up watching.
In the movie, Dodger is actually a mongrel with a mix of terrier who claims to have considerable "street savoir-faire."
Where did Chris Evans meet Dodger?
Evans first met Dodger back in April 2017 when he was filming one of the final scenes for the film Gifted at an actual animal shelter.
"I foolishly walked in," he told People magazine in an interview, "and I thought, 'Are these actor dogs, or are these real up-for-adoption dogs?' And sure enough, they were, so I was walking up and down the aisles and saw this one dude, and he didn't belong there."
As you can see it was love at first sight. Evans adopted Dodger almost straight away, kicking off what's surely one of the greatest Hollywood love stories in recent years.
"He's such a good dog," Evans tells People magazine, "He acts like a puppy, he's got the energy of a puppy, he's just such a sweetheart, he's such a good boy. He loves dogs, he loves kids, he's full of love."
Where does Dodger stay when Chris Evans is filming?
You might find it hard to put your pooch into a boarding kennel when you go on holiday, but imagine how much tougher it must be to be a top Hollywood actor who has to go away filming for weeks on end.
Evans has occasionally Tweeted about missing Dodger when he's thousands of miles away on a film set, and we've no doubt that Dodger feels the same way.
So it's positively heartwarming to see just how pleased Dodger is to see his human after he's been making a movie for 10 whole weeks. What a happy dog!
If your dog doesn't cope quite so well with you being away, be sure to take a look at vet's guide on how to reduce separation anxiety in dogs.
Why did Chris Evans' dog have surgery?
Boxers are prone to health problems including hip dysplasia, and even though Dodger's a mixed breed dog, his Boxer heritage could be the reason why he's had to have not one, but two hip replacement operations in recent years.
Evans has shared photos of Dodger after his surgeries – and admitted that he's become a textbook worried dog parent – but thankfully Dodger's bounced back from his medical treatment just fine.
What's the funniest moment between Dodger and Chris Evans?
Even the most loving pet parent gets it wrong from time to time, and Chris Evans is no exception.
Back in 2020 when the world was in lockdown, he thought it might be a good idea to give Boxer a haircut while there were no celebrity dog groomers available. You can guess how well that went.
Listen, Chris: if you ever find yourself in this position again, you'd do well to read our 10 top dog grooming tips from a vet. You're welcome!
Which dog food brand is Chris Evans and Dodger ambassadors for?
There's no stopping Hollywood's latest power couple! Evans and Dodger – if that's not the name for a smash hit buddy-buddy action movie then we don't know what is – have just teamed up with premium dog food brand, Jinx.
Evans will be taking an active role in the business and creative direction of the brand, while we assume Dodger will be undertaking arduous tasting duties.
"We are thrilled to have Chris on our team. His entrepreneurship and his love for his dog, makes him a valuable addition to the Jinx leadership team," says Jinx co-founder, Sameer Mehta. "Our vision is to elevate the way we care for our dogs by providing premium, clean-label nutrition at an attainable price point."
Where to follow Chris Evans and Dodger
Chris Evans is definitely worth a follow on Instagram if you're there for a gorgeous dog and his utterly smitten human. Just take a look at these two!
And there's plenty more where that came from. You can find Chris Evans (and Dodger) here, and while his Twitter account isn't quite so Dodger-focused, it's still well worth a look.
Get the best advice, tips and top tech for your beloved Pets
Jim is a writer, performer and cat-wrangler based in Bath, who last year adopted a pair of sibling rescue cats who turned out to be effectively feral, and has spent a lot of time since then trying to get them accustomed to people (some success) and each other (ongoing project).