National Rescue Dog Day 2021: What is it and how can you make a difference?
By Ashleigh Gibbs published
From what it is to when it is, here's how you can make a difference on National Rescue Dog Day and beyond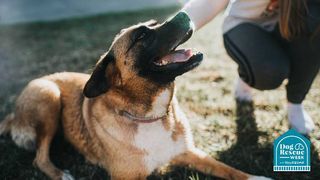 (Image credit: Getty Images)
Whether you have a keen interest in adopting or have simply come across National Rescue Dog Day on the Internet, you may be wondering exactly what it is and how you can potentially participate.
There's quite a few significant pet holidays on the calendar, each with their own individual aims, but, as you may have quite rightly guessed, National Rescue Dog Day is all about raising awareness for canine chums who haven't yet found their forever home.
We'll be answering all the common questions about this significant event in this guide, as well as suggesting a few ways you can get involved in your community.
If you'd like to know more about adopting a rescue dog, nip over to our articles on how to adopt a dog in the U.S, tips for training a rescue dog, and advice on rescue for senior dogs, all part of our special Dog Rescue Week coverage.
What is National Dog Rescue Day?
National Rescue Dog Day was founded by Lisa Wiehebrink of Tails That Teach, a non-profit organization that inspires young children to be kind to pets and people.
The day was set up in 2009, inspired by rescue dog Cooper who is now the main character in the Tails That Teach book series that shows children how to be kind and gentle to their pets.
The aim of National Rescue Dog Day is to bring awareness to the countless number of amazing dogs waiting in shelters for their forever home and to recognize all the amazing ways rescue dogs impact human lives.
The event also looks to promote humane education for young children, and to encourage spay/neuter.
What day is National Dog Rescue Day 2021?
National Rescue Dog Day is observed annually on May 20. In 2021, it will fall on Thursday, 20 May.
How can you make a difference on National Rescue Dog Day and beyond?
1. Donate to shelters
There are a few ways you can help a shelter. In addition to financial donations, some shelters have a wish list where you can donate pet supplies such as towels, toys and treats.
If you'd like to donate to a pet shelter, our friends at Chewy have set up wish lists for three amazing charities you can help today. Just click on the links below to see the list and make your donation.
Click to donate to Muddy Paws Rescue
Muddy Paws Rescue is a New York City 501c3 nonprofit organization working to save the lives of thousands of dogs in need through foster-based care, advocacy, and community outreach.
Click to donate to Grateful Dogs Rescue
Grateful Dogs Rescue – a volunteer-run 501(c)(3) non-profit organization – was founded in 1990 by Michelle Parris, a former SF Animal Care & Control (SF ACC) volunteer. She made it her mission to rescue SF ACC shelter dogs not made available for adoption, and we continue that mission today.
Rather than letting these dogs be euthanized, Grateful Dogs Rescue saves as many as possible by fostering them until loving homes are found.
The Grateful Dogs Rescue adoption procedure is designed to find a good match between the dog and adopter. Their goal is a happy human and a happy dog in a "forever home."
Click to donate to Lifeline Pet Rescue of North Alabama
Lifelife Pet Rescue is committed to keeping pets safe, happy and healthy while they wait to be placed in a forever home. The organization strives to responsibly place good, stable animals in quality, permanent, responsible, loving homes.
They are also active in promoting humane education, encouraging responsible pet ownership and promoting the spaying and neutering of pets.
2. Arrange a fundraising event
If you're looking to raise funds for your local shelters, there are a number of fun activities you could do, such as arrange a bake sale, set up a concert or band night, hold a pub quiz or raffle, or set up a themed day at work or school.
Often, you can also craft items for animals, such as jumpers to keep them warm. Why not start a collection in your community?
3. Spay / neuter
You can often make the jobs of shelter easier from the comfort of your own home. Ensure your pet is spayed or neutered and look to provide them with collars and a proper ID. Make sure you keep dogs on leashes when off your property.
4. Foster
Foster homes can be lifesavers for pets who can't adapt to shelter life and for those who need a little extra care.
Without foster homes, many rescue groups simply could not take in as many animals. You can often find information on how to foster an animal by visiting your local charity's website.
5. Volunteer
If you can't adopt or foster a dog at the moment, why not consider volunteering at your local shelter? This can include dog walking or even cat cuddling. Some skills required you may not have even thought of, such as marketing, social media or even carpentry!
6. Educate
Teach young children the importance of kindness, unconditional love, and responsible care of all animals. You can visit the Tails That Teach website to discover some great resources to do so, including the book.
7. Adopt
If you have room in your life for a new pet, adopting can be so rewarding as our tales from Dog Rescue Week prove!
There's so many ways you can give a dog a whole new leash of life; including rescuing a dog from abroad and adopting an older dog.
You search for an available pet by using the Shelter Pet Project, or check your local shelter's website to find your lifelong friend.
Is National Dog Rescue Day the same as National Dog Adoption Day?
National Dog Adoption Day typically takes place in October, and shares a similar theme with National Dog Rescue Day in that it's all about promoting the concept of adopting a dog from a shelter and providing information that both encourages and advises people on how to adopt a dog.
National Dog Adoption Day is UK-based and organised in conjunction with DogsBlog.com, while National Dog Rescue Day and Tails That Teach is American.
Ashleigh is Digital Editor on PetsRadar. With over 8 years of experience in print and digital media, she has acted as an editorial lead on a variety of projects, with animal themes a keen interest. As an avid animal lover, you can often find Ashleigh checking out the newest trends in animal care or looking at cute cat videos on TikTok.
Get the best advice, tips and top tech for your beloved Pets
Thank you for signing up to Petsradar. You will receive a verification email shortly.
There was a problem. Please refresh the page and try again.