Rescuing a dog from abroad – A vet's guide
Are you thinking of rescuing a dog from abroad? Before you do, read our vet's guide!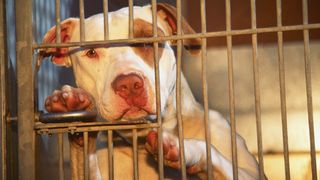 (Image credit: Getty)
Imports of dogs from Romania to the UK increased by 51% in 2020, showing that rescuing a dog from abroad is becoming more and more popular. In fact, in 2020, over 29,000 dogs were legally transported from Romania to the UK- and that's just the legal imports from one country!
It's not hard to see why. Romania has introduced a law allowing euthanasia of dogs taken from the streets if they haven't found a home in 14 days. Other countries have similar problems, with skinny stray dogs a regular sight to tug on the heartstrings of the animal-loving UK public. So, what do you need to know about adopting a dog from abroad? Let's take a look…
Legally importing a dog
The first thing to bear in mind when rescuing a dog from abroad, is that there are a lot of legal loopholes that are required before a dog can cross borders. Depending on the country of origin, this includes vaccinations, a wait period, blood tests, anti-parasiticides, and some sort of official documentation – normally a health certificate.
It's very easy to assume that this will all be taken care of by the charity you're adopting through. However, one study found that at least 89% of dogs had travelled with the incorrect documentation. Puppy smuggling can also be disguised as rescuing, with 'rescued dogs' actually having been bred in poor conditions in Europe, then imported to well-meaning adoptees. As a vet I've personally seen two cases of dogs illegally imported with fake passports, and these dogs can be seized even after they're in your possession.
Find out what documentation your adopted dog will be travelling with, and check these are the correct documents for their country of origin. Certificates and passports should travel with the dog and you should be able to collect them when you pick them up – they should not need to be posted to you!
Disease risks when importing a dog from abroad
Some diseases that exist in other countries are rare here in the UK – we term these 'exotic' diseases. Whilst some of these diseases can be vaccinated against (such as rabies) to prevent them from being brought into the country, others cannot. In 2018, a survey of vets said that 40% of UK vets had seen a new case of an exotic disease in the last year.
There are no regulations that govern the types or number of diseases a charity needs to do before deciding a dog is healthy enough to travel. Some charities will do whatever their vet in the country recommends, some have a set protocol, and some do the minimum to keep costs down.
Whilst keeping costs down seems like a good idea, remember this can be a false economy if your rescue dog turns out to have a hidden disease or condition. These diseases may go undetected for some time, especially as UK vets may be less familiar with them. They are also often more expensive to treat in the UK, where drugs have to be imported.
These 'Trojan dogs' can also bring in diseases that can then spread to UK pets, even those who have never travelled, so it's not just rescuing a dog from abroad that can cause a problem. Here are some of the 'exotic' diseases that worry 93% of UK pet vets!
Leishmania
Probably one of the most commonly imported diseases, with 27% of vets having seen it in 2017, leishmania wasn't seen in the UK until the recent trend for importing from hotter climates. Transmission from dog to dog depends on a sandfly that is thought not to be present in the UK.
However, Canada has many annual cases without having this sandfly. With lots of dogs now being imported with the disease, it's becoming more and more likely that the disease will find a way to spread – as has been seen with the first UK case of leishmania in a dog that has never travelled.
Leishmania can take years to show after infection and many owners are importing dogs not realizing they could be infected. Some dogs are imported despite a known infection! Treatment is generally expensive and is life-long, although euthanasia is often necessary.
Babesiosis
Babesiosis is a tick-borne disease causing lethargy, weight loss, and anaemia that can become fatal. Whilst the tick that spreads the disease has been found in several areas of the UK, the disease itself wasn't present until 2015, when a series of cases in untravelled dogs were identified. It's likely that an infected tick came in on a dog, or a local tick bit an infected dog, and spread the disease when biting other dogs.
If caught early, Babesiosis is treatable, but some dogs with severe infections will die despite treatment.
Ehrlichia
Another tick-borne disease originally from southern Europe, Ehrlichia canis has now been found in untravelled dogs in the UK. The tick that spreads this disease is on the rise due to climate change, but it's also thought that it can spread in other ways when given the chance. Ehrlichia causes similar signs to Babesiosis, but is generally easier to treat, and dogs will usually make a full recovery.
Brucellosis
Just a couple of months ago, the UK Chief Veterinary Officer warned of yet another emerging disease in the UK – Brucellosis. Before 2020, Great Britain was classed as Officially Brucella Free, with only 2 cases ever seen across the UK. In the last nine months, over 40 cases have been identified. Brucellosis causes abortion in breeding dogs and spinal problems, and can also transmit to humans.
The Human-Animal Infection and Risk Surveillance Group has recommended that dogs found to have Brucella in the UK are euthanised to prevent spread of the disease and a risk to human health.
Behavioural risks when rescuing a dog from abroad
Another concern when rescuing a dog from abroad is the behavioural risks. Some vets and behaviourists argue that travel to another country and being immersed in a totally new lifestyle is traumatic for dogs, and can cause behavioural problems.
Many imported rescue dogs have been brought up on the street and are unlikely to be housetrained. Unlike puppies raised with a responsible breeder, these dogs have not been properly socialised, and over 50% show fear of other dogs more than half the time. Over 80% commonly showed fear of strange noises or objects. Possessive and aggressive behaviours are also commonly reported by owners of rehomed dogs.
For some dogs, the cultural shock and new rules to learn can be too much, and they subsequently end up in rescue here in the UK, or euthanised for behavioural issues.
Top tips for rescuing a dog from abroad
Adopt from the UK first, wherever possible.
Thoroughly research the rehoming organisation to ensure it is legal. Charities should be registered and able to give you their charity number.
Ensure the dog has the correct documentation for transport.
Request that dogs are fully vaccinated before transport, and given tick and tapeworm treatments. This is above and beyond the legal minimum, but is highly recommended to reduce the risk of importing diseases.
Request that dogs are tested for diseases such as brucellosis and leishmania before travel to the UK.
Expect that your dog may take a long time to adapt to home living, some behaviour problems are to be expected. Talk to a dog behaviourist at the first sign of problems to ensure you get the best advice.
Regularly remind your vet at appointments that the dog is imported. This will help them to consider exotic diseases and also ensure that blood samples and similar are marked accordingly to ensure the safety of lab technicians.
Conclusion
'Falling in love' and rescuing a dog from abroad is an exciting time, but it's really important that you try to find a dog that has been thoroughly tested for diseases and imported legally. Not only will this help to prevent heartache, but you could be protecting your family and other dogs from exotic diseases not usually seen in the UK.
Get the best advice, tips and top tech for your beloved Pets
After graduating as a veterinarian from the University of Nottingham, Dr Joanna Woodnutt went on to practice companion animal medicine in the Midlands. She quickly developed a love of consulting and helping clients with medical problems such as dermatology, behaviour and nutrition - anything that involved helping clients understand their pets better. Jo started writing about pet health in 2017, realising that it meant she could help even more pet parents. Since then, she has written for countless online and print publications and is a regular contributor for Edition Dog Magazine. Jo now lives in the Channel Islands with her husband Ian and terrier Pixie, and they are expecting their first child very soon.