Retired deputy donates wheelchairs to help special needs animals
Dogs, cats and even a goat have all received wheelchairs as a result of the Ruck9 animal charity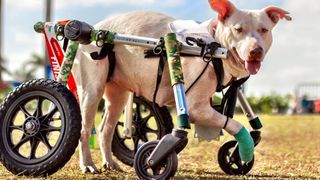 (Image credit: Facebook / @RUCK9)
More than 60 special needs animals have received wheelchairs as a result of a retired deputy's animal charity.
John Cox, from Florida's Sarasota County Sheriff's Office in the US, has provided a host of special needs animals with the ability to walk again.
Over the last year, John has so far been able to donate specialized wheelchairs to 64 dogs, three cats and a goat through his non-profit organisation, which operates under the name of Ruck9.
His charity is dedicated to covering the costs of any type of mobility equipment that a special needs animal may require in order to continue leading a fulfilling and independent life.
"Our mission is to help as many animals as possible get wheelchairs and help them [to] feel like they are the animal they are supposed to be", explained John.
Ruck9 also works hard to build a community of animal supporters who wish to assist special needs animals in leading a normal life once more.
John continued to discuss how "all proceeds are just going to be able to put more and more wheelings on our 'wheelie warriors.'"
His charity, Ruck9, works with a company called Walkin' Pets, which builds custom mobility equipment for animals, such as lambs and skunks.
One of the recipients of one of John's wheelchairs was a dog called Mattie, owned by Don Jackson.
In a video published by Walkin' Pets, Don can be seen explaining how his pooch struggled to get around after losing the mobility in her back legs.
Now, after being donated her new set of wheels, Mattie is said to be running around like any other dog would.
"She has no idea what legs are. Somebody forgot to tell her she had them," Don said.
Supporters can get involved with Ruck9 by donating through their website - www.ruck9.com - or by participating in or sponsoring one of their many fundraising events.
Get the best advice, tips and top tech for your beloved Pets
Chloe is a freelance writer, editor, and proofreader, who has more than ten years' experience in creating animal-focussed content. From National Geographic to Animal Planet, Chloe's passion for creating fact-filled features all about wildlife and the environment is evident. But it's not just wild animals that Chloe's fascinated by. Having written more than 75 articles for PetsRadar - and having her very own four-legged friend by her side - it's no wonder that her love of dogs (and, of course, cats) has grown exponentially.
Her website, www.chloemaywrites.com, and social media pages - @ChloeMayWrites on Instagram, Facebook, and Twitter - showcase her knowledge through daily facts and trivia tidbits. For example, did you know that snails have teeth?!