Watch: Paralyzed dog Speedy runs on the beach with his modified wheelchair
Mexican street dog Speedy loves running on Californian beaches using wheels instead of legs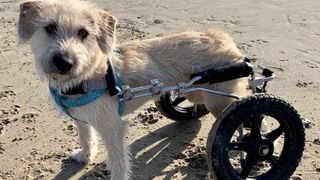 (Image credit: Instagram / go_speedy_boy_go)
After a hit-and-run accident it didn't look good for the Mexican street dog Speedy. Not only was he struck by a car, but he was thrown 14 feet over the side of a bridge. The accident was witnessed by Phaedra Barratt, who, despite believing there was no way the small pup could have survived the accident, stopped to see if there was anything she could do.
Phaedre, who is part of The Balam Foundation an organization dedicated to helping the stray and wild animals of Mexico, held out little hope, but she found and rescued the wet, cold and shaking pup from the bottom of a ravine.
She could see instantly that there was something wrong with the gorgeous pup's back legs, so she carefully wrapped him in a blanket and took him to a vet. The specialist told Phaedre, "This dog is never going to walk again. You have two choices: you can put him to sleep, or you can get him a wheelchair."
Phaedre was instantly taken with the plucky dog and was determined to do whatever she could to give him the best life possible. And the moment the pup was put into his own specialized wheelchair he instantly earned the nickname Speedy Gonzales, as he was off like a shot, pushing the wheelchair to go at speeds it wasn't designed for!
You can see how Speedy earning his nickname in the footage below where he takes his improvised wheelchair to its limits on a cobble-stoned street:
Phaedre knew where she lived wasn't ideal for a wheelchair-bound dog, having to navigate steep hills and uneven streets meant Speedy was in constant danger of getting into trouble.
Fortunately, a dog trainer named Debbie based in California got in contact and agreed to adopt Speedy. Debbie felt Speedy would be great to train as a therapy dog, especially as he was such a good example of what is possible if you don't give up.
Speedy now has a new lease of life, bounding as fast as he can go on the beaches of California. Playing with other wheelchair-bound dogs, he can be found frolicking in the sand, providing joy for his owners and other beach residents – and we couldn't be happier for him.
You can follow the exploits of Speedy and the other wheelchair dogs in Debbie's care by following them on Facebook and Instagram.
Get the best advice, tips and top tech for your beloved Pets
Jamie Middleton is a freelance editor and writer who has been editing and creating content for magazines and websites for over 20 years. As well as writing about the pets he loves, he has helped create websites about tech and innovation like TechRadar.com, Innovate UK and TechSPARK, written programmes for music festivals, books on inventions and architecture, TV listings magazines, and edited publications about cars such as Lexus, Toyota and Jaguar. In his spare time he writes fiction books and poetry - or at least he does when he is permitted to by his cat Pirate, who enjoys the warmth of laptops too much to allow being creative to get in the way.