Dog always pulling on the leash? Try this trainer's tip for a much happier walking experience
Leash pulling is something all canine owners will want to put an end to early on and this trainer shares how it's done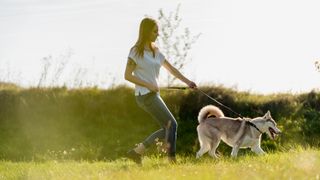 (Image credit: Getty)
When you take your dog out for a walk it's - for most canines - their favorite part of the day. However, this isn't always a mutual feeling for the owner, especially if the dog is prone to pulling on the leash relentlessly.
Lively dogs can bring so much joy into their owners' lives, always getting their teeth stuck into the best puppy toys, greeting visitors with adorable enthusiasm, and being sure to let you know with a series of barks when they spot the postman coming up the drive. But this same level of high energy can be tricky to control while you have them on a leash.
No owner wants to feel like they are the ones being walked rather than the other way around. Fortunately, certified dog trainer Jeff Causby and founder of Best Buddy Dog Trainerhas a simple tip for those struggling to assert control while walking their dog.
When you and your dog can walk in harmony beside one another it makes the walk much more enjoyable for you both and deepens your bond with one another. Watch Causby demonstrate his helpful advice for nailing this below...
In the video, you can see Causby walking a dog on a leash that has a severe case of the zoomies and goes to pull every time he takes a step. The trainer notes, "We need to slow the walk down a second. We need to reset and take it one step at a time and that's literally what I'm going to do."
He describes his next steps as a 'secret weapon' for getting dogs to stop pulling. "I take one step and I stop and I wait, if she pulls I stand there but if she sits and looks at me I click and treat and take another step."
"This is how you calm your walk down. This is how you get your walk under control," explains Causby, "And as you can see, now that we start walking without stopping look what she's doing, walking perfectly beside me not pulling ahead. She's staying at my pace and paying attention to me."
He points out to viewers watching his video that it took him three weeks to get this dog to walk nicely on the leash as the end of the video shows. "But she's not finished. We now need to work on adding distance to this."
According to Causby, your teaching isn't finished just because the dog can do it right. You have to make sure that your dog can perform this behavior with distance added. So if you do try this training method make sure to increase the challenge to make sure this learning is truly impactful and useful on all walks.
Leash training and dog walking etiquette is no easy feat but something that does come along nicely with practice, patience, and lots of treats.
Get the best advice, tips and top tech for your beloved Pets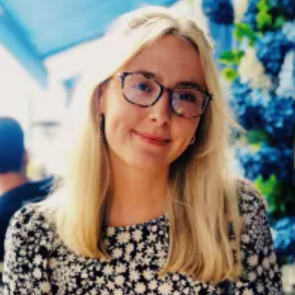 With over a year of writing for PetsRadar, Jessica is a seasoned pet writer. She joined the team after writing for the sister site, Fit&Well for a year. Growing up with a lively rescue lurcher kindled her love for animal behavior and care. Jessica holds a journalism degree from Cardiff University and has authored articles for renowned publications, including LiveScience, Runner's World, The Evening Express, and Tom's Guide. Throughout her career in journalism she has forged connections with experts in the field, like behaviorists, trainers, and vets. Through her writing, Jessica aims to empower pet owners with accurate information to enhance their furry companions' lives.